How Does Melania Trump Travel? First Lady Gets By In Planes, Helicopters And Cars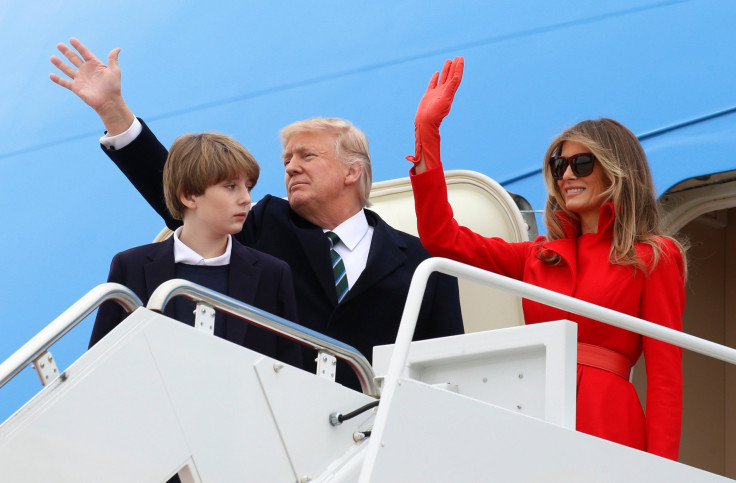 In her short time as first lady, Melania Trump has gained more attention for her whereabouts than her duties in the prestigious post. Amid claims she will "move" into the White House in June – when son Barron completes his school year in New York – there are still lingering questions as to how much time Trump will actually spend in Washington, D.C., once she makes the purported move.
Until then, Trump remains the consummate jet-setter, helicoptering to D.C. to give the rare speech or flying over to Palm Beach, Florida, to make an appearance at a fundraiser reception. If her recent travel trends indicate anything, it's that she spends her weekdays in New York, heads to the Mar-a-Lago estate for weekends, and can stay at the White House for official occasions or events.
Read: Where Is The First Lady? Melania Trump Takes 90-Minute Helicopter Rides To DC, Cooks For Barron In NYC
All the commuting and air travel aside, you can guarantee that Trump will be reaching her next destination in record time.
Prior to the January inauguration, TMZ calculated the time it would take for Trump to travel from the White House to New York.
The motorcade whisks the first lady to Andrews Air Force Base in about 20 minutes, followed by a quick 45-minute trip on a 737 or 757 to LaGuardia in the borough of Queens. From there, Trump is able to avoid the traffic into Manhattan or a helicopter would meet Trump at the airport where she would finally be taken to the Manhattan neighborhood of Chelsea in about 15 minutes. Finally, a motorcade would arrive to whisk first lady away to Trump Tower in Midtown Manhattan, which takes about 10 minutes.
Ninety-minute cross-state commutes aren't so bad, especially if the president is present—then the pair could really travel in style. If the couple is together, they might hitch a ride on Air Force One, or even catch a ride in the president's armored Cadillac limousine, nicknamed The Beast.
The travel time might be timely, but all of the back and forth has roiled Americans. A Change.Org petition recently circulated that demanded Melania Trump move to the While House or pony up for the New York City security expenses she incurs. Taxpayers have spoken out against the cost of security Melania and Barron Trump require while living away from the White House since those motorcade costs do, in fact, add up.
It was estimated by the NYPD that Barron and Melania Trump require somewhere between $127,000 and $146,000 a day for protection when President Donald Trump is out of town, according to the New York Times.
© Copyright IBTimes 2023. All rights reserved.
FOLLOW MORE IBT NEWS ON THE BELOW CHANNELS