How Far The Mighty Have Fallen: Chronicling The Pratfall of Allen Iverson And Vince Young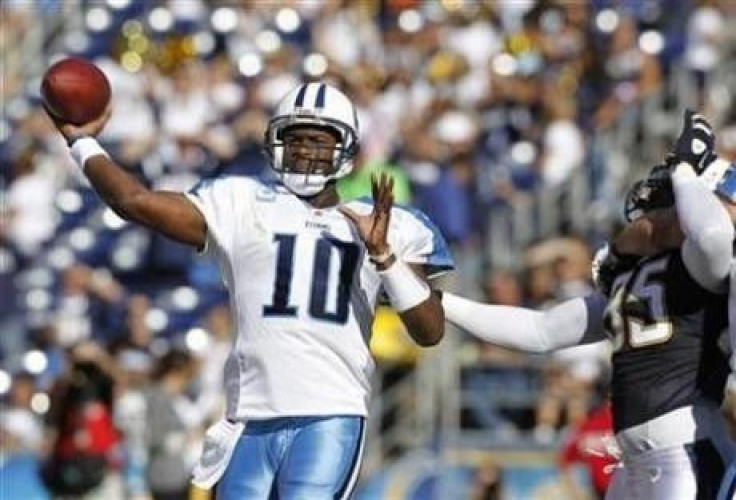 The week of Dec. 2 wasn't a good one for the forebearers of American sporting fame.
For Allen Iverson, one of the most prolific scorers in NBA history, last week brought the disclosure of his discombobulated finances.
According to Iverson's divorce papers, obtained by TMZ, the ex-Sixer claimed a monthly income of $62,500 against monthly expenses of $358,000. It's tough to think of a guy who makes $750,000 a year as in dire financial straits, but when you spend $25,000 every month on clothing and food (in addition to a mortgage and creditor payments), the bills pile up.
The end result for Iverson, 37, might mean having his $4.5 million Atlanta mansion foreclosed on by creditors. While the New York Post reports that Iverson has nearly $32 million, he apparently can't use the money to save his home. The newspaper says that Iverson's money has been protected by those close to him, and he can't receive more than $1 million annually, until he's 55.
When Iverson's eligible for an NBA pension at the age of 45, he's expected to issue a restraining order against himself, preventing him from using the money until he's 62. At that time, sources close to Iverson tell the Post, he'll be able to choose between a lump sum of around $1.5 million or $14,000 per month.
While Iverson hasn't played in the NBA since the 2009-2010 season, he has yet to officially announce his retirement. He played the 2010-2011 campaign in Turkey on a two-year, $4 million salary. When he accepted the Turkish offer, many speculated the downed-star was only doing so to heal his financial wounds, though Iverson denied that money matters were his motivation to play overseas.
Like Iverson, former star quarterback Vince Young is dealing with a similar case of financial ruin. Unlike Iverson, however, who reportedly accrued over $154 million during his 14-year basketball career, Young did not play long enough or well enough to earn that much money. Still, Young raked in $34 during his six season tenure in the NFL, which has mostly disappeared, the former star admitted.
Young filed a lawsuit earlier this year to prevent a $1.9 million default on a high-interest loan. He also filed suit against a former agent and financial advisor who he claims misappropriated $5.5 million of his money.
Whether Young can stave off default and implicate his former associates, the bottom-line remains that he's broke … and desperate.
Following the Cardinals embarrassing 58-point shutout loss to the Seahawks yesterday, Young took to Twitter to grovel for a job, tweeting at Cardinals wide receiver Larry Fitzgerald, "you know I can help tell coach."
Young's latest grouse isn't likely to get him a job, though it will continue to cast a dim light on what once was the promising NFL career for a hybrid passer-runner with a powerful arm.
© Copyright IBTimes 2023. All rights reserved.