'How I Met Your Mother' Series Finale: What Questions Weren't Answered In The Final Episode, 'Last Forever'? Season 9 DVD Will Reveal Lingering Mysteries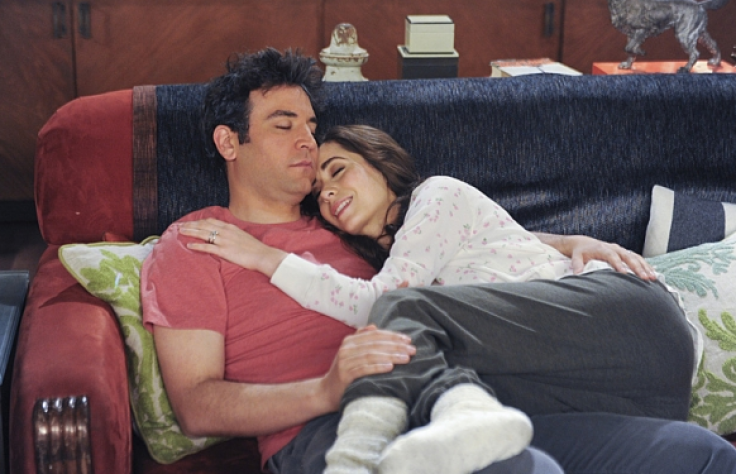 WARNING: SPOILERS AHEAD! Do NOT continue reading unless you watched the series finale of "HIMYM."
Haaaave you watched the "How I Met Your Mother" series finale yet? If not, you may want to before reading this article because we're about to dive into some pretty outrageous spoilers. OK, you've been warned!
On Monday, March 31, the nine-season CBS comedy came to an end when "HIMYM" aired its final episode, "Last Forever." We laughed, cried and held one another close as we watched our favorite gang make their final debuts as the characters we've all grown to love and know. But out of all our emotions-- confusion was the most overwhelming feeling when the one-hour special ended.
Now, don't get us wrong! We did feel a sense of contentment when the final scene of "Last Forever" played through. Josh Radnor wasn't kidding when he said that moment would bring us full circle. But even after Ted stood outside Robin's window holding the iconic blue French horn, we couldn't help but continue questioning Carter Bays and Craig Thomas' decision of how to end the acclaimed series.
Read Our Recap Of The "HIMYM" Series Finale Here!
Thankfully for fans the story isn't quite over. So sit back down, kids. Teddy Westside has a few more things he'd like to say. According to Entertainment Weekly, Bays and Thomas will be answering lingering questions that weren't touched upon when the "HIMYM" Season 9 DVD is released in the fall.
"There may be a few mysteries you think you've seen the last of, but there might be a little something later," Thomas revealed. "Without giving too much away, we toyed around with creating a little video to be released sometime after the series finale to sort of pay off one last little thing."
What could that "little thing" be? Ours eyes shifted to Radnor for answers.
"I know a nagging question from the show might be released as a DVD extra and I did shoot it," the actor dished. "But I feel I might not have approval to say what it is, so I'm just going to plead the Fifth."
Fine. By now fans of the "HIMYM" series have proved their endurance, patience and, of course, spectacular theorizing -- we called the Mother's death! So, with that said let the rumors begin. What questions do you think will be answered when the Season 9 DVD is released? We have a few guesses based on the stones left unturned during the series finale of "HIIMYM."
1. The Pineapple Incident: In Season 1, Episode 10 Ted woke up to the prickly island fruit. Since then, Ted has never been able to figure out why. The quirky mystery has been referenced relentlessly throughout the series but will we ever learn why the protagonist was cuddling the delicious treat?
2. The Mother's Death: Although we did find out the Mother's real name (Tracy McConnell) will fans ever find out the reason why she died? Due to her early demise, we can't help but wonder what caused her shocking death.
3. Barney's Baby Mama: It was revealed in the series finale that Barney had become a father! He ended up having a baby with "Number 31." Seriously, that's what they called her. She was the last woman Barney slept with in his attempts of having a "perfect month." We're curious to find out who this woman is and are dying to see what Ellie grows up to be like. Do you think Barney's daughter will end up being a player like him? All we have to say is karma, karma, karma.
4. Will There Be A "HIMYM" Reunion? During an interview with CBS' "This Morning," the five actors, who've been making us laugh since 2005, hinted about a "HIMYM" reunion in the future. Will we see our favorite gang reunite in 2030, which is when Ted finishes his story?
5. Behind The Scenes Scoop: Maybe fans will get to see behind the scenes footage of "HIMYM" ranging from bloopers to exclusive, never-before-heard insight. Recently, we found out that Lyndsy Fonseca and David Henrie, Radnor's TV kids, knew about the series finale before several of their cast mates. According to the creators, they wanted to film the finale scene during the second season before Ted's kids grew much older. That means these two have been staying quiet for seven seasons!
"We shot the ending of the show like 9 years ago! Wonder if the writers stuck to what I remember," Henrie wrote on Twitter. Talk about TV's best kept secret. I hope we find out more fun facts about the cast and crew in the Season 9 DVD.
What questions would you like answered when the Season 9 DVD is released in the fall? Let us know in the comments section below.
© Copyright IBTimes 2023. All rights reserved.