'How I Met Your Mother' Season 9 Spoilers: Series Finale Reveals Ending To Ted's Story; What Happened In 'Last Forever'? [RECAP]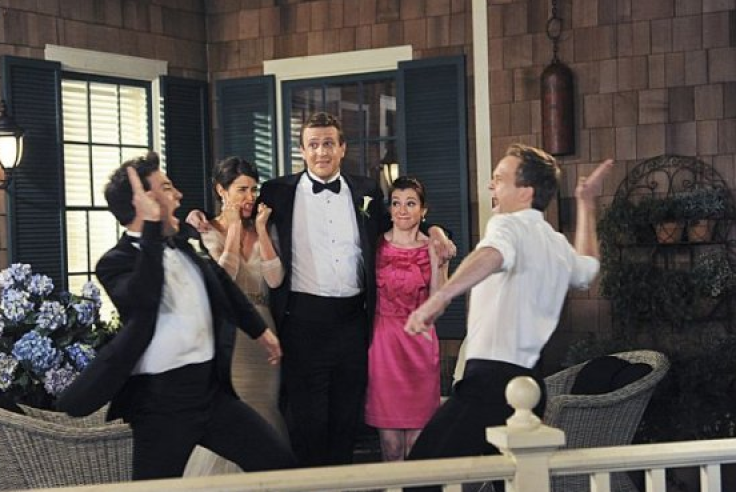 It's a wrap for "How I Met Your Mother," which aired its series finale Monday night. And we have to admit, it truly was legendary. But before we dive into what happened during the last episode of the nine season-long drama, you may want to grab yourself some tissues. Seriously, was it just us or was episode 23 & 24 "Last Forever," a complete tearjerker?
The series finale began with a blast from the past: Robin's first few months in New York. The up-and-coming journalist confessed to the foursome at MacLaren's Pub that she felt a bit out of place in the Big Apple — especially because she had no friends.
"You're totally in our gang. And once you're in, you're in for life," Lily said. Appreciating the kind words, Robin gets the next round of Glen McKennas. And while the Canadian beauty is at the bar, Lily threatens the boys that whoever decides they're going to hook up with Robin has to marry her.
"I really want this girl to stay a part of our lives," Lily pleaded. With that said, Barney washes his hands clean of potentially getting it on with Robin. That is until 2014.
"That son of a b**** did it," Marshall said as he watched Barney and Robin dance during their wedding reception.
As the trio looked upon the bride and groom twirling around the dance floor, Ted spots the Mother for the first time ever playing in the wedding band. "HIMYM" then cuts to a scene between Barney and the bass player.
"Remember when you told me to stop messing around and get the girl?" Barney asked. "I did it!"
The groom then asked Cristin Milioti's character if she still happened to be in a relationship. When she replied no, Barney raced over to Ted. He begged his single friend to play "Have You Met Ted?" but Ted refused and insisted he needed to leave.
That's when the gang heads outside for a tearful goodbye. After reminiscing with each of his friends, Barney has the revelation that he'll never be able to high five again.
Ted then suggested that the two give one another a "high five to echo throughout eternity."
"A high infinity!" Barney exclaimed.
After slapping themselves silly, the series finale cuts to a scene between Ted and the old woman who accompanies our protagonist at the Far Hampton train stop. Ted, being the storyteller he is, tells the old woman the tale.
"What if it was destiny?" she asked about Ted meeting the bass player and him just running out.
"I can't really talk destiny right now," Ted replied. His sights are on Chicago and Chicago only. That is until the old woman points out the "beautiful woman" Ted saw in the band was standing next to them in the rain, holding her iconic yellow umbrella.
Next thing we know, Ted is sitting in the gang's regular booth at MacLaren's. Lily and Marshall are shocked to see him and even more surprised when they found out he stayed because of a girl.
So smitten with his future wife, Ted calls her — despite Marshall and Lily's three-day warning.
Lily looks at Ted grinning away on the phone and realizes the woman he's talking to is unlike any other.
"HIMYM" then shows a scene from 2015 of Ted planning the wedding of a lifetime for him and his bride. We're talking castles, hot air balloons, you name it. But Ted's dream wedding is put on hold when the Mother reveals she's pregnant.
"I want to fit into my dress," she admitted.
After all the baby talk, the series finale of "HIMYM" reveals it's most shocking scene yet: Robin and Barney's divorce. Apparently while the two were in Argentina, they came to the realization they weren't happy with their relationship.
"If I gave you an out right now, would you take it?" Robin asked Barney.
"When we got married I made a vow I would always tell you the truth," he replied.
That's when the two broke the news to their friends. Lily was the most upset by the announcement.
"It's not a failed marriage. It's a successful marriage that only lasted three years," Barney said. We could tell something was wrong considering how upset he was about Robin being submerged in her career. They hardly spent any time together.
Lily asked if they were going to have to pick sides, although she already knew she'd be on Robin's.
A few moments later, Barney points out that Lily and Marshall are expecting a third baby due to Lily's lack of drinking and bigger boobs. You can always count on Barney to notice a cup size change.
"Promise you'll always be here for the big moments?" Lily asked Robin. She promises.
"See, it's like this whole divorce thing never happened!" Barney attempted to lighten to moment.
But the breakup did happen. And it became blatantly clear to Robin when she attended Marshall and Lily's Halloween/moving out party. During the bash, the reporter saw her ex-husband getting the number of a "slutty" guest. But that wasn't the dagger through her heart. Robin's knees weakened when she watched Ted and the Mother share a sweet kiss, dressed in their quirky costumes.
Robin attempts to sneak out but bumps into Lily.
"Do you know who the gang is to me? A married couple who I never seen anymore and are about to have a third kid, my ex-husband hitting on [girls] and the guy who I was probably supposed to end up with kissing the mother of his child," Robin confessed.
Lily is shocked by the admission and asked if their friendship was over.
In so many words, Robin says it is.
"We'll always be friends, it's just never going to be how it was. It can't be. And it doesn't have to be a sad thing. But the five of us hanging out, being young and stupid, is not one of those things. That part's over."
The year 2018 finally arrives and Barney couldn't be more excited because this is the year that the gang reunites. Well, everyone but Robin. Lily is clearly upset her best friend isn't sitting across from her in the booth, but Barney doesn't want to hear any sob stories tonight. He begs Ted and Lily to participate in a wilf night but they refuse — that is, until Marshall announces he's been offered a judgeship.
"I told you the phone would ring. You deserve this," Lily said to her husband.
While the gang hangs out, they notice Barney hitting on women less than half his age. Lily attempts to lecture him.
"I haven't [changed]. I know there was a time that it seemed like I was going the distance. But if it couldn't happen with Robin, it won't happen with anyone. It's not me. Can I please just be me?" Barney asked.
The next scene, Barney proves he has changed. Well, sort of. As the gang watches robots fight and talk about Ted and the Mother's delayed wedding plans, Barney interrupts and reveals he has a sad story.
Barney explains he attempted to have "the perfect month" by having sex with 31 girls in 31 days. Turns out, 31 is his lucky number. "The last girl is pregnant," he revealed.
"You're messing with us," Ted thought.
But Barney wasn't kidding.
"This is a disaster. I'm too old. I was about to enter my golden years!" Barney cried.
While Barney feared fatherhood, Ted embraced it. Especially in 2020 when he was able to conduct his very own architectural tour guides thanks to his daughter. During his lesson, he spots Robin. When retelling the story to Marshall and Lily, the duo joke seeing Robin is comparable to a Yeti spotting.
After a few mythical creature jokes, a nurse congratulates Barney on becoming a father—to a little girl!
The nurse introduces the father to little Ellie.
"You are the love of my life," Barney cried. "Everything I have and everything I am is yours. Forever."
Oh, how the tables have turned for the King of the Playbook! During Ted and the Mother's wedding, which occurred seven years and two children later, Barney tells two girls at the bar to cover up and call their parents. Lily is shocked — and so were we!
During the wedding, Robin makes an appearance. Ted is confused because his ex-girlfriend had previously declined the RSVP but according to Robin, someone convinced her to come. Obviously, it was the Mother.
"I know I've missed a couple lately. But we said we'd always be there for the big moments," Robin said.
The Mother enters and snaps a photo of the five sitting in their beloved booth.
Everyone then raises their glasses and Lily begins making a toast.
"To a man with more emotional endurance than anyone I've known. It's been a difficult road. Thank God we're here," she said.
"I'm glad it was long and difficult," Ted of the present said to his children. "Because if I didn't go through hell to get her, the lesson might have not been clear. I have to love her as much as I can and for as long as I can. I carried that lesson with me. Through every fight, every speed bump. I carried it with me and I carried it when she got sick. All I could do was thank God."
We. Knew. It.
A flashback then shows what happened between the Mother and Ted during their first conversation in the rain. The two revealed how they know each other and even get into a flirty fight over who the yellow umbrella belongs to.
Ted insists his initials are on the umbrella.
"Tracy McConnell," the Mother said, revealing her name. Ah-hah! "TM" as in "The Mother"?
"And that, kids, is how I met your mother," Ted finally finishes his story.
But his kids aren't so sure.
"That's it? No. I don't buy it," Penny says. "That's not the reason you made us listen to this. Mom's hardly in the story. This is the story of how you're in love with Aunt Robin."
"I kept this story short and to the point," Ted said, baffled.
"Whenever [Robin] comes to dinner, you're so obvious," Luke said.
"Mom's been gone for six years. It's time," his daughter insisted.
That's when Ted calls his ex-girlfriend. But abruptly hangs up. Instead, the hopeless romantic runs to Robin's house. He buzzes and Robin sticks her head out the window to see Ted standing there with the blue French horn. Full circle.
What did you think of the series finale of "How I Met Your Mother"? Did you like the ending? Let us know your thoughts, opinions and concerns in the comments section below.
© Copyright IBTimes 2023. All rights reserved.
FOLLOW MORE IBT NEWS ON THE BELOW CHANNELS