How Meghan Markle Changed 'Dater's Handbook' Co-Star's First Hallmark Experience
Kristoffer Polaha's been in five Hallmark movies, with another one — "Mystery 101" with Jill Wagner — due out later this month, but it all began with a Valentine's Day flick called "Dater's Handbook" with Meghan Markle in 2016.
The actor explained to International Business Times how he first got started with Hallmark Channel and its sister network, Hallmark Movies & Mysteries, and how Markle's relationship with Prince Harry ended up affecting his experience with the company.
"I had just switched agents, actually," he began telling IBT. "I was at William Morris Endeavor — WME — and I had switched to Gersh, and at Gersh, there's this agent named Paul Rosicker…and he called me and said, 'I've got a — Hallmark is interested in doing a movie with you.' And I had done a lot of network television and I was kind of wondering, 'Was it a good move? Was it a lateral move? Was it a step up? Is it a step down?'"
Polaha continued: "Listen, it's really kind of a wonderful thing. Like, you're gonna go, they're gonna pay you some money, you're gonna go work for three weeks, the people who watch it watch it, the people who don't don't, and it's gonna be one of those things."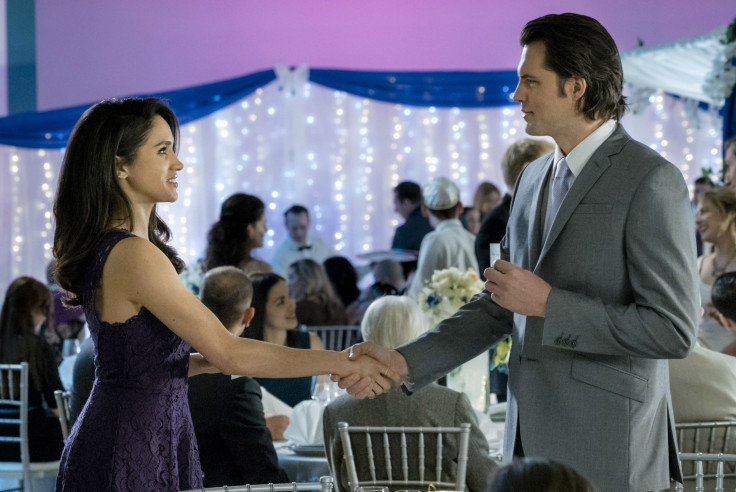 Of course, the "Life Unexpected" alum ended up deciding it was the right move and gave it a go. He had such a great first experience, with a lot of that having to do with his "awesome" co-star, the future Duchess of Sussex, that he's been doing Hallmark movies ever since.
"What I didn't know was that I was gonna star — co-star— with Meghan Markle, who's like a month after we finished working together was gonna meet Prince Harry," Polaha said of the interesting turn of events. "And when that happened, 'Dater's Handbook,' —like the whole world — it started airing in all the Commonwealth areas. Hallmark played it over and over again as it was ramping up for the wedding.
"So, a lot of people ended up seeing 'Dater's Handbook,' which all tides rise — all ships rise with the tide — so it's like, it became very good for me because it, kind of all a sudden, was like I was part of something that was really kind of — had a little touch to it. So, it went from being something that I thought was gonna be like a one-time deal to something that was very charmed."
Now Polaha's getting ready for the premiere of his sixth Hallmark movie, "Mystery 101," on Hallmark Movies & Mysteries on Jan. 27 at 9 p.m. EST.
© Copyright IBTimes 2023. All rights reserved.