How Michelle Obama Threw Shade At Melania Trump To Sell Books Revisited
KEY POINTS
Michelle Obama threw shade at Melania Trump
Melania Trump said she's the most bullied person
Netizens slam Melania Trump for saying she's the most bullied person
Michelle Obama threw shade at Melania Trump once to sell books.
In December 2018, Piers Morgan expressed his disappointment in the ex-FLOTUS when she attacked the First Lady of the United States while promoting her book. Morgan called Michelle's move a "cheap, tacky shot" at Melania.
Morgan was referring to Michelle's appearance on Jimmy Fallon's show. The host showed Michelle a photo of her and husband Barack Obama during Donald Trump's inauguration in January 2017.
Before he could even finish, Michelle interrupted and said, "Bye Felicia!" Fallon and the audience laughed at Michelle's statement. But Morgan felt that Melania winced in "anger and frustration."
Morgan pointed out how Michelle prides herself as street-wise and down with the kids, so she should have known better when making that statement.
"She is a very smart woman too, so she will have also known that 'Felicia' is a very similar phonetic name to 'Melania', so it would be very obvious to whom she was referring," Morgan wrote. "This slur would be bad enough, but Michelle wasn't finished there."
During the inauguration day, Melania was seen giving Michelle the Tiffany's box. Obama's wife mentioned it during her guesting and crunched her face into "an expression of withering theatrical bemusement" as she talked about the expensive picture frame she received from the current FLOTUS outside the White House.
"Just when I thought there was one person in public life that soared effortlessly and admirably above the incessantly ugly partisan trash-talk that pervades every second of American airspace these days, Mrs Obama has let me down. And frankly, she has let herself down too," Piers said about the whole fiasco.
In related news, Melania said that she's the most bullied person in the world. Due to the personal attacks she received from the critics, she started the Be Best initiative.
However, netizens didn't agree with Melania's claim. According to @JBena66, the FLOTUS is "well kept and pampered." The same Twitter user called Melania "hateful and selfish."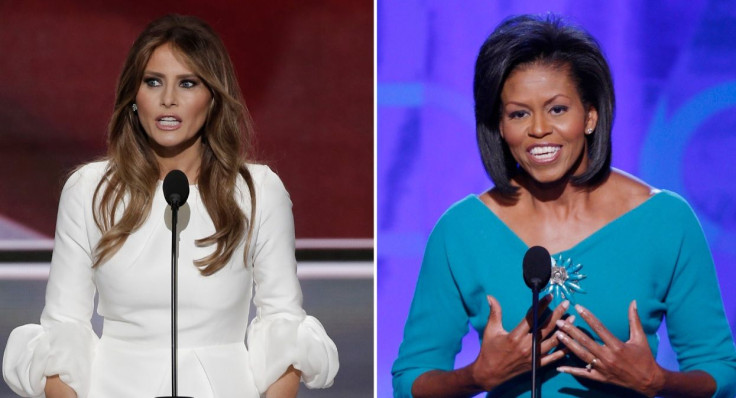 © Copyright IBTimes 2023. All rights reserved.