How Old Is Hillary Clinton And Donald Trump Compared With Past Presidents?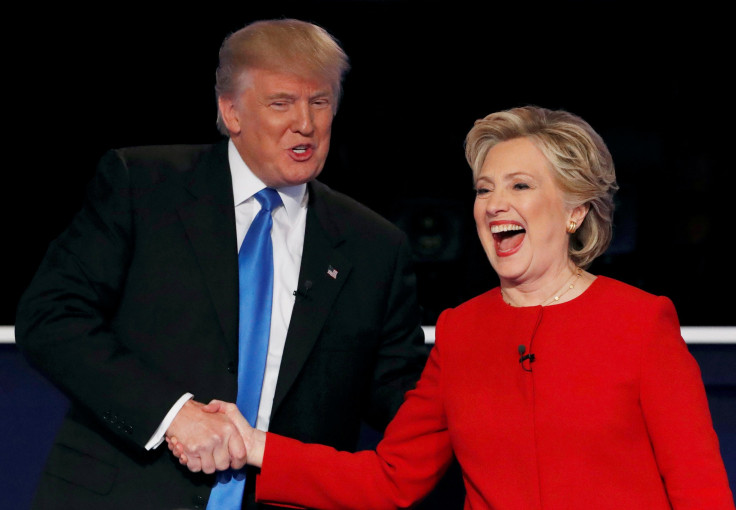 Don't let the youthful vigor with which Hillary Clinton and Donald Trump attacked one another during Monday's first presidential debate fool you. Depending on the outcome this November, the United States will swear in either the oldest or second oldest president in its history this January.
Trump, who turned 70 in June, would be the oldest elected president. Clinton, who turns 69 next month, would be slightly younger but the same numerical age as President Ronald Reagan when he took office if she were elected. President Barack Obama was 47 years old when he was elected.
"I am not going to exploit for political purposes my opponent's youth and inexperience," Reagan said to laughter back in 1984 when asked during a debate about his stamina. Reagan, of course, won his reelection bid against former Vice President Walter Mondale, who also laughed at the joke and was much younger.
Reagan may have said that he wasn't going to make age a political issue during that campaign -- as if he really could control that -- and it's clear that neither Clinton nor Trump are eager to talk about their own ages. But, in an election cycle that has seen Clinton diagnosed with pneumonia and conspiracy theories flourish saying that Trump has lost his mind with age , the topic is unavoidable.
What's striking is that the relative polar opposites of the two candidates will play such a heavy hand in this election. Millennials, who showed up and played an important role in Obama's election bids, could be the kingmakers in 2016. The eligible number of millennial voters is about on par with that of baby boomers in 2016 but will be much greater than the older generation come 2020.
That means Clinton needs them to carry her to the White House. Trump needs them to say, "no way am I helping a former secretary of state crowd surf into the Oval." But so far, millennials -- a group of people roughly defined as being born between 1981 and 2000 and who are commonly characterized as being diverse, secular and inclusive -- have proven elusive for Clinton even though they typically say in polls that they really don't like Trump.
© Copyright IBTimes 2023. All rights reserved.