How President Trump Has Responded To The Black Lives Matter Movement
KEY POINTS
President Trump has relied on the same message of division and hostility when addressing the Black Lives Matter movement that served as the foundation of his 2016 presidential campaign
Despite saying there were "fine people on both sides" following the 2017 Unite the Right rally, Trump called a Black Lives Matter street sign in New York City a "symbol of hate"
Polls released in the wake of the Black Lives Matter protests indicate Trump's divisiveness may not be as effective as it once was
President Donald Trump is facing mounting criticism for his confrontational approach to the Black Lives Matter movement, which dominated headlines for most of June. It peaked on Sunday when Trump retweeted a post of a white man chanting "white power" to a group of Black Lives Matter protesters in Florida. While it was taken down shortly after, it serves as a microcosm of Trump's apparent view of the Black Lives Matter protests.
But to get a clearer idea, it's worth going back just a little bit further.
"You also had some very fine people on both sides," Trump said after the Aug. 11-12, 2017, Unite the Right rally in Charlottesville, Virginia, an event where Nazi and Confederate flags were flown, firearms were brandished openly and chants like "white lives matter" and "blood and soil" were heard echoing throughout the city.
Once met with counterprotesters, the event descended into chaos and resulted in the death of Heather Heyer, a 32-year-old paralegal and waitress who was among the many counterprotesters present. Heyer was killed by James Alex Fields Jr., who deliberately drove his car into demonstrators during the second day of the rally.
Contrast Trump's response to the scene in Charlottesville to the various Black Lives Matter protests sparked by the Memorial Day death of George Floyd at the hands of a white Minneapolis police officer currently underway. During the first days of the protests in June, Trump repeatedly called for action against the protests and appeared to encourage police violence. Peaceful protesters outside the White House were forcibly moved for an apparent photo op at nearby St. John's Episcopal Church.
Trump and his family have referred to the protesters as "thugs" and "animals" while Trump has repeatedly tweeted about bringing back "law and order" to the U.S. Trump tried to discredit the protests as several violent riots erupted. Online videos, however, showed the vast majority of protests were peaceful.
His latest outburst was in response to New York City Mayor Bill de Blasio announced a $1 billion cut to the city's police budget, with plans to downsize the police force and bring in civilians who would be "better suited" to certain functions. De Blasio also announced plans to paint "Black Lives Matter" on Fifth Avenue, near where Trump Tower is located. Trump responded by denigrating both de Blasio and the budget on Twitter, referring to the "Black Lives Matter" sign as a "symbol of hate."
Another target of Trump's ire was the proposed defense-spending bill. Sen. Elizabeth Warren, D-Mass., offered an amendment requiring the renaming of 10 U.S. Army bases named after Confederate generals. Defense Secretary Mark T. Esper and Gen. Mark A. Milley previously said they were open to such actions.
Trump did not take kindly to the idea and threatened to veto the bill. He has shown the same antipathy against the idea of removing statues and memorials for various Confederate leaders around the U.S. South.
The reactions highlight Trump's approach, addressing such sensitive issues with division rather than unity, but his hostility toward the Black Lives Matter movement is not new.
During his presidential campaign in 2015 and 2016, Trump used the same sort of language and hostility in attacking immigrants traveling to the U.S. from the Middle East and South America. "The Wall" was a tenant of his campaign to keep out Hispanics he referred to as "criminals" and rapists." And as controversial as it was, it worked at the time, propelling him to the White House by reflecting the sentiments of those in the central and southern U.S. who felt disenfranchised and were afraid of losing their country.
It worked it 2016, so why shouldn't the same work in 2020?
Poll after poll released in the wake of the Black Lives Matter protests indicate Trump is losing ground among voters who proved key to his victory in 2016. A recent poll from NPR/PBS/Marist has presumptive Democratic nominee Joe Biden leading Trump 60% to 35% among suburban voters -- the same suburban voters Trump won 49% to 45% in the 2016 election.
Another poll from NPR/PBS/Marist indicated 67% of Americans say they believe Trump has made racial tensions worse in the wake of the Black Lives Matter protests.
Trump's dismal poll numbers, coupled with growing disapproval of how his administration has handled the ongoing coronavirus pandemic, has created uncertainty about his future in the White House, with many of his staunchest public supporters thinking he could lose or even drop out of the race if poll numbers continue falling.
Only time will tell.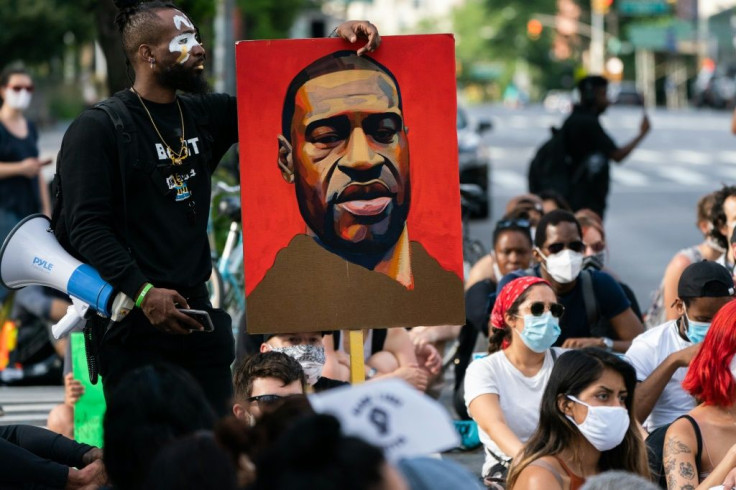 © Copyright IBTimes 2023. All rights reserved.