How Prince William's Jealousy Caused Rift With Prince Harry And Meghan Markle
Prince William and Kate Middleton have had nothing but nice things to say about Prince Harry and Meghan Markle following the birth of the baby boy, Archie Harrison Mountbatten-Windsor. However, behind closed doors, it seems the rumored rift between the brothers is far from over, and the Duke of Cambridge may be responsible for starting the feud.
Since Harry married Meghan in 2018, the relationship between the brothers reportedly began to fall apart. According to one royal expert, William's jealousy is responsible for the change in his relationship with the Duke of Sussex.
During a conversation on New Idea's podcast "Royals," Angela Mollard revealed Prince Harry has more freedom than Prince William due to his brother's destiny to take the throne. "William is going to be the king, he's got to follow protocol," she explained.
Seeing as Harry is sixth in line to the throne, he doesn't face as many restrictions as his older brother. "For William at times, it must feel like Harry's got the better job. He's the one going around to all these interesting places and countries and speaking to people who are doing real things," Mollard revealed.
"There's a lot more pressing the flesh, and a lot more speaking out on behalf of the Firm in William's job, and that will only increase as the Queen gets older. It's a more dutiful role rather than a passionate role."
The royal expert suggested William could be envious of Prince Harry's confidence in everything he does. "Harry is really carving out a role for himself as a philanthropist. He wants to change the world through environmentalism, sustainability, mental health," Mollard shared.
"He is so intent, interested, he has such a sense of purpose about him," she added.
While Kate and Prince William have spoken highly of Prince Harry and Meghan, royal fans continue to suspect there is a rift between the couples after it took the Duke and Duchess of Cambridge more than a week to meet their new nephew.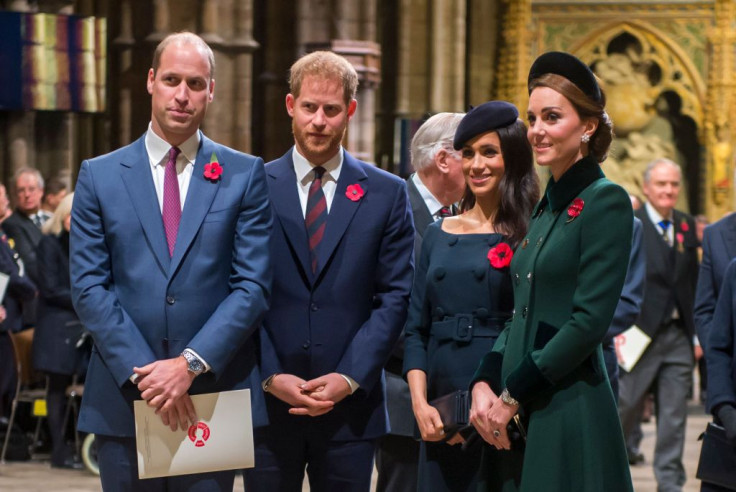 © Copyright IBTimes 2023. All rights reserved.