How The 'Sister Wives' Family Celebrates Halloween; Browns 'Check Out' From The Real World During Holidays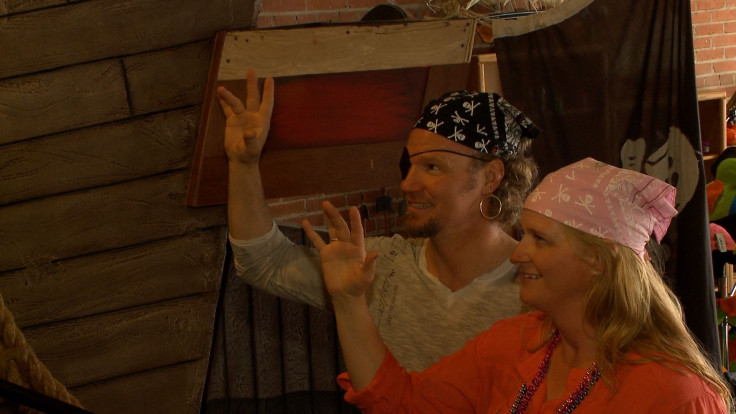 Halloween is a time meant for chills and thrills. But for the Brown family, the spooky holiday is a chance for the "Sister Wives" clan to come together and bond over all the creepy things that go bump in the night -- you know, when they're not stressing over whipping up 17 different costumes for the kids or carving a plethora of pumpkins!
"What you see is actually kind of how most of our holidays are where we check out from everything else that's going on and we fully engage with the family," Janelle, Kody's second sister wife, said in a video shared by TLC.
The trailer gives audiences a look at how the large family celebrates the eerie holiday together in a scene from Season 2 of the hit reality series. In the clip, viewers watch as Kody, his four sister wives and their children embrace the Halloween spirit by dressing up like vampires, angels and even clowns!
"I didn't paint anybody's face," Kody explained in a confessional. "I just got painted and I felt like a rock star clown." Meri agreed with Kody's costume description wholeheartedly, teasing that he did look a bit like Bozo with his overly teased, orange hair.
"I sure hope that washes out," fans can hear Christine say to the patriarch of the polygamist family, who didn't seem too thrilled to be sporting carrot-colored locks.
While Kody transformed into a balloon-twisting, children's performer, the ladies of the Brown family each helped one another get dolled up for the fall holiday by painting one another's faces.
"It was fun to sit there and kind of get creative," Robyn, Kody's fourth sister wife said, "and, I don't know, get in each other's personal space a little bit."
It's also revealed that in addition to getting dressed up, Janelle has a Halloween tradition of her own: baking gruesome witch cookies!
"I don't cook very much but I have a couple things I usually make on the holidays [and] one of them [are] these cookies," Janelle said, explaining that the treats she makes for the tricky holiday are called "witch fingers." "It's one of my traditions I do for the kids."
Both Christine and Janelle shared photos of their children on Twitter, revealing just what spooky costumes their kids are parading around with on the creepy holiday.
"I adore Halloween," Christine said before revealing her youngest daughter Truely is a "bat witch." "Truely is a Bat Witch today, she said she has power over bats so they will only eat fruit," Kody's third wife explained on Twitter.
"Sister Wives" airs Sunday nights at 9 p.m. EST on TLC.
© Copyright IBTimes 2023. All rights reserved.