How To Stream Ariana Grande's 'One Love Manchester' Charity Album Featuring 'Somewhere Over The Rainbow'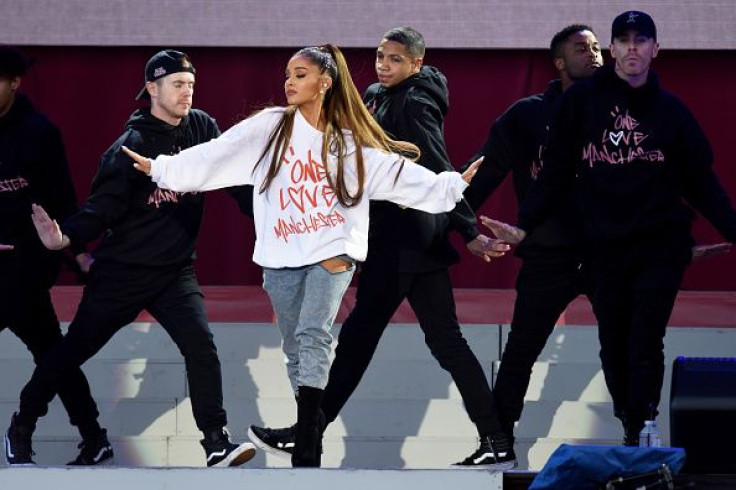 Fans of 23-year-old diva Ariana Grande flocked to Twitter this week to request she release the moving tribute she sang during the One Love Manchester benefit concert for the 22 killed and dozens more injured during the Manchester bombing on May 22. It appears their voices have been heard, as a live recording of the songstress singing "Somewhere Over the Rainbow" is being released as a charity single to further benefit people affected by the Manchester terror attack last month.
Grande's star-studded One Love Manchester concert saw performances by Miley Cyrus, Justin Bieber and more. But it was Grande's rendition of "Somewhere Over the Rainbow," which closed out her performance Sunday evening, that had fans buzzing. E! News reported Wednesday that the song, along with 38 other live performances, are now available as a charity album on Apple Music, Spotify and Tidal.
Read: Ariana Grande Pictured With Boyfriend Mac Miller Before Benefit Concert
"Spotify is making an additional, sizeable donation on behalf of our users to the We Love Manchester Emergency Fund in aid of the British Red Cross," a spokesperson said Wednesday, according to E! News.
The pop star's choice of song for the tribute reportedly surprised even Grande's mother Joan, who spoke with Variety about why the "Wizard of Oz" classic has a special significance to the singer.
"It's an emotional story: my father passed away two and half years ago, and that was the song she sang for him after he passed," she said. "It's an emotional story: my father passed away two and half years ago, and that was the song she sang for him after he passed."
She continued, "No matter how many hit songs she had, and no matter how incredible her concerts were — and he was always the first one there, applauding, kissing her, being in the front row — after every show, he would say, 'Ariana you know what song you have to sing? "Somewhere Over the Rainbow." And she would say, 'Grandpa, I don't know if that would work on a pop album.' And he said, 'I promise you, it's gonna be a big hit. It's the greatest song ever written.'"
Read: Ariana Grande Trolled By Pro-Trump Alt-Right After Concert Bombing That Left 22 Dead
Grande met with a number of Manchester victims and their families last weekend ahead of her One Love Manchester event. The concert, which was attended by a massive audience of 50,000 people, was expected to bring in $3 million in proceeds. However as TMZ reported Monday, Grande raised more than $12 million in proceeds for people affected by the attack.
"I love you so, so much," Grande told members of the One Love audience Sunday evening. "Thank you so much for coming together and being so loving and strong and unified. I love you guys so much, and I think the kind of unity you're displaying is the medicine the world needs right now."
© Copyright IBTimes 2023. All rights reserved.