How To Throw An Oscar Party: Celebrate 2015 Academy Awards With Fun Food, Drinks And DIY Decoration Ideas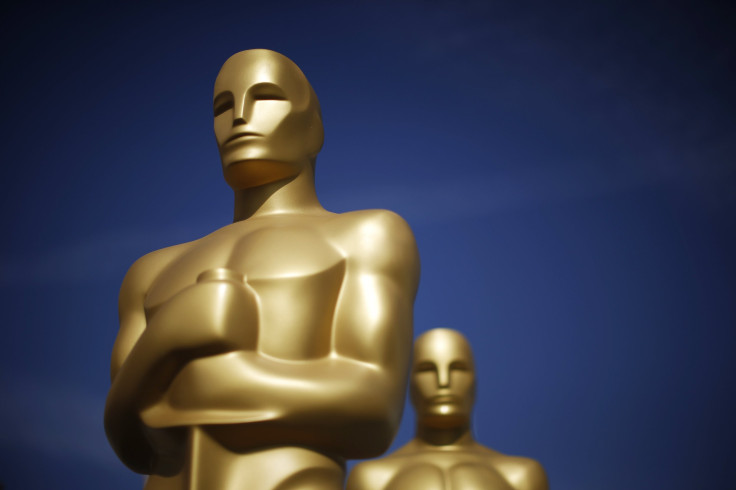 It's that time of year again when all your favorite movie stars gather together to celebrate the best and the brightest of Hollywood at the annual Academy Awards. But celebrities shouldn't be the only ones to enjoy the exciting 2015 event, which takes place Sunday. That's why we have decided to show you how to throw your very own award-winning Oscar party.
1. Red carpet-worthy invites
Just like the Oscars, you should only invite the crème de le crème to your Academy Awards party. So why not show your appreciation for you film-loving friends by asking them to attend your bash with a replica of the coveted Oscar statuette? Your buddies will feel like A-listers when they get handed the iconic award, like this one from from Twig and Thistle.
2. Selfie booth
After your dressed-up guests arrive, escort them to your very own selfie booth, which is obviously inspired by DeGeneres's epic Oscar photo from 2014. You can snap a few silly photos while sporting these Hollywood-classic props from Etsy.
3. Five-star snacks
What's an Oscar party without a few fancy finger foods? Keep your guests happy and full by filling them up with tasty Hors d'Oeuvres like bacon-wrapped dates, celery stuffed with goat cheese and you can't forget about the movie staple snack: popcorn! Stand out by spicing up your popcorn with crazy flavors like Cookies 'n' Cream and Parmesan-Garlic.
4. Dazzling drinks
The Oscars only come once a year, so why not celebrate the 87th annual Academy Awards with movie-themed mixed drinks? Your guests will be buzzing (and maybe a little buzzed) with your creative cocktails like these drink ideas from Self Magazine.
5. Decadent desserts
Your friends might have a keen eye for films, but do they have a sweet tooth, too? If so, satisfy their sugary cravings by serving up Oscar-themed cookies, which can be made with this adorable statuette cookie cutter from Etsy. If you want to stick with a popcorn theme, you can whip up these tasty buttered popcorn cupcakes from the blog A Beautiful Mess.
6. Delightful décor
Snazzy decorations will elevate your Oscar party to an elite status. So jazz up your home with these delightful additions: gold star garland, an Oscar banner and this filmmstrip party accessory.
How will you be celebrating the 2015 Oscar awards? Let us know in the comments section below and don't forget to watch the 87th Academy Awards on Sunday on ABC.
© Copyright IBTimes 2023. All rights reserved.