How US Airlines Stack Up On In-Flight Wi-Fi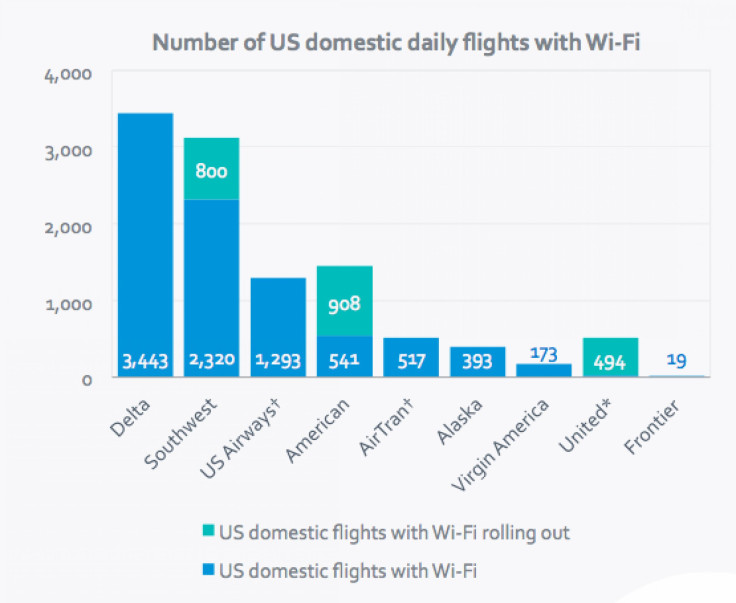 After numerous delays and a few patches of turbulence, in-flight Wi-Fi has finally taken off in the U.S. According to a new report from Routehappy.com, nearly four out of every 10 domestic flights now offer Wi-Fi onboard, with Delta leading the pack with the highest number of Wi-Fi-enabled departures.
Routehappy, a new startup that aims to help passengers choose a flight based on its quality as much as its price, found that flyers can count on Wi-Fi on 38 percent of domestic U.S. flights, covering 44 percent of flight time. That number drastically increases if you're on Delta or Southwest, which operate the most flights with Wi-Fi at 3,443 and 2,320, respectively. The fleets of Virgin America and AirTran, meanwhile, are 100 percent Wi-Fi enabled.
Routehappy anticipates Wi-Fi to roll out on another 2,200 flights over the next 18 to 24 months. American and United have lagged behind their competitors, but will make up a large portion of the new services coming over the next two years. United, along with JetBlue, is waiting for Federal Aviation Administration approval to roll out satellite Wi-Fi across its fleet.
Between competing frequent flyer groups, Sky Team has the most U.S. flights with Wi-Fi capability, followed by Star Alliance -- though oneworld will catch up soon when the merger of American and US Airways into the new American boosts oneworld's Wi-Fi offerings.
By route, flights from LAX to SFO and JFK are the most likely to have Wi-Fi at about 80 percent. Full-flight international Wi-Fi, meanwhile, is slowing becoming a reality.
"International Wi-Fi in 2013 is a complex situation, with many more shades of grey and different technical restrictions than domestic U.S. connectivity," Routehappy noted in the report. Currently, only 38 international flights from the U.S. have Wi-Fi for the duration of the trip, while a further 241 have a chance of Wi-Fi or cellular roaming. Even during full-flight connectivity, however, Routehappy found that satellite Wi-Fi coverage often wasn't available worldwide for various reasons, such as national airspace restrictions, satellite coverage gaps and other geographic limitations.
Of the 38 international flights with Wi-Fi, Lufthansa leads the way with 12, followed by American (11), Air Canada (9) and Singapore (4). Several other carriers will increase their coverage, pending FAA certification.
Routehappy found that seat space and flight length play a major role in how likely passengers are to pay for Wi-Fi service. More than 65 percent of first- and business-class passengers said Wi-Fi was "worth it," but many of those in tighter seats in the main cabin said it was only worth paying for Wi-Fi for a tablet or phone. "Battery anxiety" was another concern. Routehappy found that American was the leader in providing power outlets for passengers, while Delta was a close second.
Industry analysts see the increase in Wi-Fi as yet another revenue stream for airlines who, unable to raise base fares in a competitive environment, increasingly tack on ancillary fees. Yet, costs of as much as $12 or more per session have deterred many users from using it. Industry leader Gogo, which has systems on more than 80 percent of all Wi-Fi-enabled flights in North America, said that in the first quarter just 6.2 percent of passengers on planes with Wi-Fi purchased the service.
Follow me on Twitter @MarkJohansonIBT
© Copyright IBTimes 2023. All rights reserved.