Howard Stern Says Will Smith Has 'Real Issues,' Wouldn't Have Slapped Jason Momoa For Same Joke
KEY POINTS
Howard Stern said he was "disturbed" by Will Smith's assault on Chris Rock at the 2022 Oscars Sunday
The radio host claimed Smith's actions were "a sign of great mental illness"
Stern claimed that Rock was just trying to do his job and that the comedian's joke wasn't really offensive
Howard Stern is calling out Will Smith after the latter stormed the stage and slapped Chris Rock across the face at the 2022 Oscars Sunday night.
During his SiriusXM show Monday, Stern weighed in on Smith smacking Rock after the comedian joked about Jada Pinkett Smith starring in a sequel to "G.I. Jane" because of her bald head.
The 68-year-old radio personality said he was "disturbed" by Smith's behavior and speculated that the Oscar winner must suffer from mental illness.
"This is a sign of great mental illness when you can't control your impulse. Not only that, it was hardly an insulting joke. It was not even a good joke," Stern said on his show. "The joke, quite frankly, was beneath Chris Rock. It was a throwaway. 'You look like G.I. Jane.'"
Stern said he believes what the audience saw on TV was "a guy who's got real issues," pointing out that Smith "didn't think twice about what he was about to do."
Stern went on to defend Rock, describing him as a "gentle soul" and "not a fighter." The host also argued that the comedian's joke wasn't really offensive, pointing out that Rock was comparing Pinkett Smith to "one of the most beautiful women in the world," Demi Moore, who had a shaved head when she starred in 1997's "G.I. Jane."
Stern claimed Rock was just trying to do his job and Smith is "clearly insane" and needs to "contain himself."
"Poor Chris Rock is a comedian and just trying to get through the day to make the f–king people laugh at that horrible ceremony. [Rock is] so fast comedy-wise, he actually covered and made a joke and said, 'Gee, best Oscars yet,'" Stern said. "He was able to comment outside of what just happened to him and then he got flustered. He got f–ked over."
The radio host admitted he thought the incident was staged at first but later realized that it was Smith acting on an impulse.
"The first thing I said to my wife, 'The f–k is going on? Is this a bit? Because, where's security?' This is a live television event. Not one person came out, because he's Will Smith," Stern said.
Stern joked that Smith only slapped Rock because he is bigger than the comedian but would not have done the same if Jason Momoa had made the same joke toward his wife.
"If Jason Momoa had made that joke, Will Smith, like a bitch, would have said, 'Thank you for acknowledging my wife, Mr. Momoa,'" Stern joked, according to New York Daily News.
Following Sunday's Oscars ceremony, the "Aquaman" star was asked about his thoughts on Smith and Rock's on-stage altercation. It took a couple of seconds for Momoa to utter a word before telling Entertainment Tonight that it was "crazy."
The "Dune" star later told People at the 2022 Vanity Fair Oscars Party that he was "pretty shocked" when he witnessed the incident.
"You just never know where people are at, you know? There's a tipping point for everyone, right? I've had my places," Momoa shared.
Smith initially apologized to the Academy of Motion Picture Arts and Sciences and the audience for his actions when he accepted his Oscar for best actor, without mentioning Rock by name. But the "King Richard" star on Monday issued a public apology to the comedian via Instagram.
"I would like to publicly apologize to you, Chris. I was out of line and I was wrong," Smith wrote. "I am embarrassed and my actions were not indicative of the man I want to be. There is no place for violence in a world of love and kindness."
The Academy on Monday said in a statement that it has officially launched a formal review into the altercation and will explore further action and consequences based on its bylaws, standards of conduct and California law.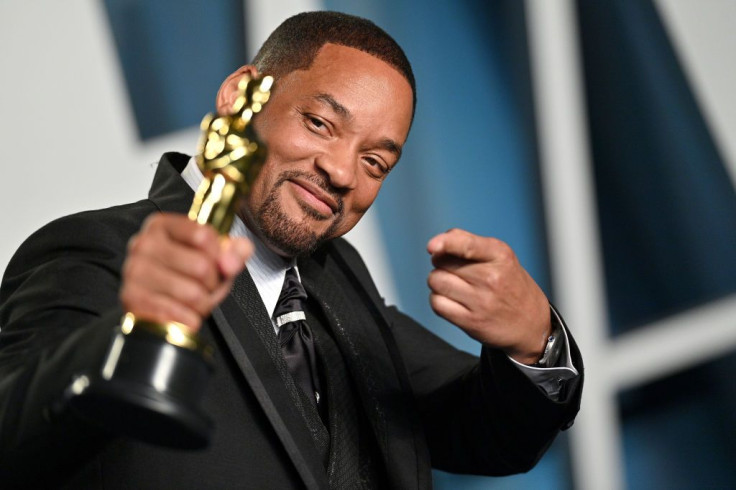 © Copyright IBTimes 2022. All rights reserved.
FOLLOW MORE IBT NEWS ON THE BELOW CHANNELS