Huge Deadly Snake Found Hiding Inside Children's Toy Basket Terrifies Mother [Video]
A woman in Australia was terrified to find a huge snake hiding inside her kids' toy basket while she was playing with her two daughters.
The incident took place Thursday in Maroochydore, a coastal town in the Sunshine Coast Region, Queensland. Stuart McKenzie of Sunshine Coast Snake Catchers 24/7 was called to the scene to remove the deadly red-bellied black snake. When she went to take a few toys out of the basket, she spotted the large reptile.
"When I arrived and saw this situation it actually sent a shiver down my spine," McKenzie wrote on his Facebook page along with a video. "It was so lucky that one of them didn't put their hand on the snake."
McKenzie said the red-bellied black snake was a "chilled out and such a well behaved" reptile.
"I still cant believe this happened! There was a lot of construction going on nearby and I am sure the Red Belly was simply looking for a safe place to shelter and hide," he added.
The video shared by McKenzie shows him entering the children's room and shaking the basket full of toys. The reptile can be seen hiding under the pile of toys. McKenzie was then seen taking the snake out of the basket as the children looked from outside a glass window.
One Facebook user commented on the post, calling the incident a "nightmare." Another wrote: "Wow that's so scary thank God stu you caught it and took it back into the wild so it can be back into nature."
According to the Australian Museum, red-bellied black snakes are found in northern and central eastern Queensland and in southeastern Queensland through eastern New South Wales and Victoria. They feed on a variety of vertebrates including fish, tadpoles, frogs, lizards, snakes (including its own species) and mammals. They are one of the most frequently encountered snakes on the east coast of Australia. These snakes are mostly shy and would go for a serious bite only when threatened. So far, there have been no recorded human deaths from a red-bellied black snake bite in Australia.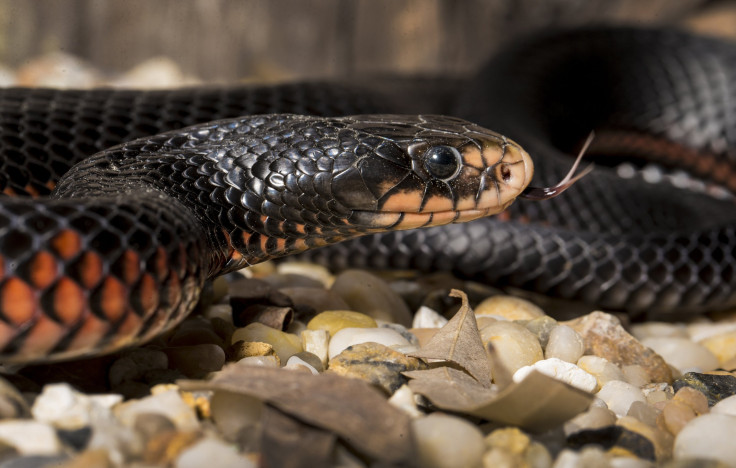 FOLLOW MORE IBT NEWS ON THE BELOW CHANNELS