Hunt For Escaped Convicts Heats Up Near New York-Pennsylvania Line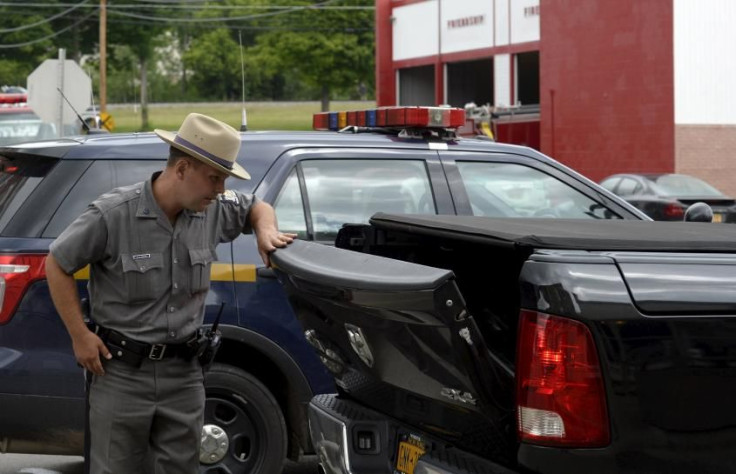 (Reuters) -- Hundreds of law enforcement officers stepped up their hunt in western New York state for two convicted murderers who escaped from an upstate prison more than two weeks ago, as another possible sighting of the men was reported in a new search area.
The manhunt centered on the town of Friendship, located about 280 miles (450 km) southwest of the Clinton Correctional Facility in Dannemora, near the Canadian border, where the escaped convicts were serving life sentences for murder.
The search in Friendship was winding down by Sunday night, but increased patrols will stay in the area, New York State Police spokesman Beau Duffy told Reuters.
"We will continue to search this area until all leads have been exhausted," New York State Police Major Michael Cerretto said on Sunday.
"As we have in other areas of this state, we will search under every rock, behind every tree and structure until we are confident that area is secure."
State police received a call early Saturday afternoon from a witness who spotted two men with descriptions similar to the escaped convicts, Richard Matt and David Sweat, on a railroad line in Friendship, Cerretto said.
Police interviewed the witness at length and determined that the witness was credible and the lead should be investigated, Cerretto said, calling the sighting "unconfirmed."
About 300 law enforcement officers were searching the area, along New York's so-called southern tier, near the border with Pennsylvania, Cerretto said. That is double the number that state police said were on the ground on Saturday.
A secure perimeter was established around the area of the sighting and roadblocks were set up, Cerretto said at a brief press conference. He made no mention of other sightings in the area.
The Buffalo News reported that a civilian told police that he believed he had seen two men fitting the descriptions of the convicts walking along a road in Friendship on Sunday morning.
The newspaper did not disclose how it learned about the report, and a spokesman for the New York State Police declined comment on it.
The reported sightings of Matt, 48, and Sweat, 35, follow the suspension of corrections officer Gene Palmer at Clinton in connection with the escape.
His lawyer, Andrew Brockway, said Palmer has cooperated with investigators, who questioned him for 14 hours on Saturday.
"Any information he has that will aid in the capture of Matt and Sweat will be given to law enforcement," Brockway told Reuters in an email. "He looks forward to going back to work as soon as possible."
Joyce Mitchell, 51, a training supervisor in the prison tailor shop, is charged with helping the inmates escape by giving them tools.
The two inmates cut through their cell walls and crawled through a steam pipe before emerging from a manhole outside the prison, authorities said. The pair was discovered missing during the morning bed check on June 6.
© Copyright Thomson Reuters 2023. All rights reserved.