As Hurricane Sandy Barrels North, Newspaper Paywalls Come Down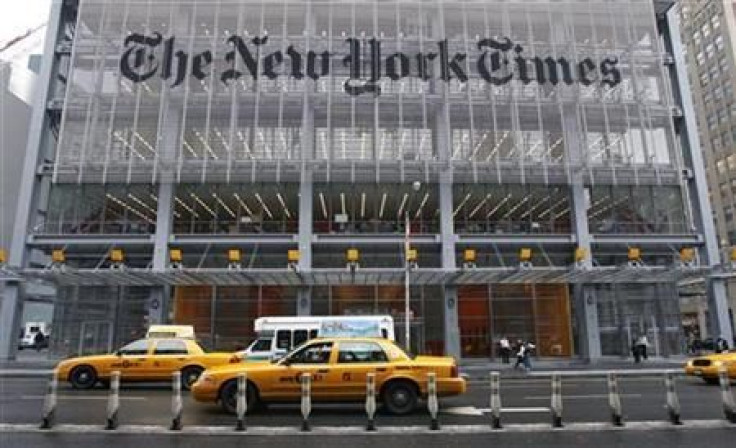 Three major northeast newspapers announced this weekend that they are temporarily suspending their paywalls to provide free coverage of Hurricane Sandy as it makes its way up the mid-Atlantic coast.
The New York Times (NYSE: NYT) lifted its paywall on Sunday evening, stating that unfettered access to its website will be granted to all visitors until the storm passes. Typically, nonsubscribers are only allowed 10 free Times articles per month before they are prompted to buy a subscription.
"The gateway has been removed from the entire site and all apps," Eileen Murphy, a spokesperson for the Times, told Poynter. "The plan is to keep it that way until the weather emergency is over."
Not to be outdone, the Wall Street Journal (Nasdaq: NWSA), the Times' archrival, announced via tweet that all of its content would be available for free throughout the day on Monday.
Long Island's Newsday (NYSE: CVC) also announced its plans on Twitter, stating that its hurricane coverage accessible to nonsubscribers.
In the case of a natural disaster, the role of a newspaper changes from an outlet of investigative reporting and analysis to one that provides up-to-the-minute, sometimes life-saving information to the communities they serve. But as newspaper paywalls become more prevalent, this weekend's announcements seemed to suggest an emerging consensus among media companies with regard to paywall etiquette.
Indeed, the longstanding rivalry between the Times and the Journal may be the very thing pushing that etiquette forward. Last summer, when Hurricane Irene battered parts of New York City, both the Times and the Journal lifted their paywalls. And as was the case this weekend, both announced their intentions on the same day.
The Journal, with its paywall in place since 1997, had long been considered an outlier among media companies, charging for access to its online content while virtually the entire industry gave it away for free.
That began to change, however, in early 2011, when the New York Times enacted its paywall, paving the way for widespread paywall implementation among major American newspapers. Since it first enacted its paywall in early 2011, dozens of newspapers have followed suit, most using a similar metered format in which users are allowed a limited amount of free content each month.
Arthur Sulzberger Jr., the Times' publisher, seemed to anticipate the need for occasional paywall suspension from the outset of its implementation. In March 2011, he explained to Jeremy Peters, a Times reporter, that he insisted on a system that could be easily lifted in cases of emergency.
"Let's imagine there's a horrifying story like 9/11 again," he told Peters. "We can -- with one hit of a button -- turn that meter to zero to allow everyone to read everything they want. We're going to learn. We built a system that is flexible."
Either way, Monday's free access to Northeast papers couldn't have come at a better time. Aside from potentially saving lives with updates about Hurricane Sandy, the additional online content will provide millions of stir-crazy New Yorkers -- trapped in their apartments until the storm passes -- with a way to occupy their time as they wait for the city's mass transit to start humming again.
© Copyright IBTimes 2023. All rights reserved.