Ian Anderson Of Jethro Tull: The Prog-Rock Legend On 'Jethro Tull: The Rock Opera,' 'Homo Erraticus' And The Power Of American TV Drama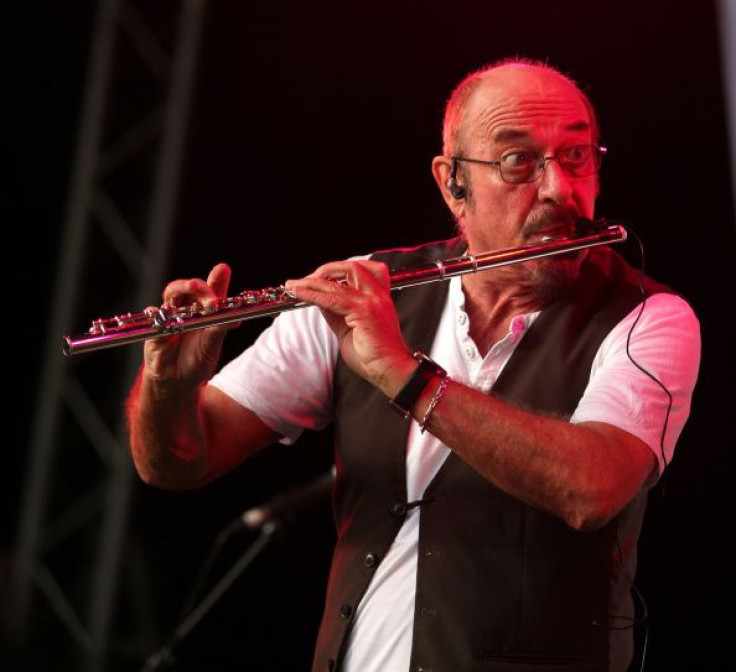 "Once in a while, I try and do more elaborate and conceptual pieces," says Jethro Tull mastermind Ian Anderson during a recent conversation. "I think as I get older, I have more teeth for that kind of a challenge."
It's a challenge that's given birth to some of the biggest, boldest prog-rock albums to date, as fortieth anniversary editions of "Aqualung" and "Thick as a Brick" and other Tull creations demonstrate. Now, as Tull approaches its fiftieth year, Anderson -- the singer, flautist and songwriting dynamo who has led the group since its formation in 1967 in Luton, Bedfordshire, England -- is presenting, as a solo artist, yet another intriguing conceptual work, this time for the concert stage: a rock opera about a guy whose name became legendary in, well, the world of prog-rock.
"Jethro Tull: The Rock Opera" celebrates the life of the English agriculturalist Jethro Tull, reimagined as if in the not-so-distant future and set forth with material spanning the group's illustrious body of work. "As a tribute to the original 18th Century agriculturalist whose name our agent 'borrowed' back in February 1968, I have imagined a scenario where the pioneering pursuit of improved crop-growing and farming methodology might apply to the world of today and tomorrow. (Yawn, yawn but who else is going to feed the planet?)," Anderson explains on Jethro Tull's website.
Songs such as "Heavy Horses," "Songs From The Wood" and "Living in the Past" are nestled alongside "Wind-Up," "A New Day Yesterday," "Locomotive Breath" and other Tull tunes, and are sometimes reinterpreted lyrically in order to tell the tale. The rock opera, as Anderson points out, is presented in a quasi-operatic structure with virtual guests on video as well as a few newly written songs. On the stage, Anderson is accompanied by bassist David Goodier, keyboardist John O'Hara, guitarist Florian Opahle and drummer Scott Hammond.
The last few years have been quite busy for Anderson. In 2012, the iconic musician released "Thick as a Brick 2: Whatever Happened to Gerald Bostock?" -- an album that reacquaints the Tull faithful with the original set's central figure, who is now all grown up. Last year came another ambitious effort -- "Homo Erraticus" -- which again builds upon the Bostock story. This time, Bostock, in his early 50s, has left his sabbatical job as manager for Anderson's rock tours and returns to semi-retirement in the village of St. Cleve in England's West Country.
He discovers a dusty, unpublished manuscript, written by local amateur historian Ernest T. Parritt, (1873 -1928), which is entitled either "Homo Erraticus" or "Homo erraticus (The St Cleve Chronicles)." As Anderson points out, "It's all part of complex backstory. Only prog-rock can do this for you."
International Business Times: When you first started creating the music that centers around Gerald Bostock, for "Thick as a Brick," did you ever think the story would continue into two subsequent albums?
Ian Anderson: Absolutely not. But I don't think the story has really continued and spanned three records, because "Homo Erraticus" is not part three of a trilogy. This is really about just taking someone who, in a fictitious sense, is an old friend. He's a Harry Potter growing up, but instead of growing up and becoming a teenager, he's become a grumpy old middle-aged man who's a left-wing politician and has decided to start writing rock music lyrics. He's just an old friend who drops in for a cup of tea. But with any luck, he's not going to stay around for lunch.
We don't have to see too much of him. He's just a little hint of continuity in the backstory; he has that little bit of familiarity. I think the fans probably like to unpeel the layers of the onion, and get some details of things. For me, it's kind of interesting to wrangle these disparate notions and backgrounds together in the context of a unified if somewhat complex theme. But to cram 8,040 years of history into 50 and a half minutes, you have to have prog-rock.
So it would be inaccurate to say that this is a continuation of the original "Thick as a Brick" album. But it took me 40 years before I finally found a clue, a sort of idea, a reference point that would give me reason to bring back Gerald Bostock, albeit in the guise of multiple personalities that he might have evolved into. I certainly had no thought in 1972 of it being anything other than a one-off album that was there to really deliberately speak the concept album in prog-rock genre, which was emerging at the time. And have a little fun with it, in a sense that I am now. I'm giving a whole lot of weight in complex and sometimes worrying notions on this album, but I'm doing so with a smile on my face. And I think only by being smiley about it, can you lure people into dealing with complex, difficult and challenging topics.
IBTimes: Do you think Jethro Tull and Ian Anderson music throughout the years has operated in a way that gives the listener something to dig into, something containing, as you've mentioned, a backstory?
Anderson: It has on occasion. There were three concept albums really in the days gone by, "Thick as a Brick" and "Passion Play," both of which made it to No. 1 on the Billboard chart, and then many years later, in 1995, another concept album of mine, "Divinities: Twelve Dances With God," an instrumental album for flute and orchestra, made it to No. 1 on Billboard's classical crossover chart. And probably "Too Old to Rock 'n' Roll: Too Young to Die!" could loosely be called a concept album. And "Homo Erraticus" certainly is. In the late '80s, and through the '90s, it was definitely not really fashionable to think in terms of concept albums, and prog-rock certainly was a dirty word, well two dirty words, and particularly dirty because it was synonymous with the excesses and the self-indulgent music of bands like Emerson Lake and Palmer and Yes and the early Genesis and indeed arguably Jethro Tull. It was not fashionable for a while. I think I was probably not of the mind to challenge the overwhelming opposition to being too clever. Now, in my advanced years, I don't mind being too clever. I don't mind having an intellect -- and letting it drift over other people. I'm not gonna lecture you, I'm not going to tell you what to believe; I'm certainly not going to tell you how many children you should have. But, I want you to think about it. Of course, I want people to be moved by lyrics and music, and let their minds wander, and perhaps dwell on topics that I've suggested, and be liberated from Mr. Google and Mr. Wiki, to become perhaps informed about things, talk about it with their friends, their families, and maybe even have some fisticuffs down at a local bar; when somebody disagrees. Basically, of course, I want to challenge people's perception, and not just throw away lyrics. But still deliver them with a smile on my face.
IBTimes: A key subject addressed in "Homo Erraticus" is human migration. Can you talk about this?
Anderson: It's matter that will occupy the minds, the spirit and conscience of generations to come, because whatever's happened in the past, I think in future days of climate change, whether it's global heating or global cooling, we will be seeing large numbers of people having to move from where they currently are, as the finite resources prove to be unattainable or dwindle. It's going to be a challenging time in the sense of real morality, of generations to come, how they deal with the enormous displacement of people. Because we're not talking about the few thousand that left Africa, probably one single tribe gave rise to all we now call homo sapiens, and we think of that, 60,000 years ago, migrations then were survival of the fittest. You had as many babies as you could, you did what you could to try and populate the planet, just because the Bible told you. However, we live in a different world today, and with 9 billion people soon to be on planet Earth the next 40 or 50 years. We're not talking about just a convenient little, "Well, we'll see what's on the other side of that mountain and go there, because maybe we can have a better life and feed our babies." And feed our women and children as hunter gatherers, as we still are. It won't be like that. Because on the other side of that mountain, are gonna be some people who are already living, and they might not want you to come in. And just think of what happens if it's global cooling, and not global warming -- you're gonna have a few million Canadians banging on your doorstep [he laughs]. I keep telling people in Italy and Germany, you really want 70 million Brits banging on your door?
IBTimes: While some of the lyrics on "Homo Erraticus" deal with actual physical human migration, and the history of that migration on Earth, other ideas concerning migration also come up.
Anderson: It talks about the Roman empire expanding, and then we talk about the Anglos and the Saxons and the Danes and the Normans, who came in successive waves of people who settled and made a huge impact on the growing culture of what become Briton, and that's all part of history. These various people, these various languages, various customs, all part of our complex mongrel culture that we have in the U.K. But I'm not just talking about migration in the physical sense of humans going elsewhere to improve their fortunes. I'm also talking about the migration of ideas, the migration of the aesthetic, the migration of the spiritual world, the migration of religion, the migration of culture, of art, of entertainment. Where we Brits and you Americans are not terribly good at putting men with boots and guns on the ground and invading other countries, particularly as of late, but what we're really really good at doing, we are world beaters, you and I, in actually invading and taking over other countries with our arts and entertainment and our culture. "The Walking Dead," it was instantly sold in more than a hundred countries around the world on the basis of one pilot episode. [Anderson's son-in-law Andrew Lincoln plays Rick Grimes in "The Walking Dead."] And that's the power of American TV drama; it excites people, it makes them want to buy into the Americana they love. Even though perhaps in many of countries lots of people might be really quite opposed to American foreign policy, but they buy into the arts and culture. So we Brits and Americans, we're good at doing this stuff, we have a lot of success stories over the years, perhaps over the centuries. I guess we had a head start, with Shakespeare [laughs]. On the other hand, you made up for it particularly in the great world of movie making and with television drama, which is absolutely world beating stuff. I mean, maybe you take it for granted but we know just how good many of these American dramas series have been in the last 15, 20 years. I am riveted watching "True Detective." Brilliant, beautifully filmed, very aesthetic, very exciting.
© Copyright IBTimes 2023. All rights reserved.