Ian Somerhalder Sparks Dating Rumors After Kissing Former Girlfriend, Maggie Grace, At 'Lost' Reunion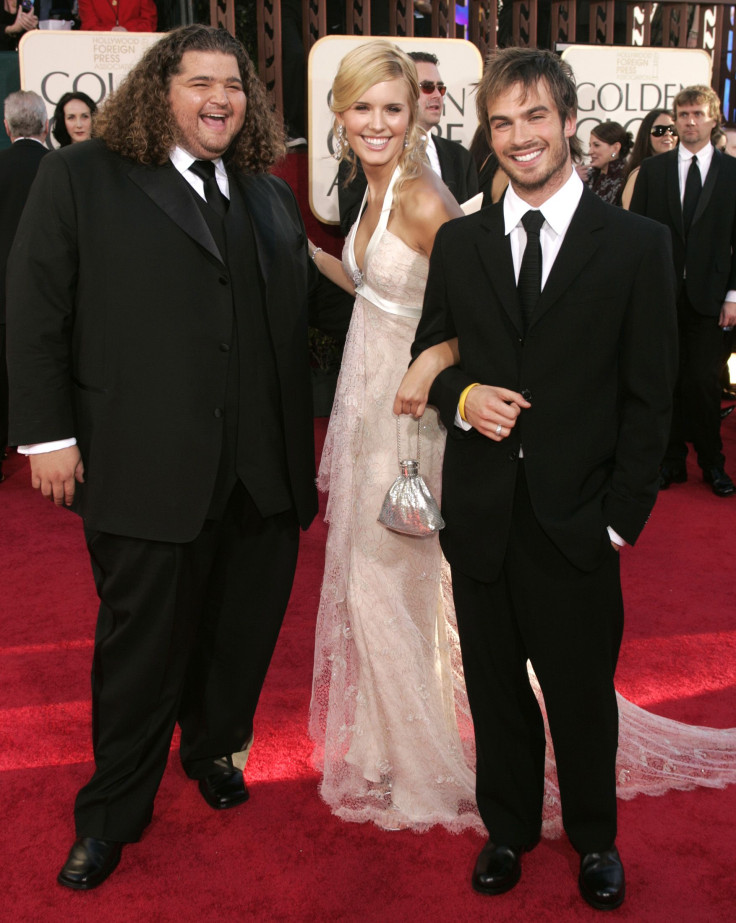 Avert your eyes Nina Dobrev, Ian Somerhalder is getting cozy with a different ex-girlfriend.
It has been several years since their alleged romance but former "Lost" co-stars, actors Ian Somerhalder and Maggie Grace, still looked awfully close at the show's 10 year PaleyFest 2014 reunion in Los Angeles on Sunday. Not only did Somerhalder, 35, and Grace, 30, smile, hug and cheek kiss on the event's step and repeat, the acting duo also posted some steamy selfies on social media following the reunion.
After their public display of affection for photographers, Grace shared a personal shot of Somerhalder giving her a smooth on her temple. ":) #LostReunion," Grace shared on her Instagram page Monday.
The duo, who played step-siblings Boone and Shannon on the popular ABC series, are rumored to have dated from 2006 to 2007. Despite the pair's lack of confirmation, Grace previously, coyly addressed her relationship with Somerhalder in 2006 during an interview with the Daily Mail, stating that her reasoning behind keeping their romance private was in an effort not to "jinx" its success.
"Talking about relationships is a surefire way to jinx them," said Grace. "But Ian's great, I adore him, although I'm only 22, far too young to even think about having a serious relationship."
While the duo gave no indication if they have rekindled their romance, "Lost" fans have since responded in droves to their reunion. "You guys are SO CUTE together," posted one fan Tuesday. "Beautiful couple @maggiegrace," said another. @iansomerhalder marry @maggiegrace you deserve her… you look very perfect. Go marry her Ian," said one fan.
While most "Lost" viewers appeared supportive of the on-screen turned off-screen lovers reunion, a few slammed the "The Vampire Diaries" star for straying on his most recent ex-girlfriend, actress Nina Dobrev. "@iansomerhalder please do not do that please. You and @ninadobrev is EPIC!... I'm very NIAN and most of their fans are too…please [sic]," said a fan.
Somerhalder famously split from Dobrev, 25, last May after three years of dating. Despite their break up, the pair has remained cordial. The former couple last made headlines in January after coming together to celebrate their CW program's 100th episode, a celebration which Dobrev chronicled on her WhoSay account. "100 episodes of #TVD star right now… Tvd family viewing party at my Casa [sic]," posted Dobrev, who also shared an image of Somerhalder, among their other co-stars, enjoy the supernatural series' milestone.
<iframe seamless="seamless" style="border: none; overflow: hidden;" height="450" width="100%" scrolling="no" src="http://assets-polarb-com.a.ssl.fastly.net/api/v4/publishers/IBTimes/embedded_polls/iframe?poll_id=165893"></iframe>
© Copyright IBTimes 2023. All rights reserved.