IFA 2022 Review: ASUS Zenbook 17 Fold - Dual Screen Laptop Evolves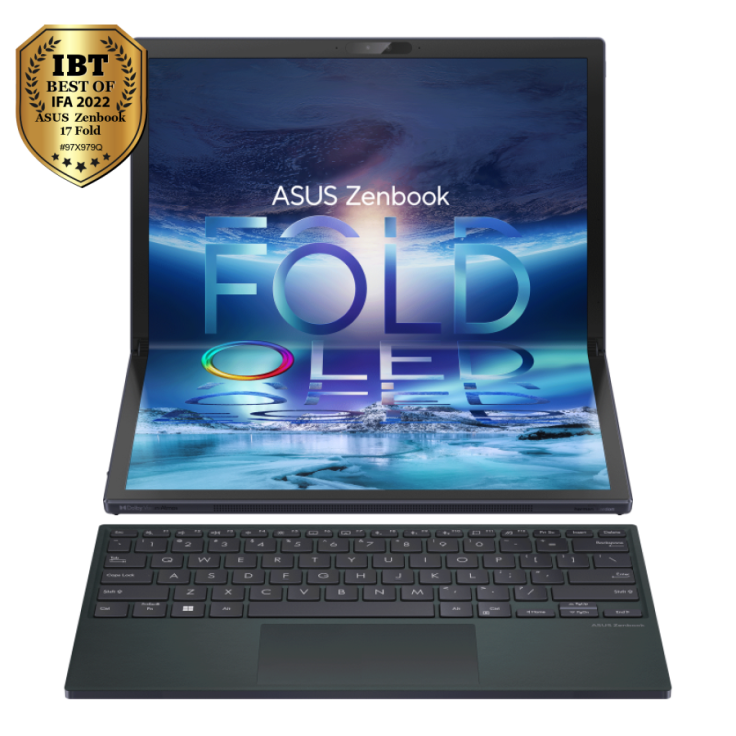 No one can fault ASUS for being the one of the most persistent laptop makers to stick with the dual screen concept. Starting from the ASUS Zenbook 14 where the touchpad doubled as a secondary screen, to the current Zenbook Pro 14 Duo that has a sophisticated self-lifting 12.7" ScreenPad, the Taiwanese tech powerhouse has stuck to their guns, and has now even upped the ante.
With the ASUS Zenbook 17 Fold OLED showcased at the IFA 2022 we're looking at the next leap of this dual screen obsession, this time the screens are only separated (or rather, not separated) by a seamless fold. Can it do the dual screen evolution justice? Let's take a deeper look.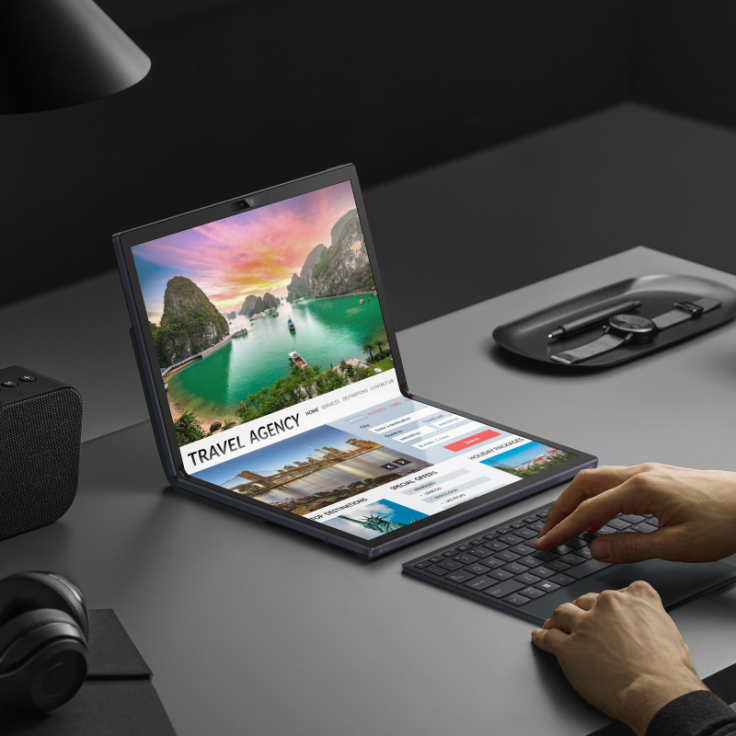 Dual 12.5" OLED Screens
The Zenbook 17 Fold is designed to be used in a number of different configurations, but from the angle of a dual screen set up, it can be set up with dual 12.5" OLED screens - one upright as the main screen, and the other laying flat on the table surface as a secondary screen. What sets it apart from its predecessors is the fact that the two screens are actually one, joined together by a curved section.
What immediately came to mind was the giant control panel in the 2013 Tom Cruise film Oblivion, with images being able to be dragged from the horizontal seamlessly to the vertical section. Different from the movie however, the Zenbook 17 Fold doesn't exclusively use the touchscreen as an input, but also has a full-sized Bluetooth keyboard and touchpad like a regular laptop. This added peripheral is what sets it apart from the first generation of the Lenovo X1 Fold, which had its productivity potential clearly limited by the on-screen virtual keyboard.
Anyone who is used to working with two monitors will easily tell you how useful it is rather than one, and more than any of the previous dual-screen laptops, the Zenbook 17 has the most usable dual screens, since both are identical 12.5" displays. Whether it's having messengers on the bottom and office suite on top, or separating Photoshop's main workspace from controls, the possibilities for various workflows are endless with these portable twin displays.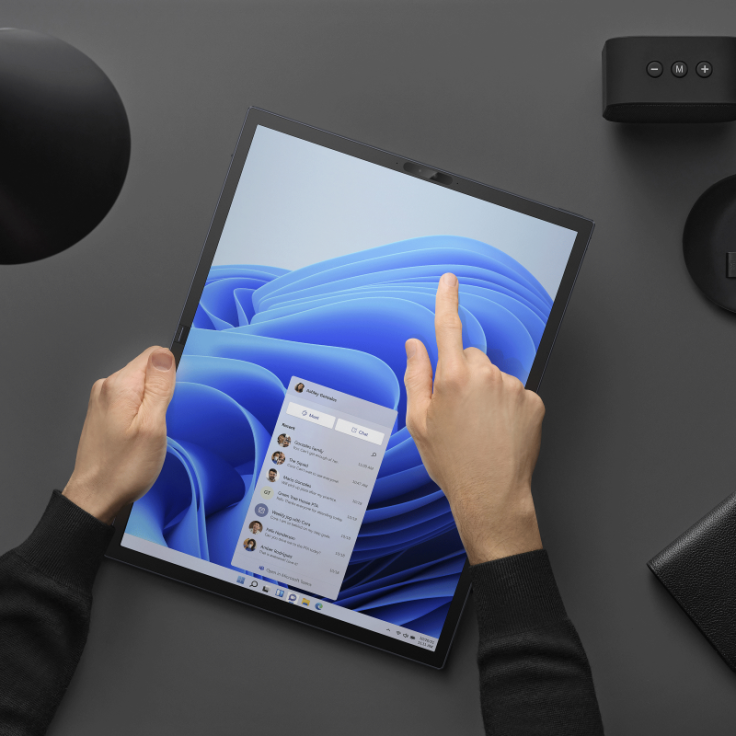 Large 17.3" OLED Touch Screen
Though ASUS missed out on being the first to produce a foldable laptop (An accolade claimed by Lenovo), it did get the title of the first to produce a 17.3" foldable laptop. When fully unfolded, the Zenbook 17 Fold has a 4:3 screen span that is currently unrivaled, and would come in very handy when showing a client a document or presentation on the fly, or for graphic designers where the workspace real estate is crucial.
It didn't hurt that ASUS used a premium OLED screen that has a 0.2 ms response time, 500 nits peak brightness, good enough to reproduce a full desktop experience. The built-in dark green faux-leather ergonomic kickstand on the rear of the screen allows the fully unfolded laptop to stand all on its own, either to be a over-sized portable cinema screen, or a productivity machine when using the Bluetooth keyboard and touchpad controllers.
Flagship Business Laptop Specs
To complete the desktop experience, ASUS also made sure to have the Zenbook 17's other hardware specced up. Instead of using a low-powered setup, the 17.3" foldable uses a Intel Core i7-1250U Processor 1.1 GHz, 16GB LPDDR5 on board RAM and 1TB M.2 NVMe PCIe 4.0 Performance SSD, the setup of a TOTL business laptop, like ASUS' own ExpertBook B9.
It also has the I/O ports to match, with two Thunderbolt™ 4 which supports display as well as power delivery, and a 3.5mm Combo Audio Jack, the Zenbook 17 will cater to most port needs.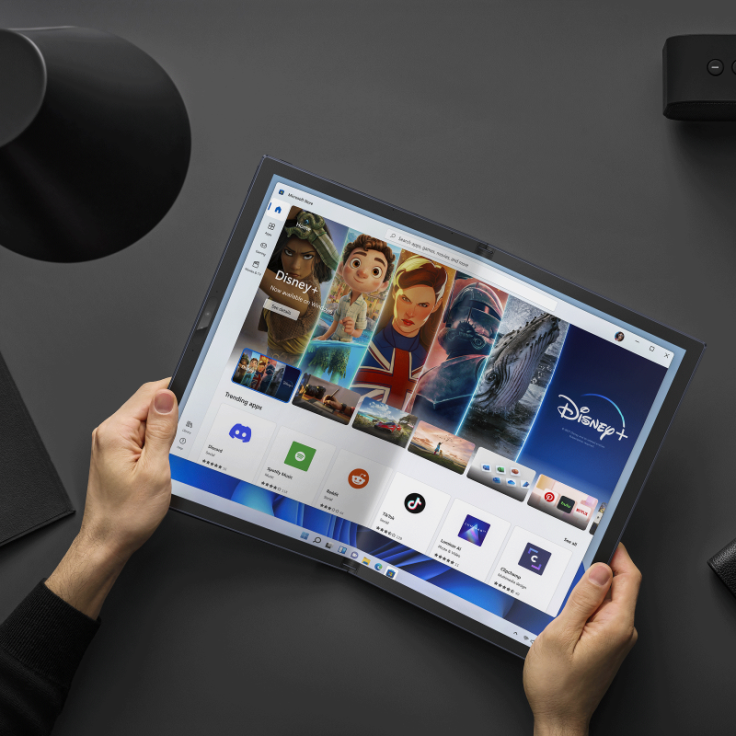 Final Verdict
There haven't been many new exciting leaps in the laptop world, but most of the recent memorable leaps and bounds in hardware has been coming from ASUS. Just as Samsung is striving to spice up mobile phones again with its Fold range, the laptop world is also getting a revamp, with new possibilities made by the flexible OLED technology, incorporated by the Zenbook 17 Fold.
For those who seek that step up in productivity on the go, the ASUS Zenbook 17 Fold offers a package that is unique as well as innovative, which is why we're awarding it with the IBTimes Best of IFA 2022 badge.
Sam is a production engineer turned tech writer who specializes in seeking out gadgets that enhances productivity while still looking sharp. This is a contribution to an ongoing IBTimes review series on gadgets for Business Travelers.
© Copyright IBTimes 2023. All rights reserved.
FOLLOW MORE IBT NEWS ON THE BELOW CHANNELS