Ilhan Omar Antisemitism Controversy: Chelsea Clinton To Engage In 'Inclusive Movement' Talk
Congresswoman Ilhan Omar (Democrat-Minnesota) sparked condemnation from lawmakers on both sides of the political aisle as well as a number of Jewish organizations after she suggested that Republican Party's support for Israel was driven by campaign donations from a prominent Jewish group.
The controversy started with Omar's tweet on Sunday, following House minority leader Kevin McCarthy's threat to take action against her and her colleague, Congresswoman Rashida Tlaib (D-MI), for embracing the Boycott, Divestment and Sanctions (BDS) movement targeting Israel, until it fulfilled its "obligations under international law" which includes granting equality for Arab-Palestinian citizens of Israel, and "respecting, protecting, and promoting the rights of Palestinian refugees to return to their homes and properties."
"If they do not take action I think you'll see action from myself," McCarthy told reporters, Haaretz reported. "This cannot sustain itself. It's unacceptable in this country."
"Benjamin's baby" as mentioned in Omar's tweet was a slang for $100 notes which feature the founding father of the United States, Benjamin Franklin. In another tweet, Omar replied to a journalist wondering who the congresswoman thought was paying American politicians to be pro-Israel, by simply saying "AIPAC" (American Israel Public Affairs Committee), which is a lobbying group that advocates pro-Israel policies to the legislative branches of the U.S.
This led to AIPAC vehemently denying Omar's suggestion. "We are proud that we are engaged in the democratic process to strengthen the US-Israel relationship," the group said in a statement. "Our bipartisan efforts are reflective of American values and interests. We will not be deterred in any way by ill-informed and illegitimate attacks on this important work."
The American Jewish Committee wanted Omar to apologize. "Suggesting that a Jewish organization is buying off American politicians is both demonstrably false and stunningly anti-Semitic. American politicians are pro-Israel because Americans are," AJC said in a tweet.
Omar's comments were not only criticized by Republicans, but also by members of her own party. Chelsea Clinton was among the Democrats who agreed there was no excuse for using anti-Semitic rhetoric to win political wars.
"Co-signed as an American. We should expect all elected officials, regardless of party, and all public figures to not traffic in anti-Semitism," she tweeted, to which Omar said she was open to discussing the topic further.
Twitter was split when it came to either supporting or rejecting Omar's opinion:
Conspiracy theorist and former columnist for the website The Gateway Pundit, Jacob Wohl, has started a petition on Change. Org for the removal of Omar from the House Foreign Affairs Committee, which was signed by more than 800 people at the time of writing this article.
The Israel Anti-Boycott Act and the Combating BDS Act – the first one criminalizes participation in boycotting Israel and the second one protects states that implement anti-BDS laws – was recently approved by the Senate as part of a larger legislative plan, but will most likely be quashed after it reaches the House of Representatives as it is being controlled by the Democratic Party, which is against the bills.
The bills are also opposed by human rights groups such as the American Civil Liberties Union (ACLU), the liberal Middle East advocacy group J Street, because they claim they violate Americans' First Amendment rights of free speech.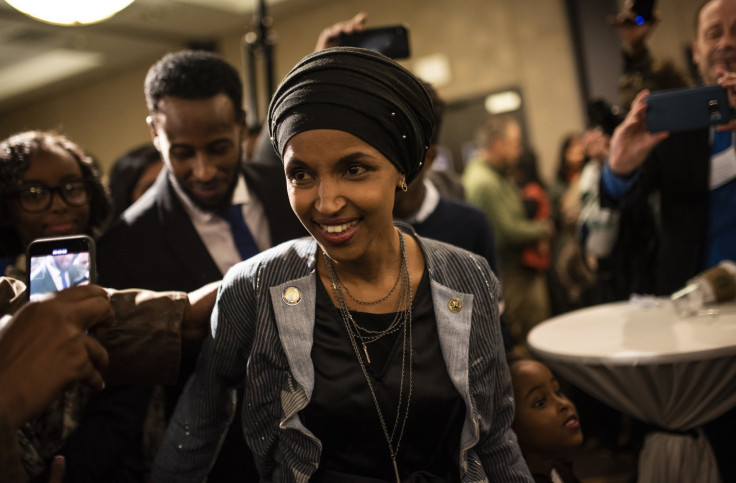 © Copyright IBTimes 2023. All rights reserved.