Illinois Chemical Plant Explosion Forces Residents To Evacuate Homes To Avoid 'Environmental Nightmare'
A massive explosion Monday morning at the Chemtool factory in Rockton, Illinois, has affected at least 1,000 area residents, who were told to evacuate their homes.
The incident began around 7 a.m. when local residents either heard the explosion or felt their homes shaking from the blast. Rockton is located about 95 miles west of Chicago.
Shortly after the flames engulfed the plant, the Rockton Police shared a tweet announcing the Rockton Fire Protection District ordered a mandatory evacuation for those within a one-mile radius of the explosion.
All 70 employees at the Chemtool plant were confirmed to be safe. When first responders arrived, flames were burning through the roof. One firefighter reportedly suffered minor injuries.
The Rockton Fire Chief Kirk Wilson said firefighters would let the fire burn out rather than using equipment to control the flames out of fear the oil-based lubricants from the plant could contaminate the nearby Rock River.
"That's the best thing that we can do right now," Wilson explained. "The main thing is that we don't want an environmental nightmare to occur, and the reason that we would cause that is by the use of water streams. So we stopped water operations at this point."
There are firefighters from about 45 agencies aiding the situation.
Wilson said that it could take days before the fire is completely out. Residents in the evacuation area may need to stay away from their homes for a few hours while authorities access the matter.
"They said grab your pets, grab your belongings and leave. You need to go, and as we were doing that, actually fire debris was raining down on us that was lit on fire," one resident told local TV news of the evacuation efforts.
A Red Cross team was also dispatched to help evacuated residents.
Wilson said air quality tests determined that there is no danger to the air quality at ground level.
Chemtool has not determined the cause of the explosion but a risk management team is investigating. According to its official website, Chemtool manufactures many grease types, which include lithium, lithium complex, aluminum complex, polyurea, clay/bentone, and overbased calcium sulfonate.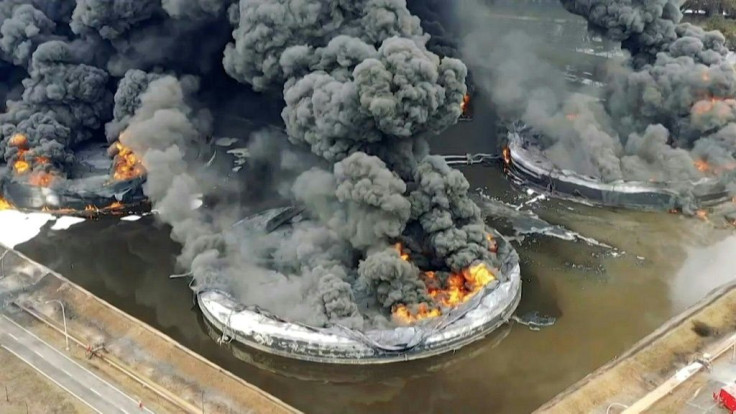 © Copyright IBTimes 2022. All rights reserved.
FOLLOW MORE IBT NEWS ON THE BELOW CHANNELS