Immigration, ISIS And Keystone: What To Watch In Washington This Week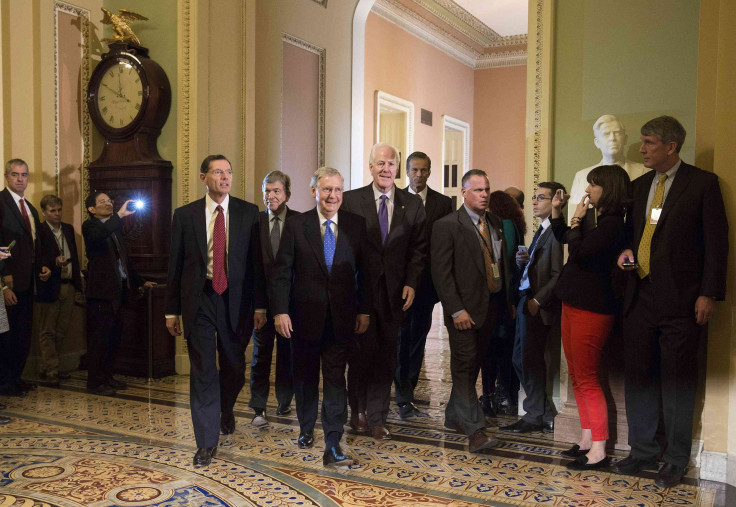 WASHINGTON – Congress has one week left before the Thanksgiving break, with a long list of items to tackle before work ends for the year on Dec. 12. The first big piece of action is apt to be the Senate vote on Tuesday over the Keystone XL oil pipeline. The latest ISIS beheading video will intensify the fight over spending against the Islamic State group, and whether Congress will authorize military action. And the hottest battle in Washington right now -- on immigration -- is roiling the Republican party, with right-wingers threatening to use a government shutdown to block President Barack Obama from taking executive action, while about-to-be Senate majority leader Mitch McConnell has publicly promised "no shutdown."
In between fighting over issues, members of Congress will be jockeying for leadership positions on powerful committees.
Here are four things to watch in Washington this week:
Will Keystone Pass the Senate?
On Tuesday, the Senate will vote on a bill that would authorize the construction of the Keystone XL pipeline. The House has passed a bill nine times to authorize the energy project, which would carry crude oil from Canada to Texas, only to see it fail in the Senate.
The question now is whether Louisiana Democratic Sen. Mary Landrieu, who pushed her party to allow the vote, will be able to get the needed 60 supporters for passage. The latest reports estimate that 59 members have publicly committed to voting for the bill. The Senate had a non-binding vote on Keystone in early 2013, which passed 62 to 37, but at least one member, Florida Sen. Bill Nelson, who was a yes in that vote has said he will be a no on Tuesday.
The vote may be Landrieu's last, best hope of hanging onto her seat. She faces a December runoff, and polls show her behind. Being able to point to passage of the Keystone XL -- demonstrating support for the gas and oil interests that are important to Louisiana -- could help shore up her support.
If the bill passes, the pressure moves to Obama, who hasn't indicated whether he'll sign or veto it. He could have long ago approved the construction without Congress and has cited concerns about environmental protections.
Some analysts predicted that Republicans would focus on Keystone when they take control of Congress in January, using it to introduce their legislative agenda. By signing it now, Obama could neutralize the pipeline as a GOP talking point, and possibly boost a Democratic senator, besides.
Will There Be More Support for Authorizing Attacks Against ISIS?
On Sunday, the Islamic State group released a video that showed murdered American aid worker Abdul-Rahman Kassig, also known as Peter. What role Congress should play in the campaign against ISIS has been a heated topic on Capitol Hill this fall. Obama has moved forward, increasing the number of troops fighting ISIS, without approval from Congress. But he will soon need money and will be asking for official approval from Congress for troops. (He's currently sending troops using an authorization that is over a decade old.)
In the coming weeks, Congress will have to make a decision on Obama's request for $5 billion. They will also have to decide whether to hold an authorization vote. The conventional wisdom for months has been that there isn't enough support in Congress to get an authorization through, but the beheading of another American could make a vote more likely.
An authorization vote would require lengthy and open debates on the floors of both chambers. It's a chance to grandstand -- but also a delicate decision, since voting to authorize military force (see: Hillary Clinton and Iraq) has been known to bring political costs. An ISIS debate might provide a glimpse into which pols are readying for 2016, and how they plan to position themselves.
Will the Immigration Debate Explode?
Within days after the midterms, immigration had become the most polarizing issue on the Hill. Obama has promised to institute a number of executive orders. According to reports, the president may move to prevent the deportation of as many as 5 million undocumented immigrants currently in the country.
Republicans are incensed by the possibility of Obama taking unilateral action. Conservative Republicans are trying to use a spending bill that must be passed by Dec. 11 to block the president. Such a tactic could bring another government shutdown.
Obama's executive orders could come as soon as this week, especially as more details are leaked in the media. But the president could also wait until after the Dec. 11 government funding deadline to try to prevent the spending bill from being used as leverage.
But Obama's options are straightforward compared to the dilemma faced by GOP leadership. McConnell vowed last week that there would be no shutdown and no government default. That doesn't mean conservative members of his caucus, like Sen. Ted Cruz, won't make trouble.
House Speaker John Boehner already set himself in opposition to McConnell by refusing to rule out tactics that could result in a shutdown. If Boehner now starts to put forward other options -- like passing separate bills or including immigration in a planned lawsuit against the president for his implementation of the Affordable Care Act -- it could be a sign that he has actually calmed his right-wing members and won't push the issue to a shutdown.
How Much Party Infighting Will Committee Chairs Create?
Top leaders from both parties were re-elected to their spots by their members in closed-door, secret ballot elections. But it's worth watching a handful of hotly contended races for top spots on House and Senate committees.
On the Republican side, the caucus has self-imposed term limits for committee chairs, so many House committees will be reshuffled. There's a three-way contest for the Oversight Committee, which for the past several years has served as the launching site for GOP attacks on Obama and his administration.
Conservatives want Ohio Rep. Jim Jordan. Boehner appears to be backing Ohio Rep. Mike Turner. And younger Rep. Jason Chaffetz is also making a run for the chairmanship. Who is selected will have real implications on how the committee operates and whether they spend more time trying to find a way to impeach Obama or looking into wasteful government programs. Jordan is likely to be aggressive in attacking the White House and Hillary Clinton's tenure as secretary of state. Turner and Chaffetz are more likely to be restrained, sticking to the party talking points.
On the Democratic side, most ranking members will remain the same. But there's a bitter fight for the top spot on the Energy Committee, replacing retiring Rep. Henry Waxman. Minority Leader Nancy Pelosi is backing Rep. Anna Eshoo and Minority Whip Steny Hoyer is behind Rep. Frank Pallone. Who wins the seat will be a real test of power among House Democrats. It's a fight about power, not policy, since their views on issues don't differ significantly.
On the Senate side, Republicans who have faithfully served as the ranking member of their respective committees are apt to assume the control now that the GOP controls the chamber. There could be some chairmanships under dispute. Sen. John McCain is expected to take the chairmanship of the Armed Services Committee, edging out the ranking member. And Sen. Ron Johnson, R-Wisconsin, will likely take control of Homeland Security because the ranking member is retiring. These key Senate committee appointments could help determine whether Obama and Congress will be able to accomplish anything in the next two years. McCain has a long history of working across the aisle and could become a key negotiator using a prominent chairmanship position to do so. But he's got an equally long history as impetuous and unpredictable.
© Copyright IBTimes 2023. All rights reserved.
FOLLOW MORE IBT NEWS ON THE BELOW CHANNELS