Immigration Reform 2015: Trump Revives Birthright Citizenship Debate, But Is It A Good Strategy For Republicans?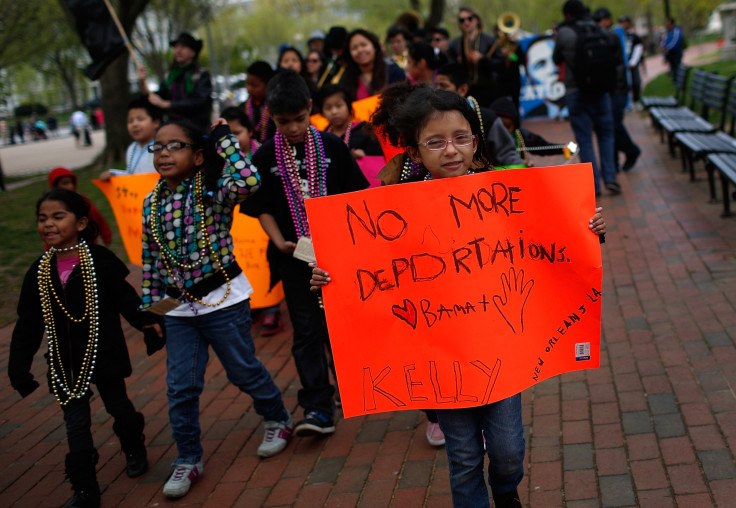 Donald Trump's newest enemy isn't another presidential candidate or celebrity TV host. It's a constitutional amendment from 1868.
In his first policy paper, the real estate tycoon laid out Sunday his plan to reform immigration in the United States. He proposed a wall along the border with Mexico, improved job security for Americans and the end to birthright citizenship, which he called "the biggest magnet for illegal immigration."
As he continues to lead all other Republicans in the polls, Trump's comments have renewed a high-profile debate around birthright citizenship that saw far-right GOP candidates blast undocumented immigrants during the 2010 and 2012 elections. Such campaign promises appeal to hard-core Republican primary voters and can help a candidate stand out in a crowded field. But with the GOP already struggling to win over Latinos in an increasingly diverse electorate, candidates making tough immigration remarks could ultimately turn off important groups of voters in 2016.
"It's not good policy, and it's not good politics," said Katie Packer Gage, a GOP strategist with Burning Glass Consulting in Washington. "It might get you the Laura Ingraham or the Ann Coulter award, but it's not going to win you a primary, and it's not going to win a general election."
The idea of birthright citizenship is based on a sentence in the Fourteenth Amendment saying that "all persons born or naturalized in the United States, and subject to the jurisdiction thereof, are citizens of the United States and of the State wherein they reside." At the time, the amendment was intended to definitively declare the newly freed slaves citizens, but since then it's been interpreted to cover the children of immigrants as well. The Pew Research Center found in 2010 that about 350,000 babies were born to at least one undocumented parent in the U.S.
Critics have argued that birthright citizenship creates a incentive for birth tourism, where a mother travels to a specific country before going into labor so her child can get citizenship benefits. About 30 nations have birthright citizenship policies, including Canada, Brazil, Pakistan and Jamaica. In the U.S., conservatives have historically opposed it on the grounds that it encourages law-breaking.
Unauthorized Immigrant Population by State | InsideGov
Trump's not the first American politician to take on the Fourteenth Amendment clause, and he probably won't be the last. Immigration has already emerged as a theme for the 2016 general election, especially among GOP contenders. Wisconsin Gov. Scott Walker told MSNBC Monday he favors ending birthright citizenship and addressing other "root problems" related to immigration. Sen. Marco Rubio, R-Fla., has recently advocated for an improved immigration system that tracks people who enter and exit, as well as an e-verify database telling employers which potential hires are eligible to work in the U.S. Former Florida Gov. Jeb Bush has called for better border security and a rigorous path to legal status, while Sen. Ted Cruz, R-Texas, has backed a law that would impose a mandatory minimum prison sentence for any illegal re-entry offense.
Going forward, birthright citizenship could be an easy "red meat" issue for GOP candidates looking to set themselves apart, said Brent Wilkes, the national executive director of the League of United Latin American Citizens, a civil rights organization based in Washington. He said promises to end the policy appeal to extreme conservatives, but because it's spelled out in a constitutional amendment, the candidates can't do much about it. Even if they won the presidency, changing birthright citizenship would be fiscally irresponsible and nearly impossible to get through Congress, Wilkes said.
That leaves the candidates to try to outdo each other and prove "who's the most anti-immigrant," said Wilkes, who supports birthright citizenship. He said he predicts that other candidates will come out strong against illegal immigration, even if they don't attack the citizenship policy, because it's a simple way to boost their polling numbers among loyal conservatives.
But demanding harsh immigration policies like a ban on birthright citizenship only impresses a small number of voters, said Gage, who worked as deputy campaign manager for 2012 presidential nominee Mitt Romney. She said only about a fifth of Republicans in early GOP primary states have a hard stance on immigration, and they've probably already chosen which candidate to support. A strict immigration platform alone isn't enough to make voters change their allegiance.
Tough immigration policies won't win over mainstream Republican voters because they don't want to touch the Constitution or be responsible for taking children away from their parents, Gage said. "It's all very black and white when you're just feeling out a talking point, but when you talk about real families and real people it becomes a lot more complicated," she said.
If a candidate reaches the general election, the benefits of attacking practices like birthright citizenship diminish even further. The support of minority voters is critical to winning the White House, as evidenced by President Barack Obama's 2008 and 2012 victories. His rivals captured the white vote by a comfortable margin, but Obama mobilized minorities -- which by 2016 will account for about a third of the eligible voter pool.
History is evidence that immigration has the power to seriously hurt candidates' favorability among Hispanics, who will account for about 12 percent of eligible voters in 2016. In 2010, then-Senate Minority Whip Jon Kyl, R-Ariz., and Sen. Lindsey Graham, R-S.C., both vocally opposed birthright citizenship, arguing that it rewarded parents for illegal behavior. Then-House Minority Leader John Boehner, R-Ohio, Sen. John McCain, R-Ariz., and Sen. Jeff Sessions, R-Ala., also came out in favor of ending the policy.
"We can't just have people swimming across the river having children here — that's chaos," Graham told Fox News at the time. In the midterms that fall, only 38 percent of Latinos who voted in congressional races voted Republican. In 2014, 36 percent did.
In 2011, Sen. David Vitter, R-La., introduced a proposal to end birthright citizenship with four co-sponsors, among them Sen. Rand Paul, R-Ky., who is now running for president. In 2012, presidential candidates Herman Cain and former Minnesota Gov. Tim Pawlenty said in a GOP presidential debate they wanted to do the same. Both dropped out of the race early. Romney, who won the nomination before he infamously said he favored "self-deportation," ultimately got 27 percent of the Hispanic vote against Obama.
"Any Republican candidate, to regain the White House, needs increased support from Latino voters," said Alfonso Aguilar, executive director of the American Principle Project's Latino Partnership, a conservative advocacy group based in Washington. "You're not winning over people by sounding anti-immigrant."
FOR FREE to continue reading
✔️ Unlock the full content of International Business Times UK for free
offer available for a limited time only
✔️ Easily manage your Newsletters subscriptions and save your favourite articles
✔️ No payment method required
Already have an account?
Log in
© Copyright IBTimes 2023. All rights reserved.