'Imposters' Season 2, Episode 9 Spoilers: Sofia Meets Maddie, Max And Sally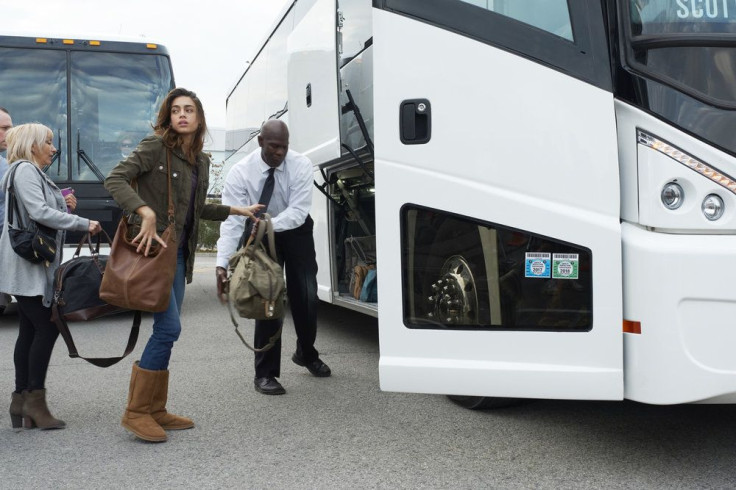 The Bumblers and the vets get an unlikely ally in their mission to take down the Doctor in this week's episode of "Imposters."
According to the synopsis for Season 2, episode 9 of the Bravo series, Ezra's (Rob Heaps) Toby jug con leads to an unlikely encounter with an old flame. As revealed in the final moment of the last episode, that old flame is none other than Sofia (Laura Archbold), a fellow con artist that helped Ezra, Richard (Parker Young), and Jules (Marianne Rendón) cross the border from Mexico to the U.S.
A sneak peek from the next episode reveals how Sofia finds her way to Burlington, Vermont after the Bumblers unintentionally left her in Mexico. In the two-minute clip, Sofia searches Richard's home address online. After finding out where he used to live, Sofia takes a bus to Scottsdale, Arizona and later finds out that his mom's house is currently on auction.
When Sofia learns that the ceramics inside the house, including the Toby Jug the Bumblers are after, were sold to Charlotte Grovesnor (Abby Miller), Sofia quickly checks out Charlotte's social media account and discovers that she needs a declutterer. Sofia then affixes a fake ad just outside Charlotte's house, and luckily for the latter, Charlotte calls her and hires her as her declutter specialist.
Though Sofia is also after the Toby Jug that presumably houses the expensive saffron diamond ring, Maddie thinks that the Mexico native can actually be an asset to the team.
"Just to be clear, she's the one that got us out of Mexico," Ezra reminds Richard and Jules in another sneak peek from the installment..
When Richard shares with the rest of the team that Ezra and Sofia had a romantic relationship, Ezra says that his desire to recruit her to the team has nothing to do with their previous romance. "I promised her a cut of my take of the ring if she helped us get out of Mexico which, by the way, I had to do because you took my family hostage," Ezra tells Max (Brian BenBen) and Sally (Katherine LaNasa). "I owe her a lot more that I owe you."
Things get more intense when Maddie and Sofia suddenly show up. But after the chaos subsides, Maddie explains to the team how Sofia can help them take down the Doctor (Ray Proscia) once and for all.
"Do you know what the single biggest problem in this little scheme of ours is?" Maddie asks. "The doctor knows every single one of us. Guess who he doesn't know, never met, doesn't even know exists. [It's Sofia]."
"Imposters" Season 2, episode 9, titled "The World Needs Heroes," airs on Thursday, May 31 at 10 p.m. EDT on Bravo.
© Copyright IBTimes 2023. All rights reserved.