India Arie Skin Lightening? Twitter Reacts To New Photo Of Singer Looking A Few Shades Lighter [PHOTO]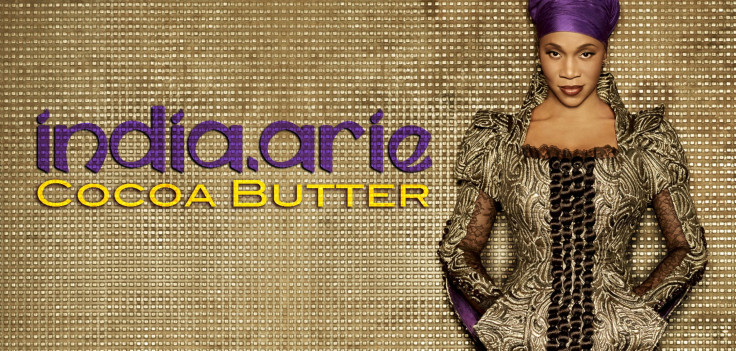 India Arie has a new album in stores in June after three years, but more focus is being paid to her latest promo picture, which features the singer looking a few shades lighter than usual.
She's sparking rumors that she bleached her skin as the cover art for her new single, "Cocoa Butter," from her forthcoming album, "SongVersation," features the artist looking less like herself.
"Is it me but does India Arie looks a lot different [sic]," tweeted @DeterminedLeo33.
Hip-hop artist Rhymefest, who has worked with the likes of Kanye West, even commented on the singer's new look. "It's not the lights, even if it's make up! Why India Arie!? This isn't You! Please tweet her and ask her why...I hope her music sells I like her message but lookin like Alicia Keys isn't the way nothing's wrong with dark skin [sic]."
Arie is known primarily for singing songs that promote self-acceptance and black beauty, such as "I Am Not My Hair" which has the chorus "I am not my hair/I am not this skin/I am not your expectations no no/ I am a soul that lives within."
The notion of skin lightening has been problematic specifically within the black community since historical times, as dominant beauty standards tend to enforce white cultural norms and images.
As a result, these dominant views have been transmitted to black women and the black community as a whole.
Arie is not the first black artist to be accused of skin bleaching. Nicki Minaj, Beyoncé, Dawn Richards and Lil' Kim are other notable celebrities accused of lightening their skin in recent years. Arie has yet to address the skin-bleaching rumors.
© Copyright IBTimes 2023. All rights reserved.