India Gold Futures Down by 0.5 Percent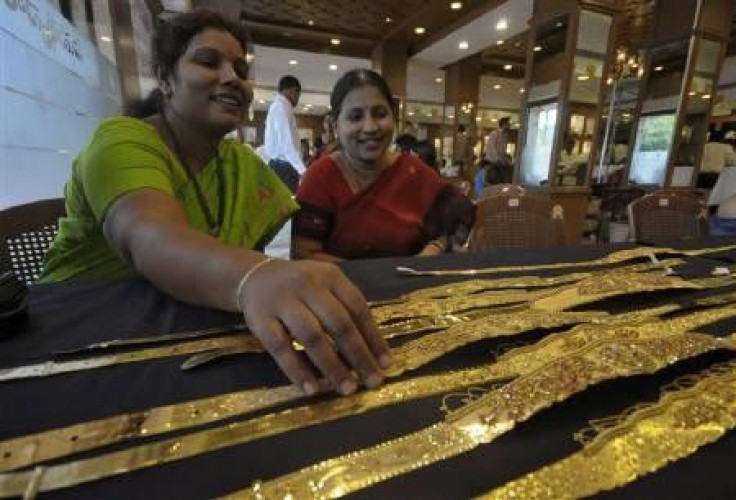 India gold futures fell half a percent Friday afternoon, retracing to a level seen earlier in the week following a similar trend overseas, though a weaker rupee cushioned the fall. Silver extended losses for a third day.
* The most-active gold for December delivery on the Multi Commodity Exchange (MCX) was 0.48 percent lower at 28,411 rupees per 10 grams at 2:23 p.m., after hitting a low of 28,377 rupees earlier, a level last seen on Nov. 21.
* Overseas gold edged down below $1,700 an ounce, heading for its second straight weekly fall. The rupee, which plays an important role in determining the landed cost of the yellow metal, weakened on Friday.
* Physical buyers stayed on the sidelines in the middle of the wedding season, which will last peak in December and continue till April.
* There is no demand in the market...Gujarat has imported only 2 tonnes in November as against 12 tonnes last year, said Haresh Acharya, head of bullion desk, Parker Bullion, adding demand is zero for silver as well.
* The most-active silver for December delivery was 1.12 percent lower 54,631 rupees per kg, after falling 3.2 percent in the previous two sessions.
* Silver imports to India, the world's biggest consumer, would be marginally lower in 2011 from last year's 3,030 tonnes as traders are uncomfortable with prices ruling above 50,000 rupees per kg, a senior official at ScotiaMocatta said.
© Copyright Thomson Reuters 2023. All rights reserved.