India Preparing To Test 'China-Killer' Nuclear Missile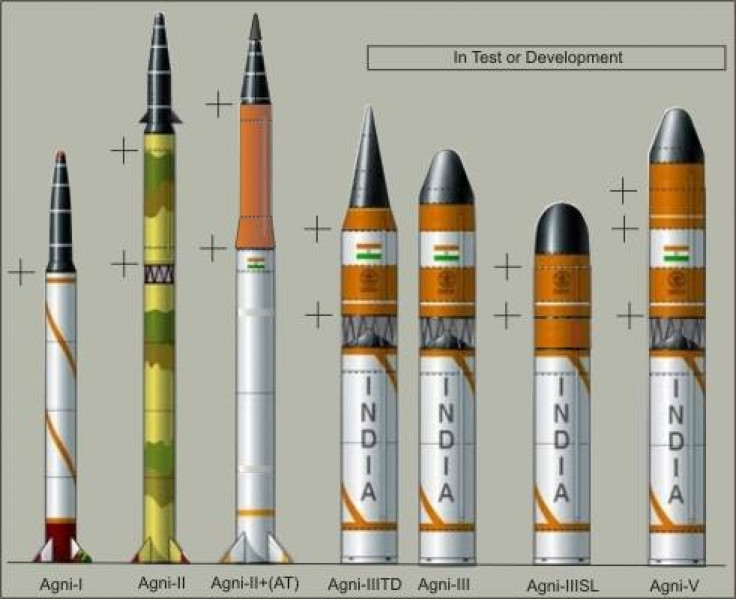 Less than a week after North Korea's failed rocket launch, India may be on the verge of test-firing a nuclear-capable missile that has the ability to reach all parts of Asia and even parts of Eastern Europe, according to reports.
The 50-ton, 20-meter Agni V rocket – also known as the "China Killer" in Indian media -- boasts a range of more than 5,000 kilometers (3,100 miles).
Other series of Agni rockets have smaller ranges that were designed to protect India's borders with Pakistan.
According to a report in the Sydney Morning Herald of Australia, the Agni V missile will probably be fired from Wheeler Island off the eastern coast of Orissa province between Tuesday and Friday.
A spokesman for India's Defense Research and Development Organization, Ravi Gupta, said in a statement that the launch time is flexible ''because this is our longest-range missile and there are many logistics issues and hence we don't plan for one day."
The rocket, he added, is designed "to meet our present-day threat perceptions, which are determined by our defense forces and other agencies," a likely reference to historical enemies, China and Pakistan.
This missile is about neutralizing the threat coming from China,'' said Uday Bhaskar, an analyst at the New Delhi-based National Maritime Foundation, said, according to Bloomberg.
''The tests are about trying to create equality with China rather than trying to outdo it.''
China and India, the two vast nations that dominate Asia, have long disputed large portions of their 2,200 mile border and fought a war in 1962. Still, as far as nuclear stakes are concerned, China is believed to have almost six times as many warheads as India does.
If successful, India would become only the sixth nation to publicly deploy intercontinental ballistic missiles. The five other countries with that capability -- the U.S., China, Russia, the UK and France -- comprise the permanent members of the United Nations Security Council.
Meanwhile, concerns are growing over India's aggressive pursuit of arms and military hardware. Over the past five years, India has spent $12.7 billion on weapons, making it the largest arms buyer in the world over that period, according to the Stockholm International Peace Research Institute.
Bloomberg reported that India is negotiating to purchase 126 Rafale fighter jets from Dassault Aviation SA of France. Last month, India commissioned a Russian-made nuclear submarine for its navy.
The Herald noted that the Indian government will raise its defense spending this year by 17 percent to $38.6 billion, more than quadruple what it will spend on health care for its citizens.
© Copyright IBTimes 2023. All rights reserved.