India's Chandrayaan-3 On The Way To The Moon Following Successful Liftoff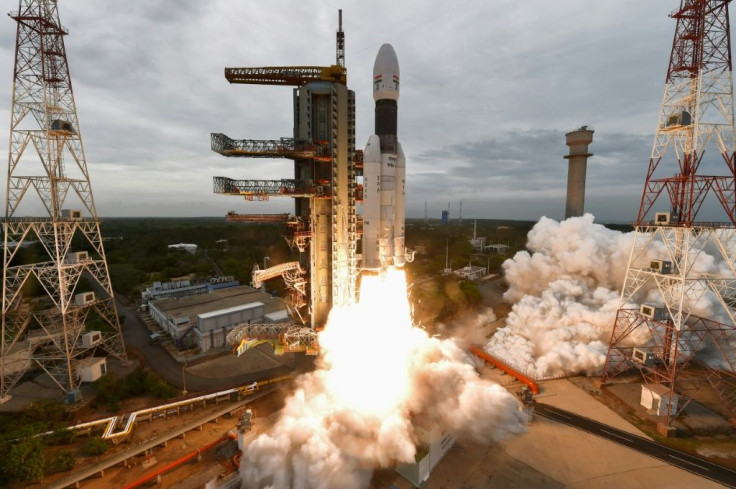 KEY POINTS
India will become the fourth country to achieve a soft landing on the moon if the mission is successful
The landing on the lunar surface is expected to take place on Aug. 23 or 24
Chandrayaan-3 has undergone a number of major improvements following the failure of its predecessor, Chandrayaan-2
India has taken a big step in its space exploration journey as its third lunar mission – Chandrayaan-3 – has been successfully launched.
The Chandrayaan-3 launch, led by the Indian Space Research Organisation (ISRO), saw its liftoff around 2:35 p.m. local time (5:05 a.m. ET) Friday from the Satish Dhawan Space Centre in Sriharikota, an island off the coast of the southern Indian state of Andhra Pradesh.
The landing on the lunar surface is expected to take place on Aug. 23 or 24 and, if successful, would be a fitting rewrite to the failed Chandrayaan-2 mission that was launched in 2019.
"India will have the distinction of being a member of one of four elite members who actually landed anything on the Moon," Sandip K. Chakrabarti, one of India's most notable scientists in the field of astronomy and astrophysics, told International Business Times ahead of the launch.
The U.S., the former Soviet Union and China are predecessors to India in the list of countries that have achieved a soft landing on the Moon.
"After the failure of the lander on Chandrayaan-2, ISRO has been working incessantly to rectify problems in the lander" and the new version has seen "many improvements, Chakrabarti said.
Some of these major improvements include a correction to the software," the scientist said.
"Earlier, in Chandrayaan-2, there were self-contradictory commands" in the software, which ended "in a high-velocity crash on the moon. This time the turning rate of the lander will be corrected as and when required, and not at the end, which could not be done earlier," Chakrabarti explained.
The team behind Chandrayaan-3 have also made adjustments to ensure the lander will have "more time and space to peacefully land," he added. "Apart from these, the legs were made stronger and will withstand higher landing velocity."
Another key difference between Chandrayaan-3 and its unsuccessful predecessor is that the new launch includes an experimental payload called SHAPE (Spectro- polarimetry of HAbitable Planet Earth), which will study the Earth from the Moon's orbit.
"Made by Dr. Anuj Nandi, my own Ph.D. student," SHAPE will try to discover "oxygen, carbon dioxide and water of the earth from the moon," Chakrabarti went on to say.
The scientist explained that the instrument, among other payloads that are part of Chandrayaan-3, could open up new avenues in the search to find extraterrestrial neighbors.
"We already know we have so much life here. The question is: can we find a way to prove that from the Moon? Dr. Nandi's instrument will be with the propulsion system (estimated to last for six months) [and] will find out how solar light is scattered from cloud, water, and vapour," Chakrabarti said. "In case the lander fails, ISRO will definitely highlight this SHAPE result, as that would open new horizons to find lives in exo-planets."
© Copyright IBTimes 2023. All rights reserved.