Innocence Of Muslims: US Opens Investigation Into Chris Stevens' Death, Libyans Condemn Killing [PHOTOS]
Following the death of U.S. ambassador to Libya Chris Stevens, the first killing of a U.S. ambassador in more than 30 years, the U.S. administration has opened an investigation into the incident even as the initial evidence points to the involvement of well-armed thugs rather than an out-of-control mob.
Officials were investigating whether the attack on the U.S. Consulate in Benghazi was a backlash to an alleged anti-Islamic movie -- Innocence Of Muslims -- or a plot to coincide with the anniversary of the 9/11 terror attacks, the Associated Press reported.
President Barack Obama, delivering a statement following the deaths of Stevens, information manager Sean Smith and two other Americans who were not identified, said the U.S. would "work with the Libyan government to bring to justice" the perpetrators.
"We reject all efforts to denigrate the religious beliefs of others, but there is absolutely no justification for this type of senseless violence. None," Obama said, ordering an increased security at the U.S. diplomatic posts abroad, reported the AP.
Republican presidential candidate Mitt Romney accused the Obama administration of showing weakness in the consulate killings, drawing flak from the party members for comments that could be seen as political opportunism.
Obama retorted saying Romney was someone who had a tendency to "shoot first and aim later."
The American Muslim community has condemned the killings of U.S. diplomats, saying violence was not the answer to criticism of their religion.
"We mourn the loss of a champion of freedom," said Imam Mohamed Majid, President of the Indiana-based Islamic Society of North America at a gathering of U.S. Muslim leaders at the National Press Club in Washington Wednesday, the Voice of America reported.
Scores of Libyans flocked the streets Wednesday with signs apologizing to the U.S. and condemning the killings.
Click on "Start" to view slideshow: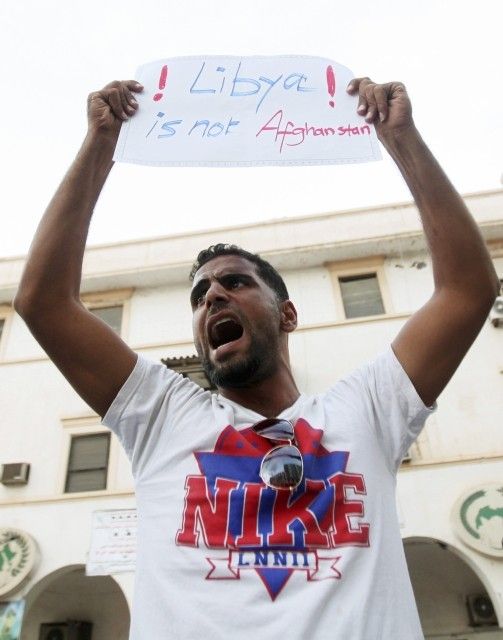 © Copyright IBTimes 2023. All rights reserved.