International Education Trends 2014: NYU, USC Top List Of Schools For Foreign Students In The US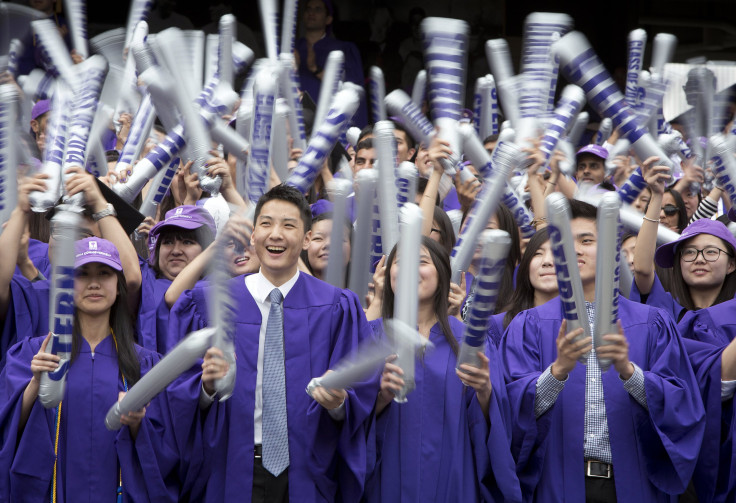 When international students come to the United States for higher education, most head for the Big Apple. Two New York schools were in the top five institutions that hosted a record number of international students in the past school year, according to data released Monday in the Institute of International Education's 2014 Open Doors report. The number of international students in the U.S. increased by 8 percent, hitting a record high of 886,052.
With 11,164 and 10,486 foreign students, respectively, New York University and Columbia University each saw a 19.2 percent increase in international enrollment.
The University of Southern California's 11.1 percent growth wasn't enough to keep up. The college fell to No. 2 after 12 years of having the most international students, according to a news release from the Institute of International Education, a New York think tank. Students chose NYU over USC or vice versa simply because of personal preference, Peggy Blumenthal, the senior counselor to the organization's president, told the Los Angeles Times. "Both institutions remain hugely attractive to international students, with some preferring the West Coast and the strengths of USC, and others finding NYC and NYU more appealing," she said.
With roughly 111,400 foreign students, California was the state with the most international students. But the top metropolitan area for international students was New York City, according to the release. Other top schools included the University of Illinois at Urbana-Champaign, Purdue University in Indiana, the University of California, Los Angeles, Northeastern University in Massachusetts and Arizona State University.
The top 25 schools accounted for about 22 percent of all international students coming to the U.S. International students comprised 4 percent of all students receiving American higher education, according to the release. These growing numbers could mean better chances of fighting global problems such as climate change and curing diseases, Evan M. Ryan, assistant secretary of state for educational and cultural affairs for the U.S. State Department, said in the release. "International education is crucial to building relationships between people and communities in the United States and around the world," she said.
© Copyright IBTimes 2023. All rights reserved.
FOLLOW MORE IBT NEWS ON THE BELOW CHANNELS