iOS 5 Untethered Jailbreak for iPhone 4S and iPad 2: How to Use Absinthe [VIDEO]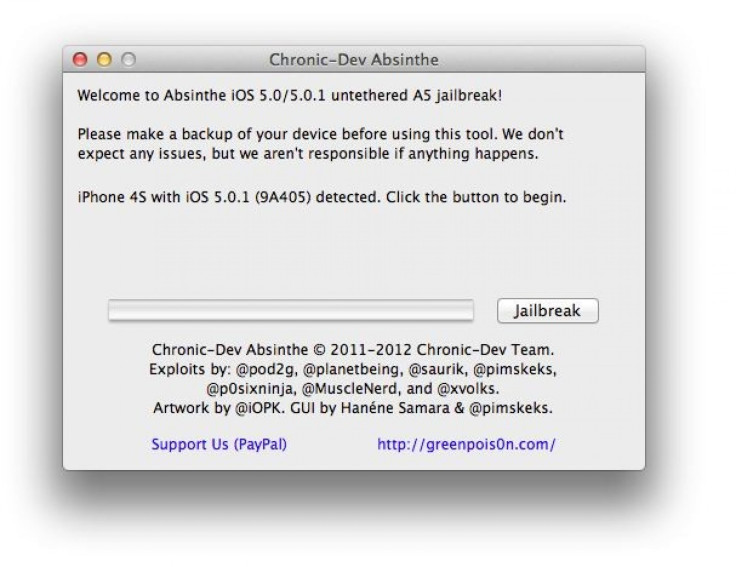 Thanks to the Dream Team of jailbreakers, the owners of iPhone 4S and iPad 2 now have the highly anticipated untethered jailbreak for their devices running iOS 5 and 5.0.1.
Produced by the Chronic Dev Team, and supported by the combined efforts of Pod2g and the iPhone-Dev Team, the new utility, Absinthe, allows users to jailbreak their A5-powered devices untethered.
The initial release is for Mac OS X computers only, with the Windows and Linux versions coming soon. Absinthe is a GUI (Graphic User Interface) tool that provides an untethered jailbreak for the following firmware:
iPhone 4S: iOS 5.0, 5.0.1 (9A405 and 9A406)
iPad 2 Wifi/GSM/CDMA: iOS 5.0.1
Here is a step-by-step guide on jailbreaking iPhone 4S and iPad 2 using Absinthe.
Users are highly recommended to take a full back up of their devices before proceeding with the untethered jailbreak. The Absinthe program uses a new jailbreak technique. The development teams waive any responsibility if anything does go wrong.
Step 1: Download and extract Absinthe from the .zip and run the executable file. Here are the download links:
Absinthe 0.1.2-2 (Mac): absinthe-mac-0.1.2-2.zip Absinthe 0.1.2-1 (Mac): absinthe-mac-0.1.2-1.zip
Step 2: Connect the device (iPhone 4S or iPad 2) to your Mac computer using a USB cable and launch the Absinthe tool.
Step 3: Once the device is connected, click the Jailbreak button. A restore will begin on your device with Restoring in Progress written on your screen. The process may take some time.
Step 4: Once the restore is done, unlock the device and you'll see the Absinthe icon on your device's Springboard.
Step 5: Tap on the Absinthe icon. After tapping on the icon, the GreenPois0n Web site will open for a moment and then your device will reboot again.
After the reboot is done, the Absinthe icon will now be replaced by a brown Cydia icon.
However, if you get an Error establishing a database connection message at this stage, exit to your Springboard and keep trying to launch the Absinthe app. The error occurs due to heavy increase in traffic. As an alternative, you can follow the step below. For more details on common Absinthe issues and their fixes, click here.
Step 6: Tap the Settings icon on the Springboard and turn on VPN. You will get an error message, but after a while, your device will reboot with Cydia on the Springboard.
Enjoy!
MUST READ: iOS 5 Untethered Jailbreak: How to Use Absinthe on Linux to Jailbreak iPhone 4S and iPad 2
MUST READ: iOS 5 Untethered Jailbreak for iPhone 4S and iPad 2: Common Absinthe Issues and Their Fixes
Watch the video below:
[Courtesy: Redmond Pie]
MUST READ - iPad 3 Rumors Roundup: From Specs to Release Date and Everything Else In Between
© Copyright IBTimes 2023. All rights reserved.