iPad Plays: 5 Ways to Benefit from New Apple Product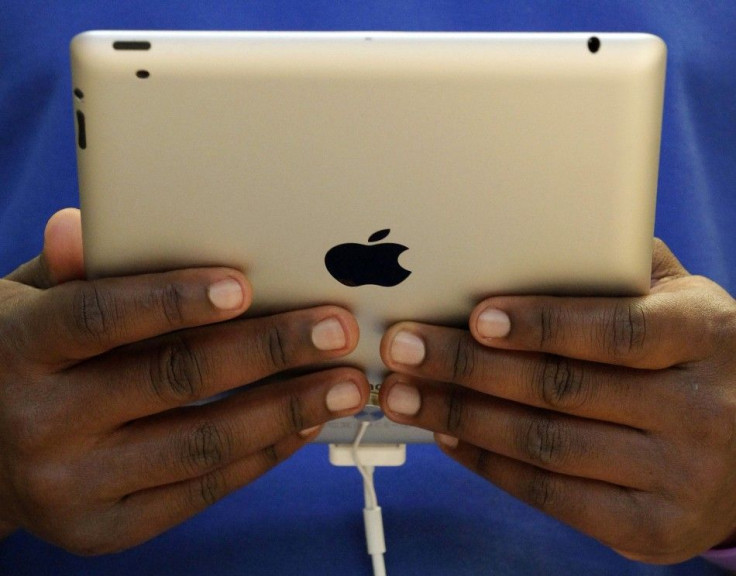 Although specifics of Apple's (Nasdaq: AAPL) iPad 3 introduction will be announced Wednesday, it's not too early for investors to devise a strategy to benefit.
Here are five stocks to consider, perhaps to buy now:
Apple. For investors with a rich appetite and belief the Cupertino, Calif.-based developer is operating on all cylinders under new management and will benefit from its cult-like following, the shares might be attractive.
Trouble is, at $535, how much higher can they go after having risen 35 percent in 2012 alone and 51 percent in the past year? Currently, more valuable than any technology player or any other company, valued at $500 billion, Apple could go higher.
But will it? Can any stock that's vaulted 538 percent in the past five years keep surging like a meteor? Maybe so, with a price-earnings ratio of 15, compared with 11 for both Microsoft and Intel, and proof that its consumer products like the iPhone 4S and iPad 2 are hits.
ARM Holdings (Nasdaq: ARMH). This is the British-based designer of the chips inside the iPad 2 and the iPhone, which licenses its designs to semiconductor giants Texas Instruments, Qualcomm and Nvidia. Its designs have become the world standard for ultralight, low-power chips whose appliances power on quickly.
Priced around $25.80, ARM's American Depositary Receipts are about 20 percent below their 52-week high, have a weighty 66 P/E and have lost about 12 percent in the past year. Over 10 years, though, ARM's ADRs have doubled.
Success engenders competition: Intel (Nasdaq: INTC) has launched its competing Ultrabook chips and rival Advanced Micro Devices (NYSE: AMD) plans to acquire SeaMicro to get into the same sector. ARM might be a good bet, especially considering its chips will soon be in new Windows 8 and Android appliances battling dominant Apple.
Corning (NYSE: GLW). How about a play into one of Apple's big suppliers? Corning will sell Gorilla Glass 2 to Apple to make the iPad more damage-resistant.
The product itself was devised after late Apple Chairman Steve Jobs approached Corning about it. It's now a huge hit with the consumer electronics industry. Corning said Gorilla Glass sales in 2011 tripled over 2010.
Corning shares, down slightly this year but more than 43 percent over the past year, might be an interesting play on electronics because of its work in fiber optics, organic light-emitting diodes (OLEDs) and other new technologies.
Corning's P/E is 7.3.
Hon Hai Precision Industries (TPE: 2317). Better known as Foxconn, the Taiwanese contract manufacturer is Apple's principal assembler and Asian foundry, employing as many as 700,000 in China.
Investors can't buy Hon Hai except through the Taipei Stock Exchange, where shares trade around 100 New Taiwan dollars (US $3.39). Various mutual funds, such as T. Rowe Price Emerging Markets and Vanguard Emerging Markets own shares around 1 percent apiece as of Dec. 31.
Hon Hai shares have already gained nearly 18 percent this year but are still down 14.5 percent for the past year. Besides Apple, the shares could also be a play on China's emerging role in manufacturing.
As well, Hon Hai received 1,514 patents last year from the U.S. Patent Office, ranking No. 9 overall.
Micron Technology (Nasdaq: MU). The last remaining U.S. maker of dynamic random-access memory (DRAM) chips, the Boise, Idaho, manufacturer is also the principal partner of Intel in NAND flash memory, the thin cards that replaced DRAMs, which are inserted into the iPad and iPhone 4S.
Last month, the partners renewed their six-year-old IM Flash Technologies partnership, with Intel selling a Singapore foundry to Micron. Micron will continue to make the NAND flash memories that are essential for lightweight products like the iPad.
Micron's CEO, Steve Appleton, was killed last month and replaced by Mark Durcan, the former chief technology officer. Micron's shares have gained more than 3 percent in that period, though, reflecting confidence in the management and its prospects.
Micron, the only remaining U.S. memory products maker save for IBM (NYSE: IBM), which makes them for high-end systems, has a P/E of 8 and a long track record of being one of the most aggressive companies dealing with foreign trade and dumping.
Both Micron and Intel appear on Apple's list of its main suppliers posted this month.
Shares of Apple fell $11.90 to $533.28 in Monday trading.
© Copyright IBTimes 2023. All rights reserved.
FOLLOW MORE IBT NEWS ON THE BELOW CHANNELS