It's Donald Trump's Party Now: Fox Debate Cancellation Shows Republicans Treating Trump As Nominee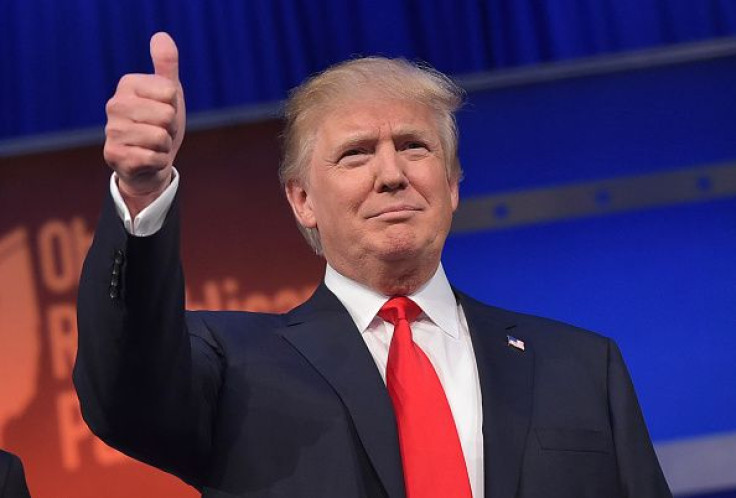 It's Donald Trump's party, and Republicans are all just voting in it. That was the message sent Wednesday when Fox News canceled next week's GOP presidential debate after Trump decided not to attend.
The change came after Trump said in an interview on the "Fox and Friends" TV program Wednesday morning that he would speak at the American Israel Public Affairs Committee (AIPAC) conference on Monday instead of attending the debate. Ohio Gov. John Kasich's campaign soon said its candidate would not participate in the debate without Trump.
"This morning, Donald Trump announced he would not be participating in the debate," Michael Clemente, Fox News' executive vice president of news, said in a statement, the New York Times reported. "Shortly afterward, John Kasich's campaign announced that without Trump at the debate, Kasich would not participate. Ted Cruz has expressed a willingness to debate Trump or Kasich — or both. But obviously, there needs to be more than one participant. So the Salt Lake City debate is canceled."
After Tuesday's primary elections, Trump held a lead of close to 300 delegates over his competitors, putting him well on his way to securing the necessary 1,237 delegates to win the Republican nomination. The New York businessman has led the GOP candidates for months, and many in the Republican establishment have tried to organize a "Never Trump" movement, first attempting to coalesce around more mainstream alternatives, and when those people dropped out, spending heavily on negative ads aimed at eroding Trump's support.
But the move to cancel the Republican debate, which was set to take place in Salt Lake City, shows that the establishment's efforts to stop Trump are not working. The decision was likely driven in part by ratings, as media organizations have given Trump an enormous amount of coverage this cycle — and often gotten high viewership numbers in return. But it also indicates that virtually no move can be made in the presidential race without considering the Trump factor.
Trump has occasionally tried to tone down his rhetoric in recent weeks, giving press conferences instead of his traditional rallies on primary nights. And during his speech Tuesday evening, the real estate magnate said he had positive conversations with Senate Majority Leader Mitch McConnell and House Speaker Paul Ryan — as if trying to boost his establishment credibility. McConnell also said Tuesday he spoke to Trump and encouraged the front-runner to reject the violence that has erupted at some of his rallies.
"It might be a good idea to condemn that and discourage it, no matter what the source," McConnell said, the Wall Street Journal reported.
Such efforts have looked like the beginnings of the Republican Party coming to terms with Trump as their potential nominee. Washington insiders largely loathe Cruz, who has the secondmost delegates after Trump, so many of them might prefer the wild New Yorker to the unlikable Texas senator.
With the GOP race now down to Trump, Cruz and Kasich, it is likely that Trump will either get the number of delegates needed to clinch the nomination before the summer or that Republicans will head to their convention with no one at the delegate threshold. So far, Trump has been able to say and do whatever he wants without it hurting his campaign.
He skipped a debate earlier this cycle, before the Iowa caucuses, and while he lost that state to Cruz, his absence did not hurt him in the long term. He has also continued to make comments many find offensive and hinted at threatening the party Wednesday morning when he said he thought there would be "riots" if he does not end up the Republican choice. At this point, it's looking more and more likely that his supporters won't need to worry, as the party and the media are already treating Trump like he is the presumptive nominee.
© Copyright IBTimes 2023. All rights reserved.