Ivana Trump Reveals What Daughter Feels About Melania: 'She Likes Her Fine'
KEY POINTS
Ivana Trump reveals Ivanka's feelings about Melania
Ivanka Trump and Melania Trump's relationship
Ivana Trump has no problems with Melania
Ivana Trump has revealed what daughter Ivanka really feels about Melania.
Ivanka is President Donald Trump's daughter with his first wife, Ivana. The POTUS is frequently seen with the first daughter and first lady.
In an interview with The Atlantic, the POTUS' ex-wife spoke how her daughter really feels about her step-mother. Ivana said that Ivanka is fine with Melania.
"She likes her fine, because she didn't cause me to break up the marriage like the other one—I don't even want to pronounce her name," Ivana said.
Ivanka's mom was referring to Marla Maples, Donald's second wife. Based on the timeline provided by Business Insider, Donald and Ivana's marriage fell apart when he started an affair with Maples. Donald and Maples made headlines in the early 1990s. In 1991, Ivana and Donald divorced. Melania had nothing to do with Ivana and Donald's separation.
Melania's spokesperson Stephani Grisham also said that Melania and Ivanka have always shared a "close relationship and still do today." This is very different from what an insider told Kate Bennett in her book "Free, Melania: The Unauthorized Biography." The insider claimed that Donald's wife and daughter are "cordial but not close."
The source added that the FLOTUS felt that the first daughter was invading her turf. The friction between the two women reportedly started when they moved to the White House because they found their time there more challenging.
"It has created an odd dynamic that has left Ivanka and Melania Trump switching off front seat-back seat as the two women in Trump's orbit, a relationship that has created friction," Bennett wrote. "It was during Trump's presidential campaign that family life shifted to politics, and the dynamics changed as well."
Bennett noted that Melania and Ivanka will remain to be the only two members of the administration with freedom and power of total job security. Meanwhile, Ivana has no issues with Melania as revealed in the book " Raising Trump."
There were reports claiming that Ivana said Melania can't talk or give a speech. The first lady was furious after reading the article about her. Ivana immediately apologized and sent Melania a text message saying that she considers the FLOTUS family and would never do anything against her.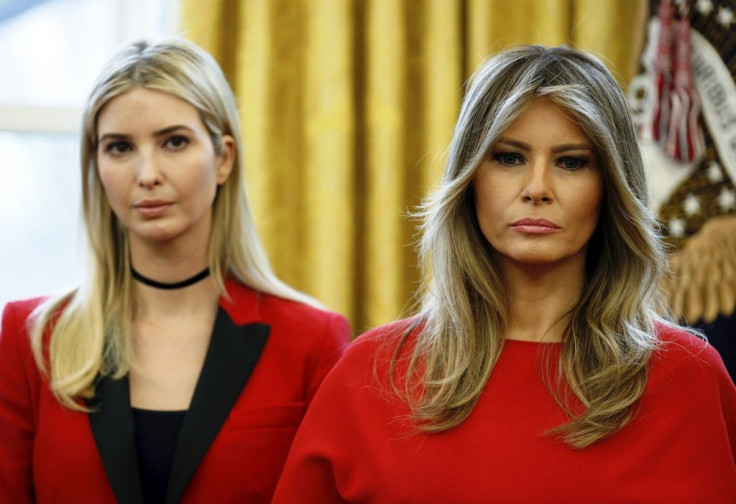 © Copyright IBTimes 2023. All rights reserved.