Jackson's mother wept when told of singer's death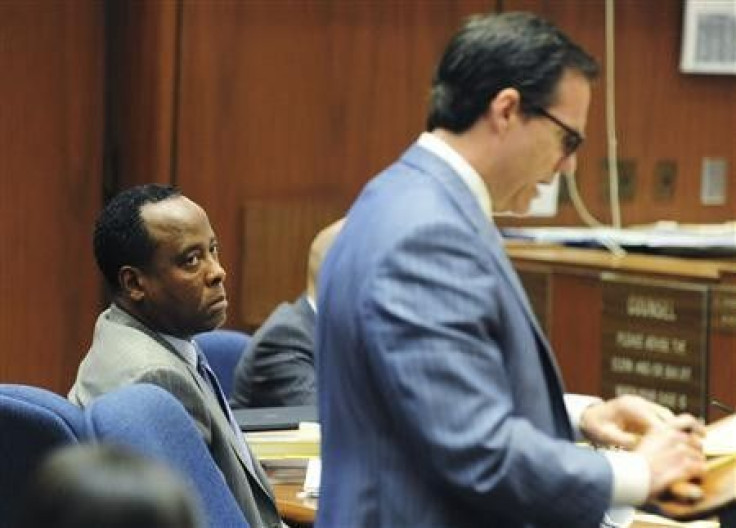 Michael Jackson's mother broke down in tears when she was told that her pop star son had died, and the singer's daughter Paris said she did not want to be an orphan, a Los Angeles court heard on Tuesday.
Katherine Jackson wept again in the courtroom as the manslaughter trial of Thriller singer's physician, Dr Conrad Murray, entered its third week.
Jurors heard Murray tell police in a taped interview about the dramatic hours at the hospital on June 25, 2009, where Jackson was officially pronounced dead.
Murray, who has pleaded not guilty to involuntary manslaughter in the singer's death, said he went with an emergency room doctor on that day to tell Katherine Jackson that her son had died.
She broke down and began weeping. We stayed there, held her hand, Murray told police in the interview, recorded two days after Jackson's sudden death at age 50.
Jackson's sister Rebbie put her arm around her mother as Murray said on the tape that he had recommended an autopsy be conducted on Jackson to determine how he died.
Authorities later determined Jackson died from an overdose of the powerful anesthetic propofol combined with sedatives.
Murray has admitted to police that he gave propofol to Jackson as a sleep aid, but his attorneys have said that Jackson gave himself an extra, fatal dose of propofol that caused his death.
Murray told police he went into a room at the hospital with Jackson's manager, his personal assistant and a social worker, and found the singer's three children having a bite to eat.
The doctor said he did not remember who specifically informed the children their father had died, but that they began weeping.
I stayed there, I hugged them all, gave them all comfort, Murray said on the tape. Paris Jackson, then age 11, said she did not want to be an orphan, he recalled.
Murray sat in court looking at a blank projector screen as the tape was played for jurors. He could face up to four years in prison if convicted.
In other testimony on Tuesday, Los Angeles police detective Scott Smith admitted under cross-examination by the defense that his notes indicated a vial of the sedative lorazepam was found in an IV bag stashed in a closet at Jackson's mansion.
A coroner's investigator previously testified that it was a bottle of propofol that was found inside the IV bag.
Prosecutors say the evidence at trial will show that Murray placed Jackson on an IV drip of propofol after injecting him with the drug.
But defense attorneys argue that Murray only gave Jackson a relatively small dose of 25 milligrams of propofol, with no IV drip afterward.
© Copyright Thomson Reuters 2023. All rights reserved.