James Deen, The Porn Star Next Door, Isn't Interested In A Mainstream Career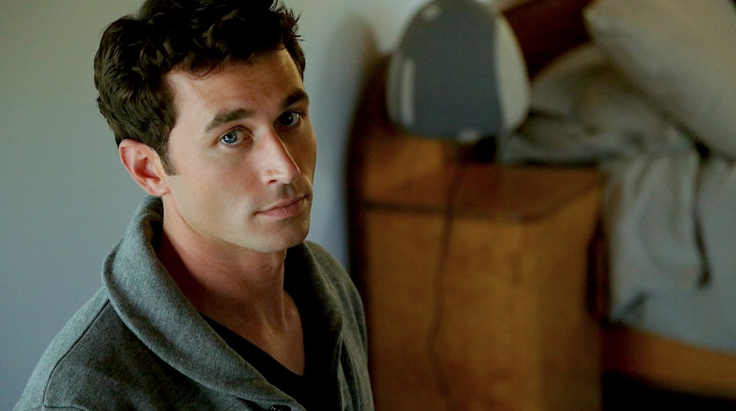 LAS VEGAS -- The image of the male porn star in our collective unconscious involves a man in a polyester suit wearing gold chains and a sporting a porn 'stache. But cute, affable and fast-talking 28-year-old James Deen -- a three-time AVN Awards Performer of the Year (their youngest winner in that category ever in 2009) -- upends that stereotype. He loves cats, baby pandas and burritos. He also has filmed more than 4,000 porn scenes since he started in the biz at age 18.
Deen has been described as the boy next door and even a hipster porn king, but although some of his performances veer into BDSM/Christian Grey territory, his persona is largely "nice," a word he uses a lot. Many of his fans, who call themselves "Deenagers," are in fact teenagers. Deenagers even contributed to the success of a Kickstarter campaign for a steampunk-genre short film Deen produced called "Cowboys and Engines." Deen's a reluctant symbol for the mainstreaming of porn, especially among women, but he's happy to be a part of it.
He's up for 32 AVN awards this year as a producer, director and actor, and he performed the ribbon-cutting ceremony with characteristic goofy aplomb, mugging up a storm. At the James Deen booth at the expo, filled with Deen-branded products, he signed autographs, posed for pictures with fans – male and female – and conducted interviews.
Although Deen has done mainstream work, most notoriously in the Paul Schrader-directed "The Canyons" with Lindsay Lohan (Schrader is perhaps most famous for writing "Taxi Driver"), he's not looking to leave the adult industry for mainstream movies anytime soon. He sat down with International Business Times at the AVN Expo to explain why.
IBTimes: How did you come up with your name?
James Deen: It's a nickname I had in school. I used to wear leather jackets and smoke cigarettes, so kids would call me James Dean. So when I was coming up with a stage name, I settled on James Deen.
IBTimes: Do you think your persona has helped to change stereotypes about men in porn?
Deen: I don't really know, but I like to consider myself a pretty mentally stable person. I don't have much trauma in my life. I'm a heterosexual white male. Life is not that hard. Because I'm a well-adjusted human, people look at me and say, this guy is not mentally damaged with a crazy porn 'stache.
IBTimes: How do you feel about being called a hipster porn star?
Deen: I wouldn't characterize myself as a hipster, but I can definitely see why someone would. A lot of things I enjoy could be thrown into that category. I think the first rule of being a hipster is to say that you're not a hipster, so if I say that, it might be a good argument that I am a hipster, so maybe I am.
IBTimes: For so-called millennials, there's less of a stigma around watching porn, and it's more mainstream. Do you think you played a part in that?
Deen: Our society is so sexualized. Movies, music, pop culture. Over time, people are becoming more sexually open, so it's one of those chicken and the egg things. I don't say I'm taking credit for creating a more sexually accepting society, but it's something that kinda all happened – and I'm just there.
IBTimes: What do you think about your "Deenager" fans?
Deen: Everyone I've met has been nice. My fans are awesome. I rarely have anyone who's bad or anything. Most people are polite and understand that I am a person. I try to treat everyone with respect, and people respond to that, which is nice.
IBTimes: Is there a downside to being lusted after by women?
Deen: There isn't much of a downside. Things are pretty cool.
IBTimes: You've been described as a feminist male porn star.
Deen: There are people who say I am a feminist, but I've never once said I am a feminist. I believe in equality in general. I think there are a lot of different types of feminism. I'm a dude. I don't think women need me speaking for them or advocating for them. They can speak for themselves. I'm a me-ist. I don't need to be a feminist.
IBTimes: Did you arrive at your branding/social media skills organically, or did someone help craft it for you?
Deen: My brand is: be myself, preach the principle of being good to other people. Don't be an a-----e. Have a good time, and make sure you have fun and enjoy what you're doing. People seem to respond positively to it. And whether you're creating a T-shirt, a porno or a [sexually explicit "how to" poster], always try to do your best. That's what I'm trying to do with everything. I didn't realize that I was creating a brand by just doing that. I had to do more than write on Twitter.
IBTimes: Although you've done mainstream work, you've said you're not looking to leave the adult industry.
Deen: I'd do more mainstream things I was interested in, but I didn't get into the adult film industry to get into the mainstream world. I got into the adult film industry because I wanted to do adult films. I see no reason to leave what I love doing, what I've always wanted to do, to do possibly something I don't care about. I like acting, I liked meeting Paul Schrader and hanging out with ["Canyons" screenwriter] Bret Easton Ellis and making cool things, but I have no desire to just leave. I'd rather work on my company than go on auditions for things I'm not interested in.
© Copyright IBTimes 2022. All rights reserved.
FOLLOW MORE IBT NEWS ON THE BELOW CHANNELS