Jamie Foxx Knows He 'Can't Be A Good Boyfriend' To Katie Holmes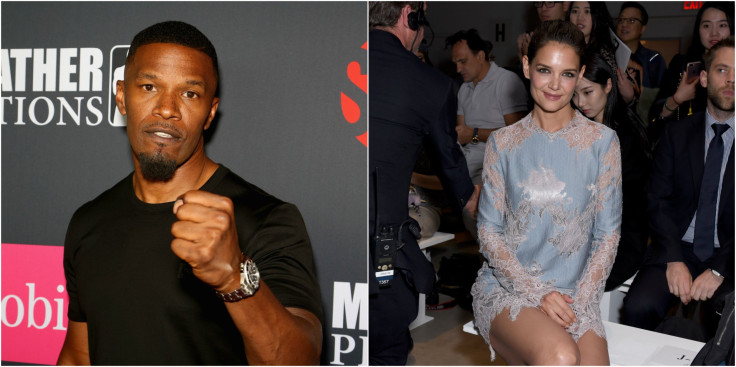 Katie Holmes and Jamie Foxx are still an item, but they're relationship isn't going as well as it could. Us Weekly reports in their Nov. 13 print issue that the "Django Unchained" actor knows he "can't be a good boyfriend" to Holmes, 38.
"He's been so busy with movies and all of his other businesses that he knows he can't be a good boyfriend to her," a source told the magazine. The insider added that the 49-year-old actor also "isn't ready to get married" to his secret girlfriend of four years.
Still, that doesn't mean things are completely on the outs for acting duo. "They're still dating. It's been hard to find that balance, but they're happy and they care about each other a lot," said the source.
While Foxx may be busy with his various projects, the report adds that he still manages to "bring a lot of joy" into Holmes' life and that he's "happy" with her.
And with no wedding in the works, don't expect the pair to come forward with their romance anytime soon. After years of living in secret, the couple reportedly plan to continue keeping their relationship private, despite being spotted hand-in-hand in September. "The second they confirm they're together it opens the gates for criticism," a source explained. "They've tried to stay as quiet as possible because they don't want to ruin things."
Holmes was previously married to actor Tom Cruise, whom Foxx co-starred with in the 2004 film "Collateral." Holmes shares daughter Suri, 11, with her ex.
In August, it was reported that Foxx has been spending time in the gated community where Holmes lives with Suri. Photos showed the actor entering the neighborhood after stopping at a frozen yogurt shop. Earlier in the day, Holmes and Suri were spotted shopping together.
Foxx has two daughters of his own from a previous relationship, Corinne Foxx and Annalise Bishop.
© Copyright IBTimes 2023. All rights reserved.