Janelle Ambrosia Could Face Disorderly Conduct Charge For Recorded Racist Rant, Police Chief Says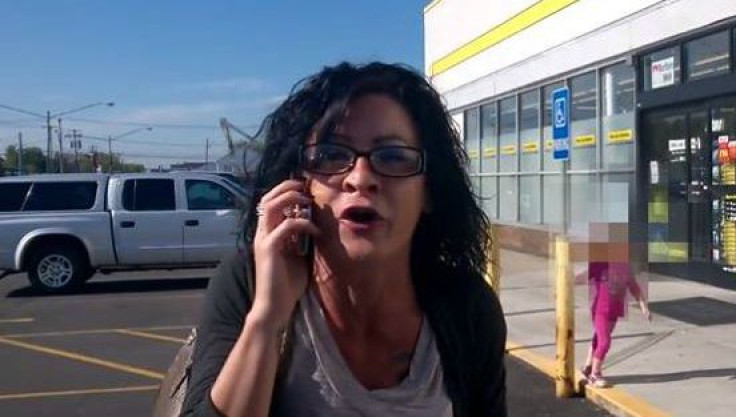 Ever since the video of a woman screaming racial slurs at a black man outside a store in upstate New York went viral, questions have been raised about whether she could face any legal repercussions.
According to the town's police chief, there are several factors to be considered when it comes to taking legal action against the Cheektowaga, New York, resident.
In the viral video clip, the woman, who has been identified as Janelle Ambrosia, verbally attacks a man as he sits in his vehicle outside a Dollar General store in Cheektowaga. She repeatedly calls him the "N-word" and claims that he startled her children when he started his car. During the heated argument, the kids can be seen witnessing their mother yelling the racial slurs. She goes as far as to threaten to call her husband, telling the man that he also "doesn't like black people."
The video was posted on Monday, and the description accompanying the clip says the incident was recorded on May 30. It has been viewed more than a million times on YouTube.
You can watch the video here. [WARNING, the video contains explicit language.]
Speaking to the Buffalo News, Cheektowaga Police Chief David Zack said that he watched the video but was being cautious not to draw any conclusions without knowing the woman's full background and mental state.
"I reviewed the video, and with 27 years of law enforcement, I have seen people at their worst. I've seen people with mental health issues, I've seen people under the influence of substances and I've also come across people who are out and out racist," Zack said.
"That being said, without knowing more about this woman's background, I feel that it would be irresponsible of me to form a premature judgment on her actions," he continued. "If substance or mental health issues are not at play here, then her conduct should be considered as nothing less than deplorable. Clearly, there are some people in today's society who have not yet evolved in their beliefs. As a society we obviously have more work to do."
Zack said he learned of the video on Wednesday morning after it was anonymously forwarded to the department.
When it comes to whether Ambrosia actually committed a crime, Zack said there is the possibility her actions could lead to charges. "There is possibly disorderly conduct that could possibly rise to the level of harassment, but both are violations."
In an interview on Wednesday morning with WBLK's Big Rob, Ambrosia said her heated attack on the man came after he had almost hit her child with his car. She said that she is not a racist but also revealed that she is bipolar.
When Big Rob asked why she felt the need to use the n-word, she defended her actions by saying the word "means an ignorant person" and "it has nothing to do with race."
"I'm really not a racist, I was just pissed off. If he didn't try to almost hit my kids, none of this would have happened," Ambrosia said. But when Big Rob gave her the chance to offer an apology for her use of the racial slur, Ambrosia declined.
© Copyright IBTimes 2022. All rights reserved.
FOLLOW MORE IBT NEWS ON THE BELOW CHANNELS