Jeb Bush Campaigns For Cash Amid Staff Departures, Donald Trump's Popularity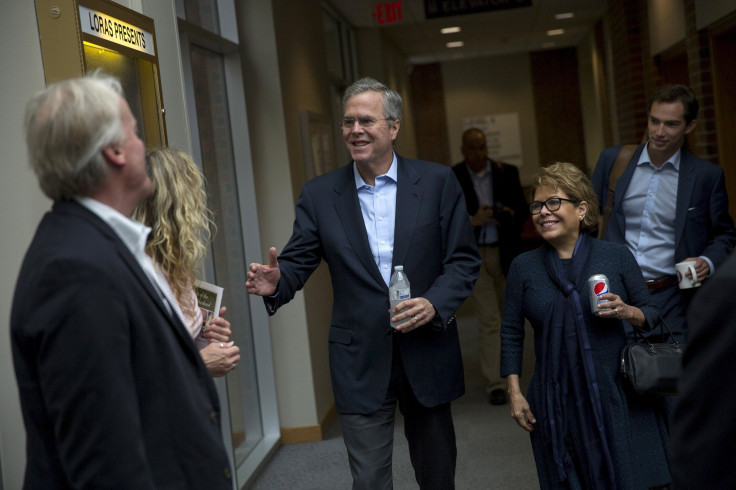 Republican U.S. presidential candidate Jeb Bush's campaign team is scrambling to convince potential contributors to sign checks in support of the former Florida governor's bid for the White House in 2016, according to a new report. Word of slowing donations coincides with the sudden departure of three of the Bush campaign's top officials and a sustained surge in the polls by competitor Donald Trump.
Considered a likely presidential candidate long before he officially entered the race, Bush used his super PAC to raise far more money than any of his GOP rivals (reportedly around $114 million), tapping into an established Republican donor base that previously supported his brother, former President George W. Bush. However, one of Jeb Bush's finance aides emailed supporters Friday invitations to a $1,000-a-plate breakfast next month, with the sole purpose being to find new contributors. Obtained by the New York Times, the message indicated that many in the candidate's current donor network have already donated the maximum $2,700 allowed by law.
"Please note -- this is new money only," staff member Sarah Corsaro wrote. "We are utilizing this event to drive in new funds."
The Bush campaign previously cut employee salaries and took other steps to slow its spending, the Times reported this week.
The renewed focus on fundraising comes around the same time that three of Bush's fundraisers -- Debbie Aleksander, Trey McCarley and Kris Money -- "abruptly" left his campaign, Politico reported Saturday. It wasn't immediately clear whether the three quit or were fired because of differences with the Bush campaign's new leadership team.
"They were glad to go. This wasn't a shock to anybody," one source told Politico. "There were just some personality problems. It happens when you have a big organization like this, a big campaign. Some of the national people are tough to work for."
© Copyright IBTimes 2023. All rights reserved.