Jeb Bush Says US Should Accept Syrian And Iraqi Refugees, As Long As They Are Christians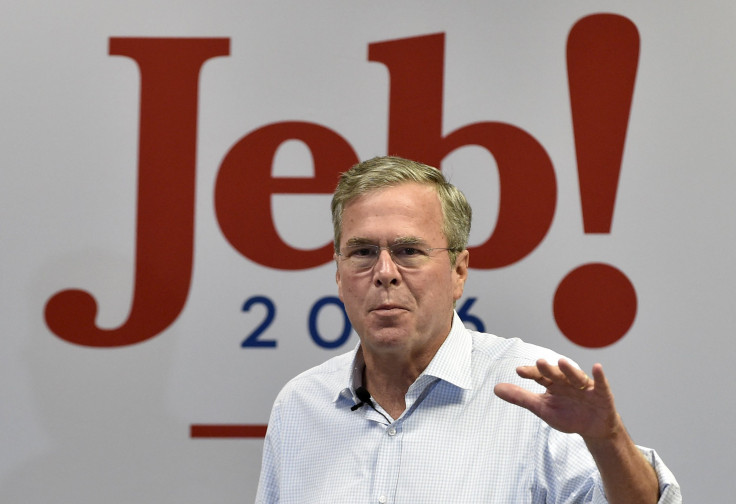 The United States should accept Syrian and Iraqi refugees as long as they are Christians and their lives are endangered, GOP presidential hopeful Jeb Bush said, during an interview with Fox News host Sean Hannity late Thursday.
Bush, responding to a question about the U.S. government's decision to take in at least 10,000 displaced Syrians over the next year, added that the U.S. should take in only Christian refugees who "are in a situation right now that if they stay where they are, they will be killed."
When asked about the chances that refugee groups headed to the U.S. might be "infiltrated" by militants of the Islamic State group and al Qaeda, the former Florida governor said: "It's a bad idea if there is no screening."
"We have a duty to help people, but the best way to solve this problem is to lead the world in creating a third way, which is to eliminate ISIS from the face of the Earth and remove [Syrian President] Assad so that there can be a stable Syria."
The Syrian refugee crisis -- triggered by a seemingly interminable conflict that is now in its fifth year -- has seen at least 9 million people flee their homes, seek refuge in the neighboring nations of Jordan and Lebanon, or attempt to enter Europe.
However, in recent months, a growing influx of refugees into Europe has led many countries in the region -- including Hungary, Austria, Slovakia, and most recently, Croatia -- to tighten border controls, potentially worsening the crisis and raising serious questions about the viability of the European Union's "open borders" agreement, and highlighting, in some cases, the bloc's "xenophobic" proclivities.
"I think we have a right to decide we do not want a large number of Muslim people in our country," Hungarian Prime Minister Viktor Orban said, earlier this month. "We can't guarantee that you will be accepted."
Last week, the U.S. government, facing increasing international pressure to demonstrate the country's commitment to the rehabilitation of these asylum seekers, announced the decision to raise the number of Syrian refugees admitted into the country to at least 10,000 in the fiscal year beginning in October -- from fewer than 2,000 this year.
However, according to a Reuters/Ipsos poll released Wednesday, 35 percent of Americans surveyed said the figure was too high, while just 20 percent urged the government to take in more. Several Republicans, including Bush, have also expressed fears that the decision might pose a security threat to the U.S.
"Our enemy now is Islamic terrorism, and these people are coming from a country filled with Islamic terrorists," Rep. Peter T. King, R-New York, reportedly said last week. "We don't want another Boston Marathon bombing situation."
© Copyright IBTimes 2023. All rights reserved.