Jennifer Aniston, Brad Pitt Don't Want To 'Milk Friendly Exes Dynamic,' Source Says
KEY POINTS
Jennifer Aniston and Brad Pitt are very mindful whenever they are together
Pitt and Aniston have a genuine friendship, according to a source
"The Morning Show" star staged a mini "Friends" reunion during the 2020 Emmy Awards
Jennifer Aniston and Brad Pitt are on good terms and don't mind working together, but they don't want to milk their "friendly exes dynamic," a source revealed.
Aniston and Pitt have been divorced for 15 years, but despite that many still want them back together. In fact, their reunion at the "Fast Times at Ridgemont High" table read sent their fans into a frenzy. But they should not get their hopes up as the pair have no plans to keep doing it.
"They don't want to milk this 'friendly exes' dynamic they've got going on too much," an insider told Us Weekly.
"They're both very mindful of that."
Body language expert Tonya Reiman said Aniston appeared to have some "hidden thoughts" during their reunion based on the video.
However, the source said what the exes share is just genuine friendship.
"It used to bug them how everyone pulls for them to get back together, but now they laugh it off," the insider added.
"The truth is they have each other's backs. They constantly bounce ideas off each other and share happy news when they have it. They have such a natural, easy energy together."
Pitt and Aniston agreed to do the virtual table read to support Sean Penn's emergency relief organization, CORE, and the REFORM Alliance, which focuses on criminal justice reform. The exes were joined by other big Hollywood names including Dane Cook, Jimmy Kimmel, Morgan Freeman, Henry Golding, Shia LaBeouf, Matthew McConaughey, Julia Roberts and Penn himself.
"Everyone, including Brad and Jen, had a really good time doing the reading of Fast Times at Ridgemont High and were happy to reunite," another source told the outlet.
"Dane plans to organize more readings like this in the future. … Brad and Jen's friends and the others involved thought it went really well!"
In related news, Aniston and Kimmel also reunited at the recently concluded 2020 Emmy Awards. Kimmel hosted the show while Aniston joined him as the first awards presenter. Later that night, Aniston went home and staged a mini "Friends" reunion with Courteney Cox and Lisa Kudrow.
Kimmel was pleased to see the "Friends" stars together and when he asked them why they were there, the two said they lived with Aniston. Jason Bateman was also with the trio. However, the reunion was short-lived as Aniston told Kimmel they had to go because their dinner was ready.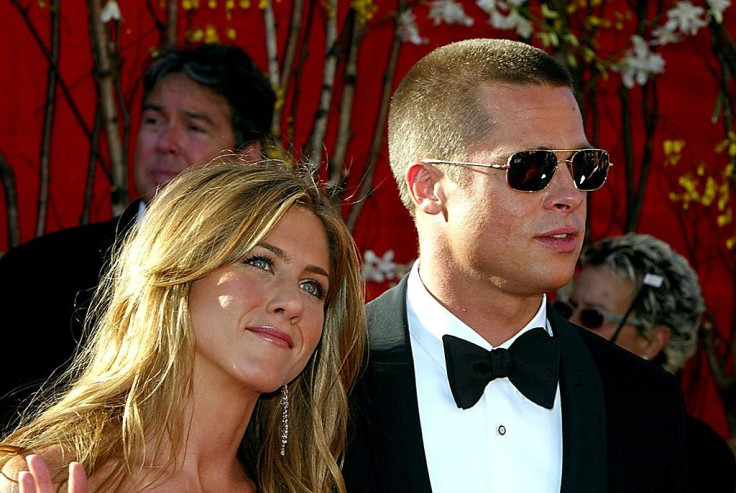 © Copyright IBTimes 2023. All rights reserved.
FOLLOW MORE IBT NEWS ON THE BELOW CHANNELS