Jennifer Aniston, Justin Theroux Marriage Is 'Great' Amid Brad Pitt Reconciliation Rumors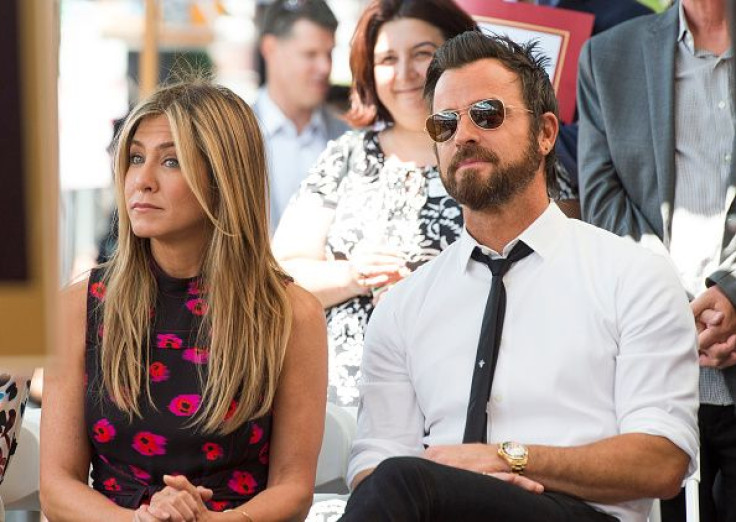 Jennifer Aniston and Justin Theroux's relationship is doing "great" despite reports that they are close to divorcing due to Brad Pitt.
While speaking with People, a source said that Aniston and Theroux's marriage works because they have figured out a life that works for them. "Her life with Justin is great," the source added.
And even though the couple spends some time apart every now and then, they see this as a way to strengthen their relationship. "This has not hurt their marriage at all, it seems to help. They love and respect each other and do spend a lot of time apart. For them, it is a healthy part of their romance," a second source said.
When Aniston is not working on a movie, she spends most of her time at her home in Los Angeles. Theroux, on other hand, visits New York frequently.
"Justin often spends a few days in NYC by himself. When he is in NYC, Jen will catch up with friends and enjoys her own life. When Justin is in LA, it's very special for them. They socialize together with friends. They often go out to dinner or have people over. They both seem very happy," another source said.
Aniston and Theroux also traveled to Mexico for the New Year. This is something that they have done yearly. "Jen and Justin rang in the new year with friends. For the past few days, they have enjoyed the sunny Cabo weather. They have hosted friends by the pool and for dinner. They both seem great and happy," the source said.
Meanwhile, rumors about Aniston and Theroux splitting up swirled after it was revealed that Brad Pitt has started casually dating again after his divorce from Angelian Jolie.
However, the actor has not rekindled his romance with Aniston even though they were together for a couple of years. Pitt, who has been casually dating random women, also uses his real name whenever he flirts around with them.
A source told Page Six that the actor introduces himself as William in front of women.
© Copyright IBTimes 2023. All rights reserved.