Jennifer Aniston Not Over Brad Pitt: 'Can't Leave Him Completely,' Expert Says
KEY POINTS
Jennifer Aniston has inner conflict about getting back with Brad Pitt and moving on
Jennifer Aniston and Brad Pitt allegedly getting married in France
Brad Pitt disrespected Angelina Jolie with his public reunion with Jennifer Aniston
Jennifer Aniston is not completely over her ex-husband, Brad Pitt.
On Sunday, Pitt and Aniston sparked romantic rumors with their friendly reunion at the SAG Awards. Many have been waiting for the exes to have that moment and according to a body language expert, it looks like the "Murder Mystery" actress has an inner conflict between reuniting with Pitt and moving on.
Patti Wood, author of "Snap: Making the Most of First Impressions, Body Language and Charisma" said that there was a "deep connection" between Pitt and Aniston. In one photo, the "Ad Astra" actor can be seen holding Aniston's arm while the other holds his award below his waist.
Wood said that it shows Aniston is important to him. Pitt's grip also sends the message of "stay here with me." Meanwhile, Aniston's facial expression and reaction were reportedly sincere. She cares for Pitt but she is "protecting her heart connection."
"She can't leave him completely. Her arm reaches back to its full extension as she goes. He smiles as she goes, but gently holds on to her," Wood told OprahMag.com.
"See how her fingers rest on his chest with the fingers awkwardly and unevenly splayed out, with some fingers bent? That awkward finger placement and finger tension shows her inner conflict, her desire to stay connected to him, near to his heart and her need to move on."
Following Pitt and Aniston's sighting many concluded that the exes were back together especially since the actress was rocking a massive ring on her finger which many deemed an engagement ring. Elena Nicolau said that Aniston's diamond engagement ring "sends a signal that we don't need a body language expert's help to understand."
There are rumors that Pitt and Aniston are planning to get married in France. However, one should take the report with a grain of salt since the pair has not confirmed their relationship yet.
Meanwhile, a source said that Pitt disrespected Angelina Jolie by joking about his marriage during his acceptance speech and with his public reunion with Aniston. The insider said that Jolie won't be happy with what Pitt said because she would never do the same to Pitt. Also, Pitt and Aniston's sighting is "hurtful" for the "Maleficent" star.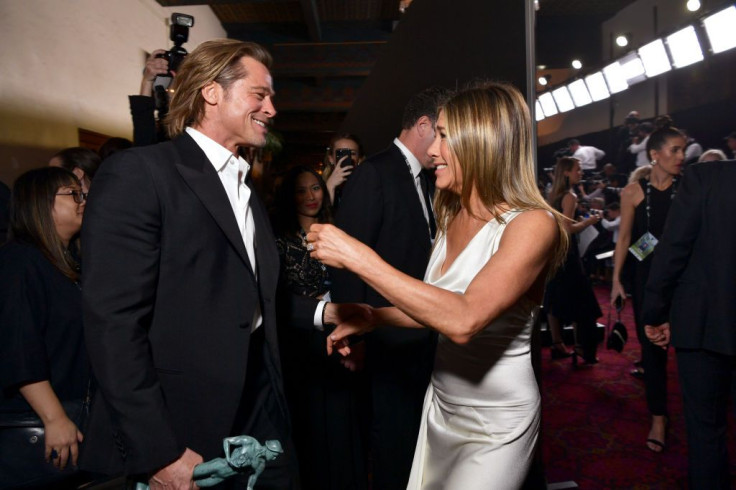 © Copyright IBTimes 2023. All rights reserved.