Jennifer Aniston Shares Cryptic Post After Brad Pitt Reunion At SAG Awards
KEY POINTS
Jennifer Aniston shared a cryptic post on Instagram after Brad Pitt reunion
Jennifer Aniston admitted she'll never forget that night at the SAG Awards
Jennifer Aniston and Brad Pitt's relationship after divorce
Jennifer Aniston shared a cryptic post after her reunion with Brad Pitt at the SAG Awards.
On Sunday, Pitt and Aniston reunited at another award ceremony after they attended the Golden Globe Awards a few weeks back. The exes surprised their fans when they were spotted sharing a sweet moment backstage smiling at each other while holding hands.
Pitt and Aniston's "powerful moment" prompted the rumors that they are back together. Interestingly, the "Murder Mystery" actress recently shared a cryptic post on Instagram.
Aniston shared two photos on social media. In the first snap, she is leaning on the seat of her car while making a peace sign. Then she shared a photo of her SAG trophy and the gown and heels she wore at the award ceremony lying on the floor.
"No wrinkles... harder than it looks! Somewhere between these two photos, my peers gave me a gift I will cherish and a night I will never forget. Thank you @sagawards, @themorningshow, and our incredible cast and crew. Let's get back to work!" Aniston wrote in the caption.
New Idea described Aniston's photo "suggestive." The publication reported earlier that Aniston and Pitt's sweet moment at the SAG Awards is the confirmation that they are already back together. Another source revealed that Pitt and Aniston are planning to get married in France.
Pitt and Aniston have never confirmed their rumored romance. Pitt once referred to Aniston as a "good friend" when he was asked about running into her at the Golden Globe Awards. However, she seemed to be wearing an engagement ring at the SAG Awards.
Also, based on their recent sighting together, a body language expert suggested that the two are not over each other. The way the "Ad Astra" actor held Aniston's hand meant that he wanted her to stay. It was also apparent how important Aniston to Pitt is.
Patti Woods, author of "Snap: Making the Most of First Impressions, Body Language and Charisma" added that Aniston's reactions were sincere. However, it was obvious that she had inner conflict and was protecting her "heart connection" because she can't completely leave Pitt.
"See how her fingers rest on his chest with the fingers awkwardly and unevenly splayed out, with some fingers bent? That awkward finger placement and finger tension shows her inner conflict, her desire to stay connected to him, near to his heart and her need to move on."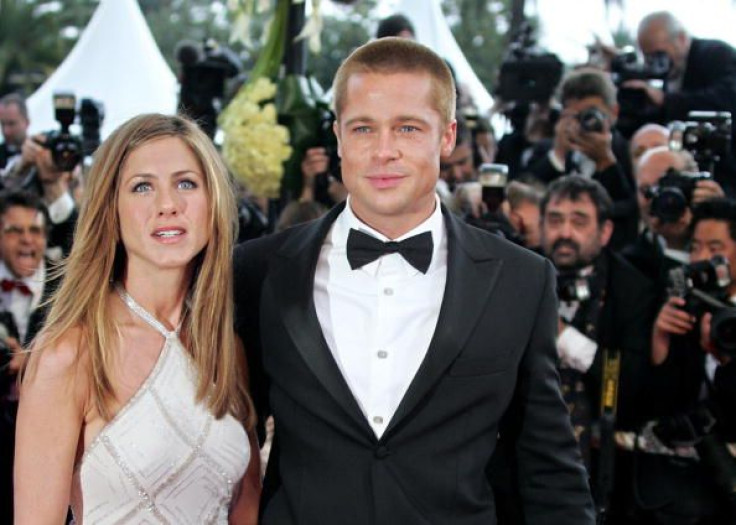 © Copyright IBTimes 2022. All rights reserved.
FOLLOW MORE IBT NEWS ON THE BELOW CHANNELS