Jennifer Garner, Ben Affleck Debunk 'All-Out-War' Claims, Attend Sunday Church With Kids
KEY POINTS
Jennifer Garner and Ben Affleck attend church with kids.
Ben Affleck and Jennifer Garner's relationship after divorce.
Ben Affleck and Jennifer Garner divorce.
Jennifer Garner and Ben Affleck attended church service with their kids amid rumors they are not on good terms.
Garner and Affleck are determined to work together for their three children Violet, 14, Seraphina 10, and Samuel, 7. On Sunday, the exes were spotted attending a church service together with their kids, who were spotted bringing gifts along with them.
Garner arrived with daughter Seraphina. The "Peppermint" actress was in high spirits and was photographed smiling upon arrival. Garner was stunning in her navy blue dress and flats.
She wore minimal makeup and accessorized with a silver necklace. The celebrity mom tied her hair in a ponytail. Meanwhile, Seraphina was as beautiful as her mom in her white top with blue jacket and black pants. She paired her get-up with sneakers. Garner was even photographed wrapping Seraphina in her arms.
On the other hand, the "Batman v Superman" star arrived with his son Samuel. The father and son duo looked dashing together with Affleck wearing a navy sweatshirt with sleeves rolled up, khaki pants and blue sneakers. Samuel wore black shirt, pants and shoes. He also tied a gray jacket on his waist.
Although Garner and Affleck attended the service together, they reportedly arrived in separate rides. Garner was the first to arrive. Affleck followed behind just a few minutes later with Samuel, Violet and some of the family's help.
The publication noted that Affleck was focusing on his role as a parent. A day prior to joining his family for the church service, the "Argo" star was seen accompanying Seraphina to practice soccer. He was even caught giving his daughter a hug before they headed home.
Prior to the family's sighting, Radar Online reported that the couple was at war. An insider allegedly claimed that Garner was already disgusted with her ex-husband for falling off the wagon while he accused her of being controlling and bossy. The unnamed source added that Garner was sick of bailing him out.
However, fans should take the report with a grain of salt because another insider told Us Weekly that Garner remains supportive of Affleck. Also, the father of three reportedly has the utmost respect for his ex-wife for supporting him through his addiction problem.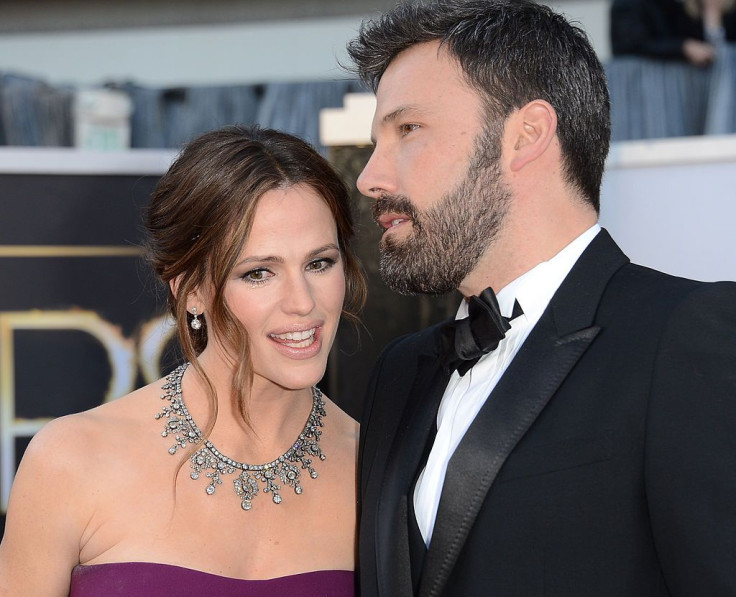 © Copyright IBTimes 2023. All rights reserved.