Jennifer Lawrence Goofs Off With Chris Pratt, Shows Her Funny Side At CinemaCon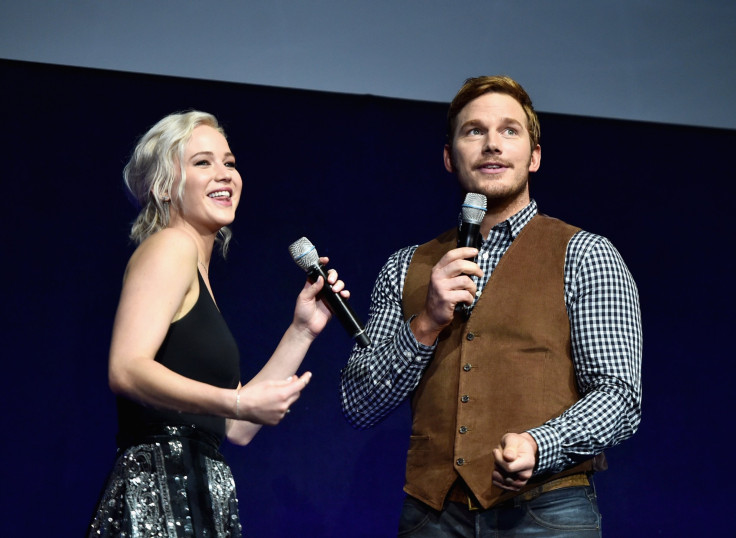 LAS VEGAS — Jennifer Lawrence continued her reign as Hollywood's sweetheart with her appearance at CinemaCon in Las Vegas on Tuesday night.
Lawrence and her "Passengers" co-star Chris Pratt made a cameo appearance during Sony Picture Entertainment's presentation about their coming space drama. While the trailer the on-screen love birds released is getting a lot of buzz (get a full rundown of the trailer here) it's Lawrence's onstage antics that are sure to equally thrill her fans.
Ahead of debuting the first trailer for the Morten Tyldum-directed epic, Lawrence and Pratt, who entered Caesars Palace Colosseum to notable applause, discussed their characters and the making of the film. Pratt says his is a mechanic who discovers his talents are "obsolete." Lawrence's character is more affluent, a writer from New York. "She wants to be the first person to make it 120 years to another planet and write about it," she said.
Aboard the spacecraft, the passengers are put into pods where they are due to sleep for the duration of their trip. But when the craft malfunctions, and Pratt's character Jim wakes up decades too early, he finds himself trapped in space … alone. He finds solace in one other passenger, Lawrence's Aurora, who bought a more pricey ticket aboard the flight.
"She's glamorous. She's intellectual," Pratt said of Lawrence's character. "There's a bit of a gap there."
Lawrence joked that Pratt's character differs from hers because he's not "one of those eggs florentine people," but she decided to fall for him anyway. "But then I figured we have 90 years to go …. he broke me down," she quipped.
While the audience ate up their act, Lawrence seemed to feel they were tanking on stage after going off script. "Movie tickets are half off!" she joked to the audience full of exhibitors and press.
Lawrence and Pratt finished up their onstage discussion by trying to amuse attendees by attempting to sing Billy Joel together, and Pratt accidentally dropped a microphone on his co-star's foot. He called the move an "anti-Kanye."
"Everyone will believe me when I say that they have chemistry together," said Sony Picture Entertainment Chairman Tom Rothman.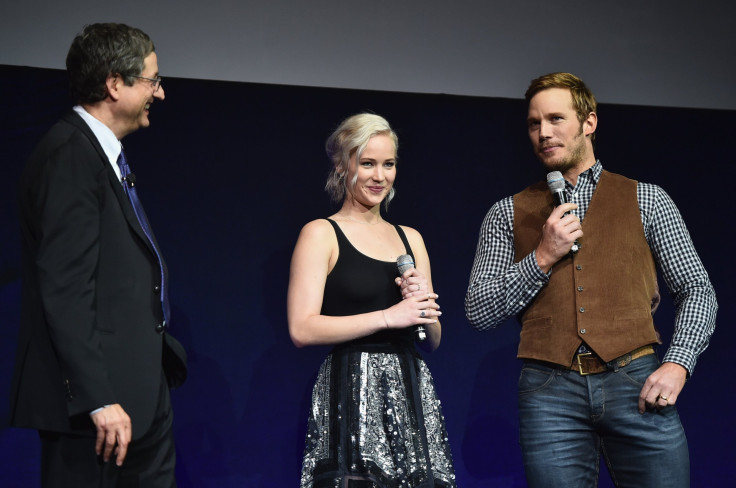 Ultimately, Pratt said he's excited for audiences to see "Passengers" on the big screen. "I really am extremely proud of this movie," he said, and Lawrence agreed.
While Sony has yet to release the "Passengers" trailer to the public, Rothman said the feature won't disappoint. With the film requiring the actors to endure an "emotional gauntlet," the executive said Lawrence and Pratt were the perfect pair for the job. "In 30 years of riding the celluloid trail, I have never seen an actress of such strength," Rothman complimented his female lead. As for the co-stars' onscreen romance, Rothman had this to say: "They are sexy as hell together."
"Passengers" premieres in theaters in December.
© Copyright IBTimes 2023. All rights reserved.