Jessica Simpson Pregnant: Before Giving Birth, Singer Flaunts Baby Bump In Fabulous Fashions [PHOTOS]
Jessica Simpson might be very, very pregnant these days, but she is not letting a big baby bump stop her from flaunting her best pregnancy fashions. The 31-year-old has been showing off fabulous looks since she officially announced her pregnancy in October. Just weeks (or possibly days) before giving birth to a baby girl, Jessica Simpson is still rocking sky-high heels, skin-tight dresses and leopard print.
The singer celebrated her baby shower with family and friends on Sunday Culver City, Calif. Instead of wearing yoga pants and a loose top, Simpson opted for a blue snakeprint maxi dress with platform wedges. All day yesterday felt like a perfect dream! Thank you @MindyWeiss for the best baby shower any mommy could ever want! Love u! she tweeted to the event planner. Celebrity friends like Jessica Alba and Ellen Pompeo also helped the mama-to-be celebrate, reported Us Weekly.
Before the baby shower, Jessica Simpson was on a whirlwind press tour for her NBC reality contest Fashion Star. Pretty impressive for such a pregnant lady! And she dressed up for all the events. On the Ellen DeGeneres Show she wore a white peasant dress, a blazer and red patent leather wedges. On The Tonight Show with Jay Leno, Simpson opted for a sexier evening look -- a skin-tight black dress with a leopard print jacket.
She told the nighttime host that she is waddling at this point, but reminded everyone how hard it is: It's a lot of weight to carry on six inches!
Jessica Simpson also posed naked and pregnant for the cover of Elle's April issue, flaunting every inch of her curves. Despite the criticism she faced, the Fashion Star judge tweeted: My Elle cover comes out today!! I'm a lil nervous but I've never felt more beautiful or empowered. I hope you like it!!!
In a behind-the-scenes interview with Elle magazine, the singer and fashion mogul went on to describe her renewed self-confidence even further.
I'm loving every moment of it, I have to admit, she said. It's funny because I feel more comfortable in a bikini now when I'm pregnant than when I was before. I've become like a nudist or something. I don't know; I just celebrate my body so much more.
Simpson said that when she wore a bikini in her younger years, she used to draw on abs with eyeliner. I would not suggest people do that, 'cause it's not cute. You could tell somebody did it, she said laughing.
The blonde beauty might even use her acute fashion sense to help other expecting mothers. Being pregnant has also inspired Jessica Simpson to further develop her own line with a maternity collection. Simpson wants to add the maternity line to the Jessica Simpson Collection, which currently includes clothing, handbags and shoes.
The point of launching a maternity line, for me, is to do something different, Simpson explained. I'm not buying any maternity clothes. I'm wearing all clothes that come in bigger sizes. I really want to make a maternity line that's comfortable, but really stylish for people, because I believe that we all deserve to feel good and look good, she told Us Weekly.
Check out the latest of Jessica Simpson's fabulous pregnancy fashions plus her interview with Ellen DeGeneres.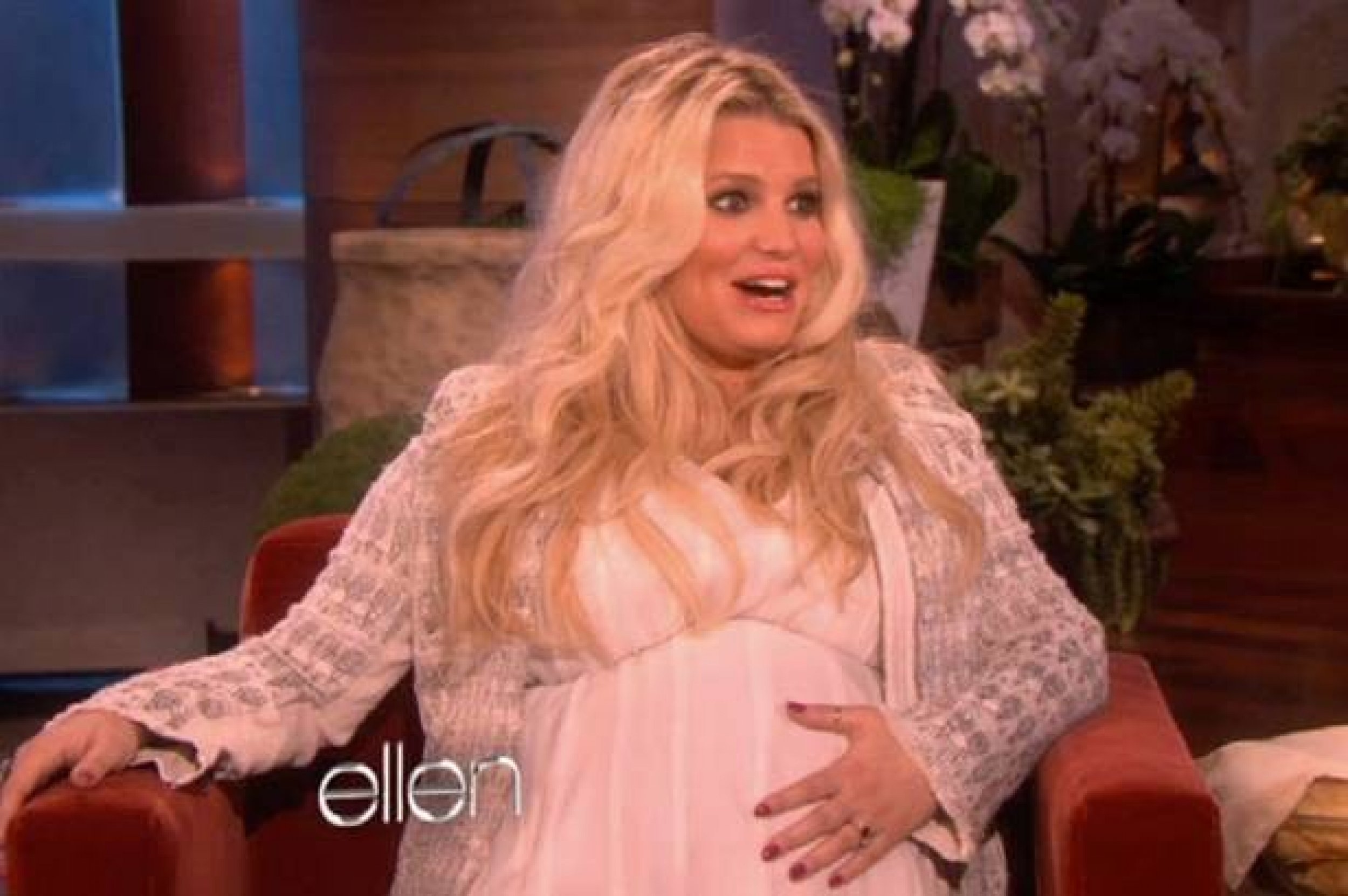 © Copyright IBTimes 2023. All rights reserved.