Jill Stein Will Be On The Ballot In These States On Election Day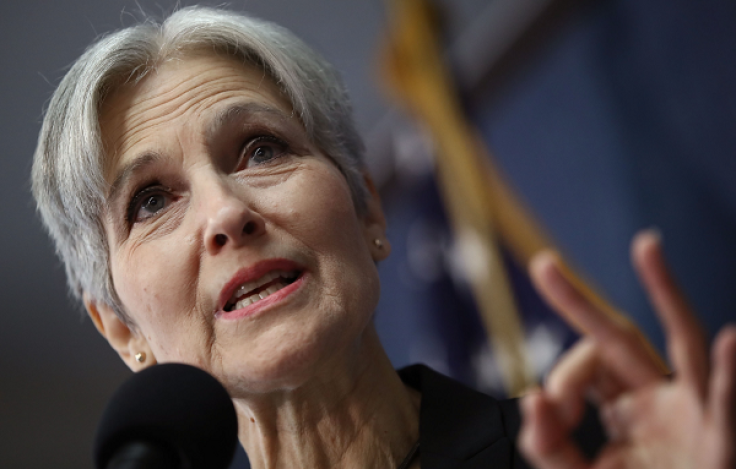 Jill Stein is still going hard on the campaign trail, but the Green Party presidential nominee won't be on the ballot in all 50 states.
Stein, who has been actively pursuing former Democratic candidate Bernie Sanders' supporters, has been teetering around 2.4 percent, according to the latest Real Clear Politics poll. On Election Day, voters will see Stein's name on the ballot in 45 states and the District of Columbia.
Stein's petition drive ended as of Sept. 10, according to a ballot access map posted on her campaign website. The candidate, who is running with human right's activist and Green Party nominee Ajamu Baraka, wasn't able to get enough donations to get on the ballot in Nevada, Oklahoma and South Dakota. In Indiana, North Carolina and Georgia, residents will only be able to cast votes for Stein if they write her name in on the ballot. Stein did make the cut in all the swing states -- Colorado, Florida, Iowa, Michigan, Nevada, New Hampshire, North Carolina, Ohio, Pennsylvania, Virginia and Wisconsin—where she is polling as high as 3 percent.
The other major third-party contender, libertarian Gary Johnson, managed to get on the ballot in all 50 states and the District of Columbia, as did the leading presidential candidates, Republican nominee Donald Trump and Democrat nominee Hillary Clinton.
Neither Stein or Johnson managed to rank high enough in the polls to get access to the second presidential debate on Oct. 9. They also were excluded from the first debate in September. A third debate has been planned for Oct. 19. The Commission on Presidential Debates requires candidates to earn at least 15 percent in polls to be considered for the debates.
© Copyright IBTimes 2023. All rights reserved.
FOLLOW MORE IBT NEWS ON THE BELOW CHANNELS