Who Are Gary Johnson And Jill Stein's Running Mates? Third-Party Vice Presidential Profiles Ahead Of Kaine vs. Pence Debate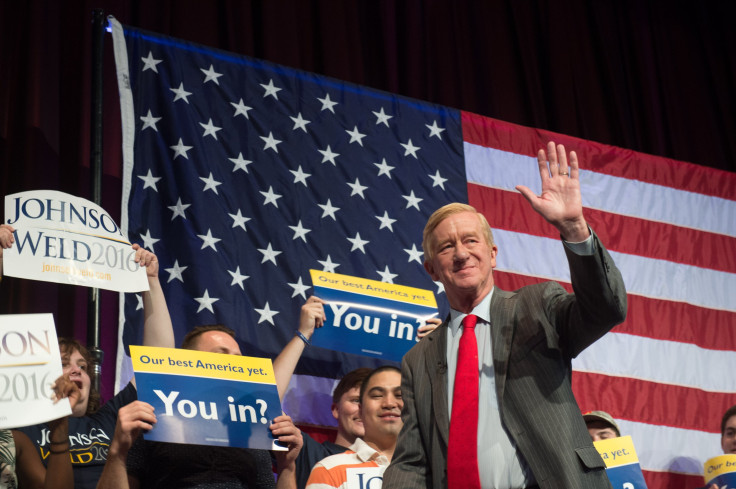 As Democrat Tim Kaine and Republican Mike Pence prepare to square off in the only vice-presidential debate on Tuesday night at Longwood University in Farmville, Virginia, there might be some curiosity about Libertarian nominee Gary Johnson's running mate Bill Weld and Green Party candidate Jill Stein's running mate Ajamu Baraka.
Like both third party's presidential nominees, neither Weld nor Baraka will participate in the debate due to low poll numbers. And much like their party's respective platforms, Weld and Baraka share few similarities, while not receiving the same type of media attention that has been afforded to Kaine and Pence.
Baraka, 62, is an African-American human rights activist who grew up on the south side of Chicago and attended graduate school at Clark College, a private, historically black university in Atlanta that is now called Clark Atlanta University. He is the founding executive director of the U.S. Human Rights Network and coordinator of the U.S.-based Black Left Unity Network's Committee on International Affairs. Baraka is also an associate fellow at the Institute for Policy Studies, a left-leaning Washington, D.C.-based think tank.
After serving in the army during the Vietnam War, Baraka moved to the South to take part in community organizing. He volunteered and eventually ended up on the board of Amnesty International.
"I saw myself as someone that was trying to continue the legacy of (W.E.B) DuBois and Malcolm X in terms of internationalizing the struggle of African people in the U.S.," Baraka told Democracy Now.
Baraka was honored by then-United Nations Secretary General Kofi Annan in 1998 for his work in human rights.
But like Stein, Baraka has not served in a government position.
He draw some attention for making numerous controversial statements against Democrats, such as calling President Barack Obama an "Uncle Tom president," and for describing former Democratic presidential candidate Bernie Sanders' campaign as "media-driven pseudo-opposition," while also calling former President Bill Clinton a "rapist" and a "petty opportunist politician." Baraka also lambasted former Harvard and Princeton profess Cornel West as "drawing voters into the corrupt Democratic party" for West's support of Sanders.
Weld, like Johnson, is a former Republican governor of a Democratic-leaning state. He served as governor of Massachusetts from 1991 to 1997, and in 1994 won reelection by 71 percent of the vote in the most one-sided result in Massachusetts electoral history. As governor, he repeatedly cut taxes, while supporting environmental issues, gay rights, and abortion rights.
Things would go downhill for Weld after resigning in 1997 after being nominated to be ambassador to Mexico by President Bill Clinton. His nomination would be stalled by conservative North Carolina senator Jesse Helms, who objected to Weld's moderate stance on social issues. Weld would later make a failed bid to unseat Democrat John Kerry in the 1996 U.S. Senate election, and in 2006, he unsuccessfully ran in New York as both a Libertarian and Republican gubernatorial candidate.
Some Libertarians have questioned Weld's party credentials. Many were bothered by Weld's endorsement of Republican candidate in John Kasich, a sharp critic of the Libertarian Party, in February. In 2008 and 2012, Weld endorsed Republican candidate Mitt Romney, who also once served as governor of Massachusetts.
The 71-year-old also made headlines this week when he said he's "not sure anybody is more qualified than Hillary Clinton."
Weld received his bachelor's and law degree from Harvard University.
© Copyright IBTimes 2023. All rights reserved.